Super Tuesday goes on without Klobuchar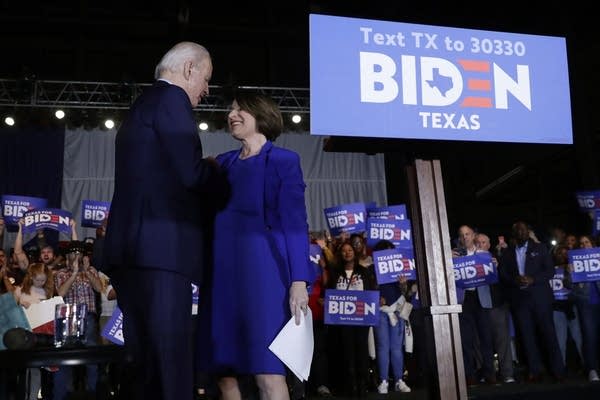 In Dallas Monday night, Minnesota U.S. Amy Klobuchar made it official — her presidential campaign is over and she is backing former Vice President Joe Biden.
"Texans we need to unite our country," Klobuchar said. " I believe we can do this together and that is why today, I am ending my campaign and endorsing Joe Biden for president."
At a different campaign rally at about the same time in St. Paul, Vermont U.S. Sen. Bernie Sanders noted Klobuchar's departure from the race with kind words.
"I've known Amy for a very long time," Sanders said. "I like Amy."
Grow the Future of Public Media
MPR News is supported by Members. Gifts from individuals power everything you find here. Make a gift of any amount today to become a Member!
During his Super Tuesday eve rally, Sanders made a direct appeal to supporters of Klobuchar and Pete Buttigieg, saying all the Democratic candidates share the common goal of defeating President Trump in November.
"To all of Amy and Pete's millions of supporters, the door is open," Sanders said.
It was likely not the way Klobuchar thought it would end when she launched her campaign more than a year ago on Boom Island in Minneapolis. Falling snow covered her hair and winter coat as she talked about uniting the country and addressing problems from income inequity to climate change and the high cost of health care.
"I am running for this job for everyone who wants their work recognized and rewarded," she said.
Klobuchar entered the race playing defense. News reports, quoting unnamed sources, framed her as a difficult person to work for, a mean boss. As she tried to deflect those stories, she took aim at Trump.
"We have a president right now who literally wakes up every morning and divides people. That's what he does. He blames people. He blames immigrants. He blames workers. When anything goes wrong instead of rising to the challenge he kind of whines," Klobuchar said.
For more than a year, Klobuchar promoted herself as an effective senator who could win over Democrats and moderate Republicans in the battleground Midwest. She opposed abandoning private health insurance for a government-run "Medicare for All" plan. She opposed free four-year college for everyone.
Yet, Klobuchar struggled to gain traction. She finished fifth in the Iowa caucuses, a humbling showing in a neighboring state she had visited often, even before her presidential run.
Her high point came after a strong debate in New Hampshire.
"If you are tired of the extremes in our politics and the noise and the nonsense you have a home with me," she said in an emotional closing statement. "Please New Hampshire, I would love your vote and I would love the vote of America. Thank you."
Klobuchar's surprise third place New Hampshire finish over Biden and Elizabeth Warren looked like the beginning of something big for the Minnesota senator.
"New Hampshire, because of you, we are taking this campaign to Nevada," she said in a speech that night. "We are going to South Carolina and we are taking this message of unity to the country."
Within days of New Hampshire's primary, Klobuchar claimed to have raised more than $12 million dollars. She began pouring money into TV ads.
But despite finally having fundraising strength and sharing in the top-tier spotlight, Klobuchar's momentum faded quickly. She was unable to ramp up her campaign to compete in Nevada and South Carolina, and in those states proved unable to appeal to Latino and black voters, key parts of the national Democratic base of voters.
Two days before Super Tuesday, Klobuchar had to cancel a rally in the Twin Cities after protesters took her stage to criticize her record as Hennepin County attorney, specifically her role in prosecuting Myon Burrell, a black man who was a teenager when he was sentenced to life in prison for killing a young girl in Minneapolis 18 years ago. He has denied his involvement in the crime.
Klobuchar is not even halfway through her third U.S. Senate term. The Republican Party of Minnesota put out a statement ripping Klobuchar for missing Senate votes as she campaigned for president and accused her of ignoring Minnesotans she was elected to represent.