'It was expected': Worthington pork plant closes indefinitely
After the outbreak of COVID-19 at Smithfield Foods in South Dakota, workers at the JBS pork processing plant in Worthington feared an outbreak at their own plant, about 60 miles across the state line, was inevitable. 
That happened last week, when officials confirmed the first case of COVID-19 in a JBS plant worker. The next case appeared on the following day. As the numbers increased, so did the fears of employees and their loved ones. 
On Monday, JBS announced it would indefinitely close its Worthington plant. By then, more than two dozen employees there had tested positive for COVID-19. State health officials said Monday at least 76 people have tested positive for the disease in Nobles County, which now has the largest outbreak in Minnesota outside the Twin Cities metro area and Rochester. It has the highest rate of COVID-19 cases of any county relative to its population.
Since the coronavirus outbreak began, Minnesota Department of Health investigators have been tracking each confirmed case of COVID-19, as a way to understand — and tamp down — the spread of the virus.
Grow the Future of Public Media
MPR News is supported by Members. Gifts from individuals power everything you find here. Make a gift of any amount today to become a Member!
Recently, they started noticing a pattern: An increase in cases in Nobles County. State health commissioner Jan Malcolm said, as investigators tracked each case, interviewing people who had come down with the disease, they quickly identified "a strong link to the JBS plant."
Health officials said Monday that almost 40 people with ties to the plant — employees and their family members — had confirmed cases of COVID-19. They expect that number to grow, as more people are tested and more positive cases are investigated.
"You can see the concentration related to the plant," Malcolm said, "which is why it's so very important that we understand and get in there and understand more clearly what's going on."
More than 2,000 people work at JBS, Worthington's largest employer. Many workers have been on edge these past few weeks, with the specter of the Smithfield outbreak and the statewide creep of coronavirus looming.
One worker, who asked MPR not to use his name because he's afraid that talking about his experience will put his job at risk, said the virus' arrival in Worthington felt inevitable. 
"You still have people traveling into the Cities, traveling to Sioux Falls, and then they come back," he said. "They were going to eventually bring it with them. So it was expected. "
The worker is 24, and has worked the line at JBS for two years. He likes his job — and his family depends on the checks he brings home to help pay the rent. But every day he's come home lately, he's been scared he might bring the virus with him — and make his mom, her boyfriend or his siblings sick. 
"It's just a terrifying thought to think about that," he said.
But now, he has two more days on the line, as JBS winds down its operations. The company says it will pay employees 32 hours a week, with benefits, as it works with state and local officials to revamp its operation. The plan is for JBS to reopen, with social distancing and other precautions in place.
The union that represents JBS plant workers called on the company last week to slow down its operations — so that fewer workers could be on the line, and the plant could stay open. 
"Once you pull the lever and you stop production and that plant goes dark, it's like throwing a rock out in a pond," said UFCW Local 663 president Matt Utecht. "It's that initial splash, and then it's going be that rippling effect that will continue to roll out and spread out across the Midwest."
Utecht said the plant's closure announcement Monday was a surprise. He said the union had been hoping the plant could stay open.
But Utecht said the most important thing is that his workers are protected from the highly infectious coronavirus. A lot of workers and their families, he said, were worried about picking up the virus at work and bringing it home to their families.
"They fear for their grandparents, their parents or children, their nieces and nephews, that they're going to contract this disease and bring it home and it'll spread through the family," he said. "These are real concerns and very difficult concerns to totally alleviate from their minds."
In the meantime, state health officials are continuing their investigation into the spread of COVID-19 in the Worthington area. They're making testing available to JBS workers, so they can get a handle on the extent of the disease's spread in the region.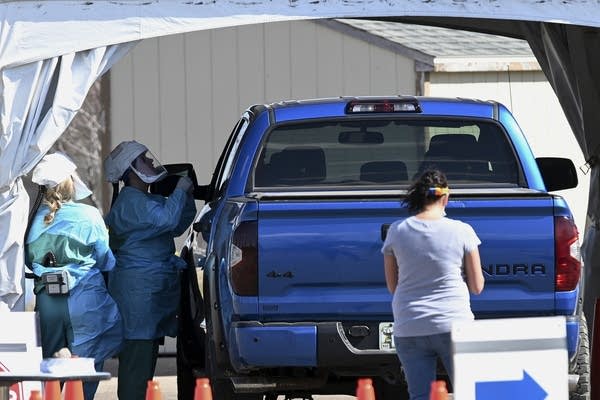 "It spreads person to person and people move freely from town to town, country to country, across the world," Utecht said. "And I think we're all just trying to do the best we can to contain it and keep the spread to a minimum."
Now, he's concerned about the impacts across the region, as Minnesota's largest pork processor is halting its line. State officials say the JBS plant in Worthington and the Smithfield plant in Sioux Falls, which has also closed its operation, together accounted for nearly 10 percent of the nation's pork processing. Minnesota is one of the top pork producers in the nation.
The coronavirus pandemic hit farmers across the state at a time when prices were already low — and now pig farmers aren't able to move their animals to market.
"I think what's going on right now, quite honestly, is devastating to farmers," said Dave Preisler, president of the Minnesota Pork Producers Association. "It's devastating to the rural communities they support."

How has the JBS closure affected your life? Email reporter Hannah Yang and tell her about your experiences.
---
COVID-19 in Minnesota
Health officials for weeks have been increasingly raising the alarm over the spread of the novel coronavirus in the United States. The disease is transmitted through respiratory droplets, coughs and sneezes, similar to the way the flu can spread.
Government and medical leaders are urging people to wash their hands frequently and well, refrain from touching their faces, cover their coughs, disinfect surfaces and avoid large crowds, all in an effort to curb the virus' rapid spread.
The state of Minnesota has temporarily closed schools, while administrators work to determine next steps, and is requiring a temporary closure of all in-person dining at restaurants, bars and coffee shops, as well as theaters, gyms, yoga studios and other spaces in which people congregate in close proximity.