May 3 update on COVID-19 in MN: Death toll passes 400, 6,663 positive cases
Updated: 11:41 a.m. | Posted: 8:43 a.m.
Authorities were monitoring growing COVID-19 hot spots in Minnesota this weekend, as the number of cases continued to rise amid increased testing.
And the death toll rose by 24 on Sunday, for a total of 419 Minnesota residents who have died from COVID-19 since the pandemic began.
The number of completed tests reported Sunday by the Minnesota Department of Health fell a bit, to just over 3,600. That's after daily testing exceeded 4,000 in reports on Friday and Saturday — but up significantly from a week ago.
Gov. Tim Walz said the state should be testing 5,000 people daily as part of the plan to reopen the economy.
The state reported 435 more confirmed COVID-19 cases on Sunday, for a total of 6,663.
There was also a big jump in the number of people who have recovered to the point of no longer needing to be in isolation.
Before you keep reading ...
MPR News is made by Members. Gifts from individuals fuel the programs that you and your neighbors rely on. Donate today to power news, analysis, and community conversations for all.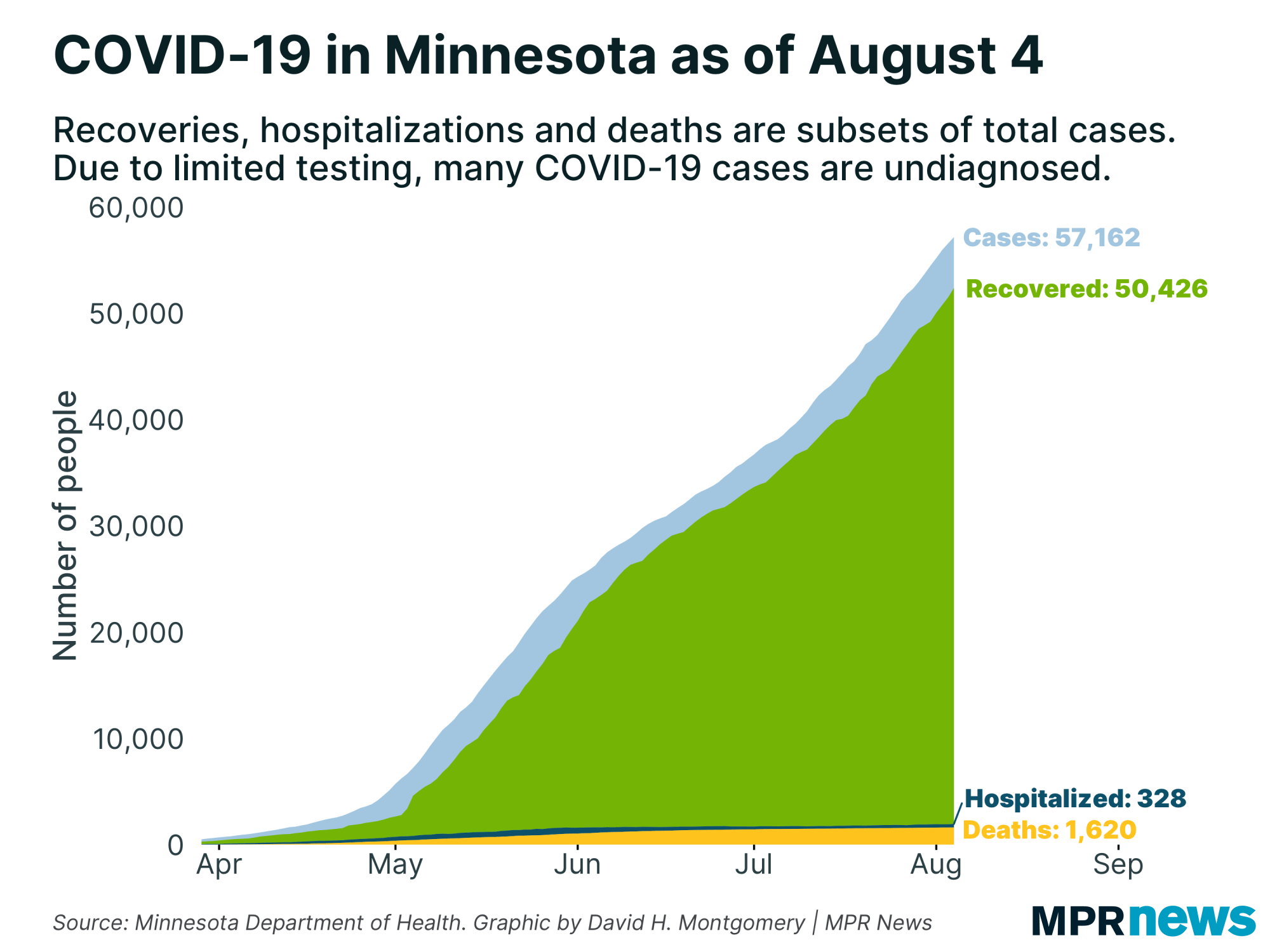 Stearns County reported a big jump in coronavirus cases, tied to two meatpacking plants.
The county started last week with 55 positive cases of COVID-19. By Sunday, the number had mushroomed to 589, with 58 more confirmed cases reported in the previous day as testing intensified.
That increased testing included people tied to two poultry plants, Pilgrim's Pride in Cold Spring and Jennie-O Turkey in Melrose, where an undisclosed number of workers have tested positive for the virus.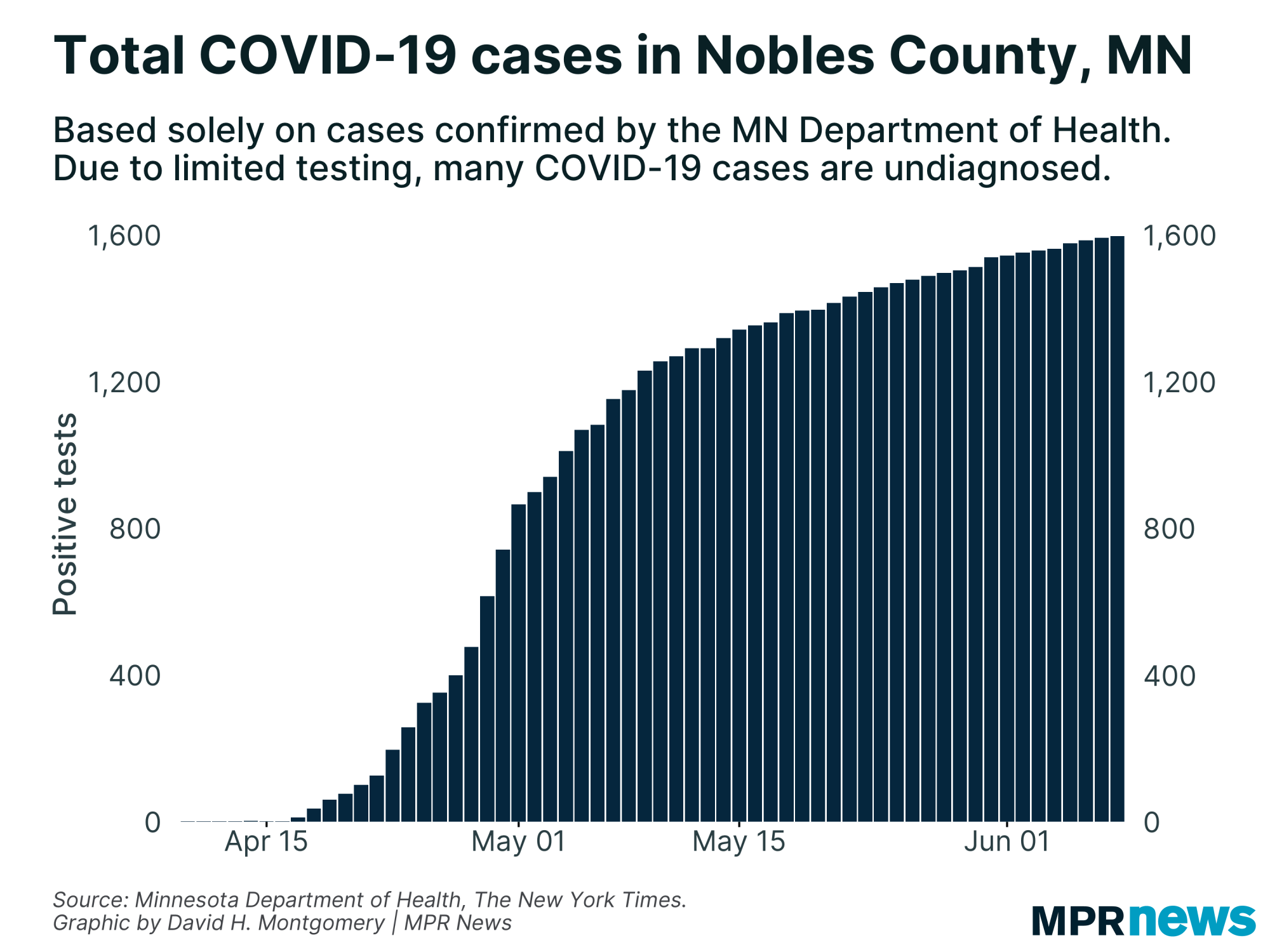 Southwestern Minnesota's Nobles County reported 41 new confirmed cases on Sunday, for a total of 940. The county had just one confirmed case on April 13.
The outbreak is centered around the massive JBS pork processing plant in Worthington, and it's the largest outbreak in Minnesota outside the Twin Cities and the largest by far relative to the county's population.
Beyond the ill and unemployed workers, the cascading effects of the shutdown of JBS and of the massive Smithfield Foods pork processing plant in Sioux Falls, S.D., are also hitting pork producers hard. With those plants down, farmers have few places to sell the animals and so are being forced to destroy them.
At a Wednesday press conference, Minnesota DFL U.S. Rep. Collin Peterson said state officials together with JBS executives and union leaders would be working on a plan that would allow the plant to reopen while keeping workers safe and tested as they enter.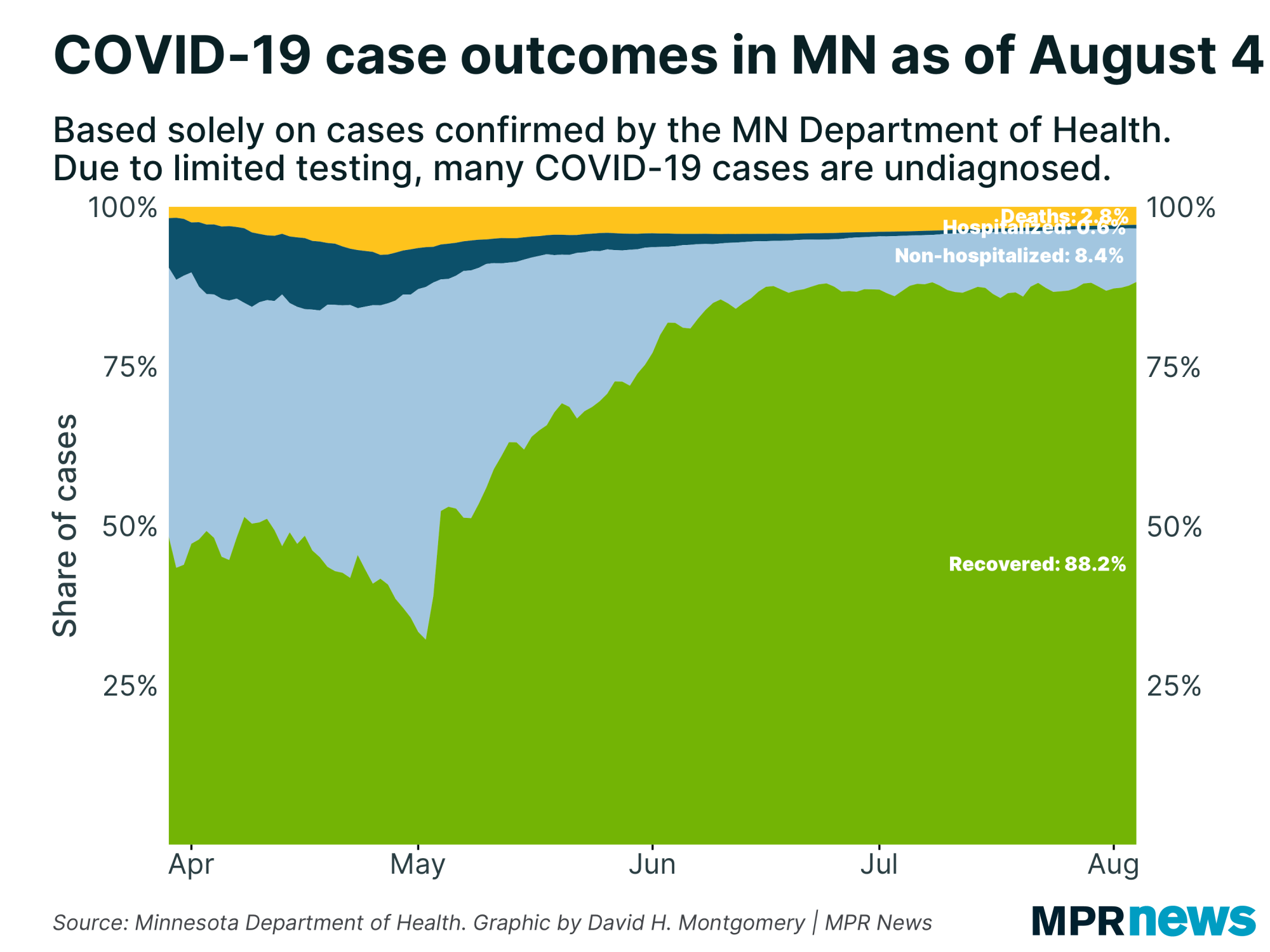 Here are the latest coronavirus statistics, as of Sunday:
6,663 cases confirmed via 82,632 tests

419 deaths, up from 395 on Saturday

1,199 cases requiring hospitalization, up from 1,159 on Saturday

373 people remain in the hospital, down from 389 on Saturday; 155 in intensive care, up from 135 on Saturday

3,015 patients recovered, up from 2,397 on Saturday
In addition to the 24 deaths reported Sunday, there also were 24 deaths reported Saturday. They included 17 residents of Hennepin County, three residents of Anoka County, and two each from Clay and Ramsey counties.
Most of the deaths reported Saturday were people in their 70s or older — though state health officials noted that one person who died in Hennepin County was in their 40s and "had no underlying conditions and was not in long-term care." State officials said they're not releasing any further information about that case.
Twenty-one of the 24 deaths reported Saturday were residents of long-term care facilities, which to date have seen the majority of COVID-19 deaths in Minnesota.
On a media call Friday, state officials cautioned families against removing loved ones from group-care facilities.
The Minnesota Department of Health's Kris Ehresmann said families need to consider whether they can provide the specialized care those facilities offer, as well as the duration of the pandemic.
"It's not a short-term situation. It's not, 'Well, if we could just take Mom or Dad home for the weekend, that would make a big difference.' This is months and months," she said.
Officials also said moving someone from a long-term care facility can be dangerous and disruptive to their health.
There are more than 100 facilities in the state with at least one COVID-19 case, although many have only one or two cases. Twenty-one facilities have 20 or more cases, Ehresmann said.
Stay-home order extended for two more weeks
The latest numbers come several days after Gov. Tim Walz extended his stay-at-home order but allowed some additional retail store operations. Bars and restaurants, however, remain takeout-only until May 18.
Retailers and other businesses will be able to offer curbside pickup of purchases starting Monday, putting up to 30,000 Minnesotans back on the job, the governor's office said. Dog groomers can work, too, if pets are picked up and dropped off curbside.
Other customer-focused businesses, however, will likely remain disappointed. For example, salons and barbershops can sell products for curbside pickup but still can't provide haircuts or other in-shop services.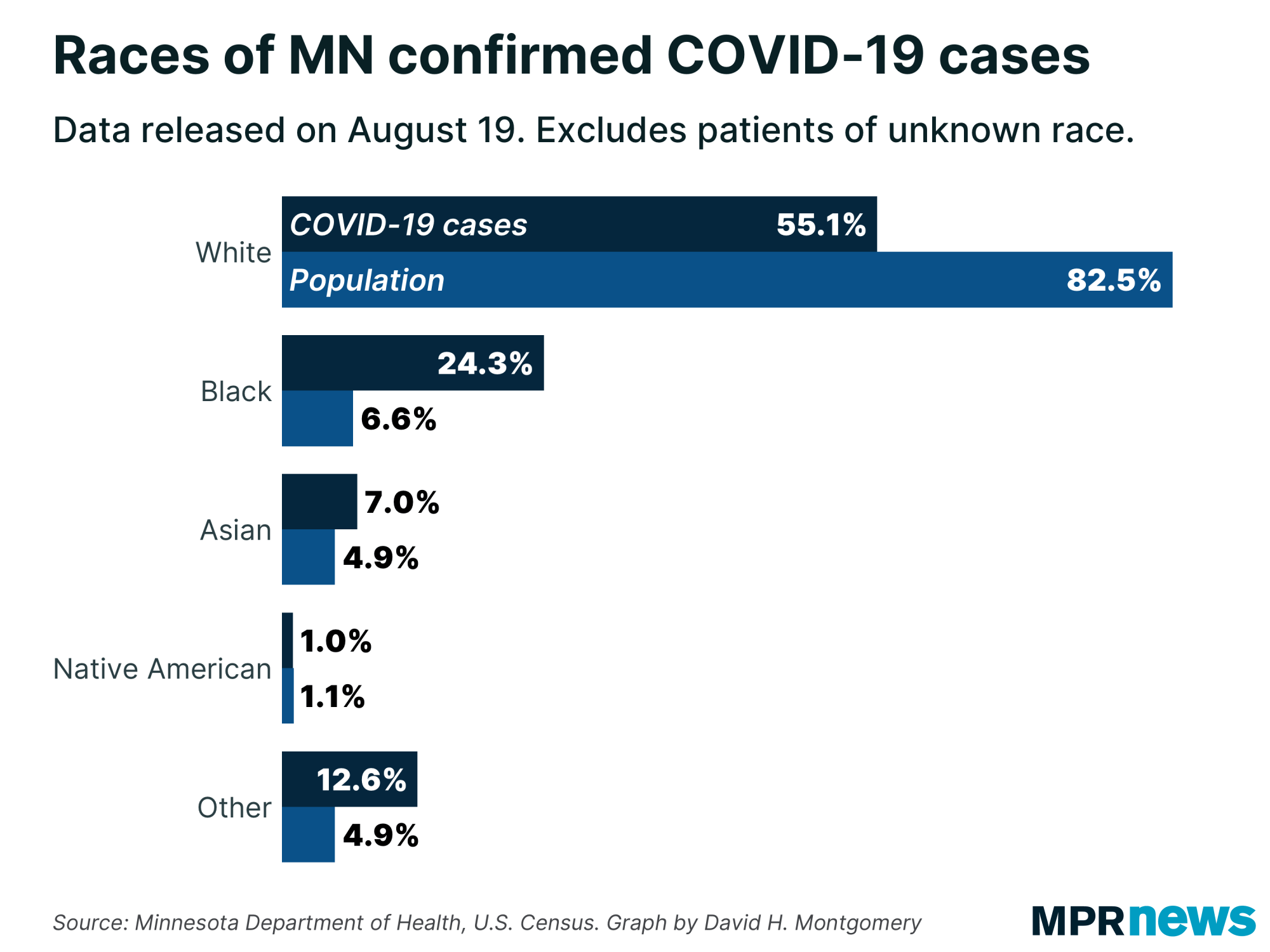 Earlier this week, Walz allowed some factory and office workers who don't have customer-facing jobs back into their work spaces, with safeguards. On Wednesday, he expressed hope that smaller businesses could soon reopen with social distancing and other hygiene measures in place.
The governor, though, has made clear that places that depend on public crowds, including bars, eateries and big sporting events, would be among the last to return to normal business operations.
While state leaders recognize the disruptions to daily life, "we do have sort of an index of caution around the fact that we're seeing the case numbers increase rapidly" as testing ramps up, Malcolm said.
Health authorities, she added, have been "very sobered" by outbreaks in southwestern Minnesota and other hot spots, and "at a time when we feel like we're just getting our arms around the true spread of the disease, there's some reluctance to open more broadly."
Protesters gathered at the Minnesota Capitol on Saturday to voice their opposition to Walz's orders. They say the stay-at-home measures are causing too much damage to the economy and are infringing on their personal freedoms.
They circled the Capitol in dozens of vehicles, honking their horns, while dozens more protesters gathered on foot.
---
Developments from around the state
Data suggest more people with stroke symptoms aren't seeking care amid pandemic
The Minnesota Department of Health says recent findings suggest some people suffering from stroke symptoms are avoiding going to the emergency room out of fear of exposure to the coronavirus.
Dr. Al Tsai is an epidemiologist with the health department. He said their analysis shows the monthly average for stroke patient visits at Twin Cities hospitals was down about 15-percent in March.
"It's a great concern because if people are not coming in to get treated and seek care, they run the risk of much greater disability and even risk of death from strokes," he said.
The department says the same warnings apply to those experiencing symptoms of a heart attack; they say people with those symptoms should seek medical care.
Health officials in several parts of the country are reporting similar declines in ER visits for non-COVID-19 cases.
— Mike Moen | MPR News
---
Top headlines
Businesses scramble to lay plans for partial reopening: More than a month after Gov. Tim Walz issued a stay-at-home order, some nonessential retail businesses will be allowed to partially reopen on Monday, offering curbside pickup or delivery. Those services, however, are easier for some businesses than others.
Pandemic aggravates Minnesota care center staffing shortages: Staffing has become such a challenge at some Minnesota care facilities due to the coronavirus outbreak that a few aren't sure how they're going to get through the weekend, the head of an industry group said Friday.
St. Paul advocates move online to help domestic abuse survivors: On a normal day, the staff at Women's Advocates of St. Paul have a tough job. But with in-person contact limited, they've had to change the way they help domestic abuse survivors.
Bachelor Farmer closure shakes pandemic-weary restaurant industry: Fine dining restaurants and those with multiple locations seem to be taking the biggest hit, as Minnesota's stay-at-home order heads into a seventh week.
Healthy pigs being killed as meatpacking backlog hits farms: Officials estimate that about 700,000 pigs across the nation can't be processed each week and must euthanized. Most of the hogs are being killed at farms, but up to 13,000 a day also may be euthanized at the JBS pork plant in Worthington, Minn.
---
COVID-19 in Minnesota
Health officials for weeks have been increasingly raising the alarm over the spread of the novel coronavirus in the United States. The disease is transmitted through respiratory droplets, coughs and sneezes, similar to the way the flu can spread.
Government and medical leaders are urging people to wash their hands frequently and well, refrain from touching their faces, cover their coughs, disinfect surfaces and avoid large crowds, all in an effort to curb the virus' rapid spread.
The state of Minnesota has temporarily closed schools, while administrators work to determine next steps, and is requiring a temporary closure of all in-person dining at restaurants, bars and coffee shops, as well as theaters, gyms, yoga studios and other spaces in which people congregate in close proximity.