May 5 update on COVID-19 in MN: 455 dead; big hits to state budget, economy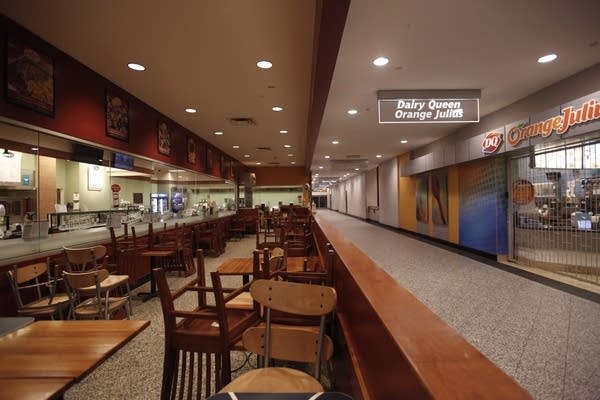 Updated 7:33 p.m. | Posted: 5:30 a.m.
State budget leaders painted a grim picture Tuesday of the state's short-term finances in the COVID-19 era as they projected a $2.4 billion budget hole through July 2021 and warned the economy will not be bouncing back quickly.
The expected deficit would eat up the state's entire rainy day fund, although officials said they didn't expect to use savings to fill the entire hole because finances may get worse before they get better.
COVID-19 costs "have rocked Minnesota's economy" and will continue to do so until the crisis ends, state economist Laura Kalambokidis said as she laid out forecasts showing big drops in consumer spending, sales taxes and wages.
The state's economic output is expected to drop three consecutive quarters before a return to positive territory, but it "does not get back to where it would have been without the pandemic," she said. "Some amount of economic activity is simply lost."
MPR News is Member Supported
What does that mean? The news, analysis and community conversation found here is funded by donations from individuals. Make a gift of any amount today to support this resource for everyone.
Gov. Tim Walz told reporters that Minnesota's fiscal health was strong before the pandemic and the state was well positioned to get through it, but he warned of sacrifices ahead.
Deaths, hospitalizations, ICU cases rising
The worrisome budget numbers arrived Tuesday minutes after the Health Department reported 455 deaths, up 27 from Monday, with the counts of people currently hospitalized (434) and in intensive care (182) hitting new highs.
Total cases since the pandemic began leaped again Tuesday to 7,851, up 617 from the prior day.
The number of cases discovered in Minnesota has accelerated sharply over the past week as the state's testing push intensified.
"Minnesota's numbers, we are not at our peak yet," Walz said. "There are some dark days ahead of us. But we have changed the calculus on this."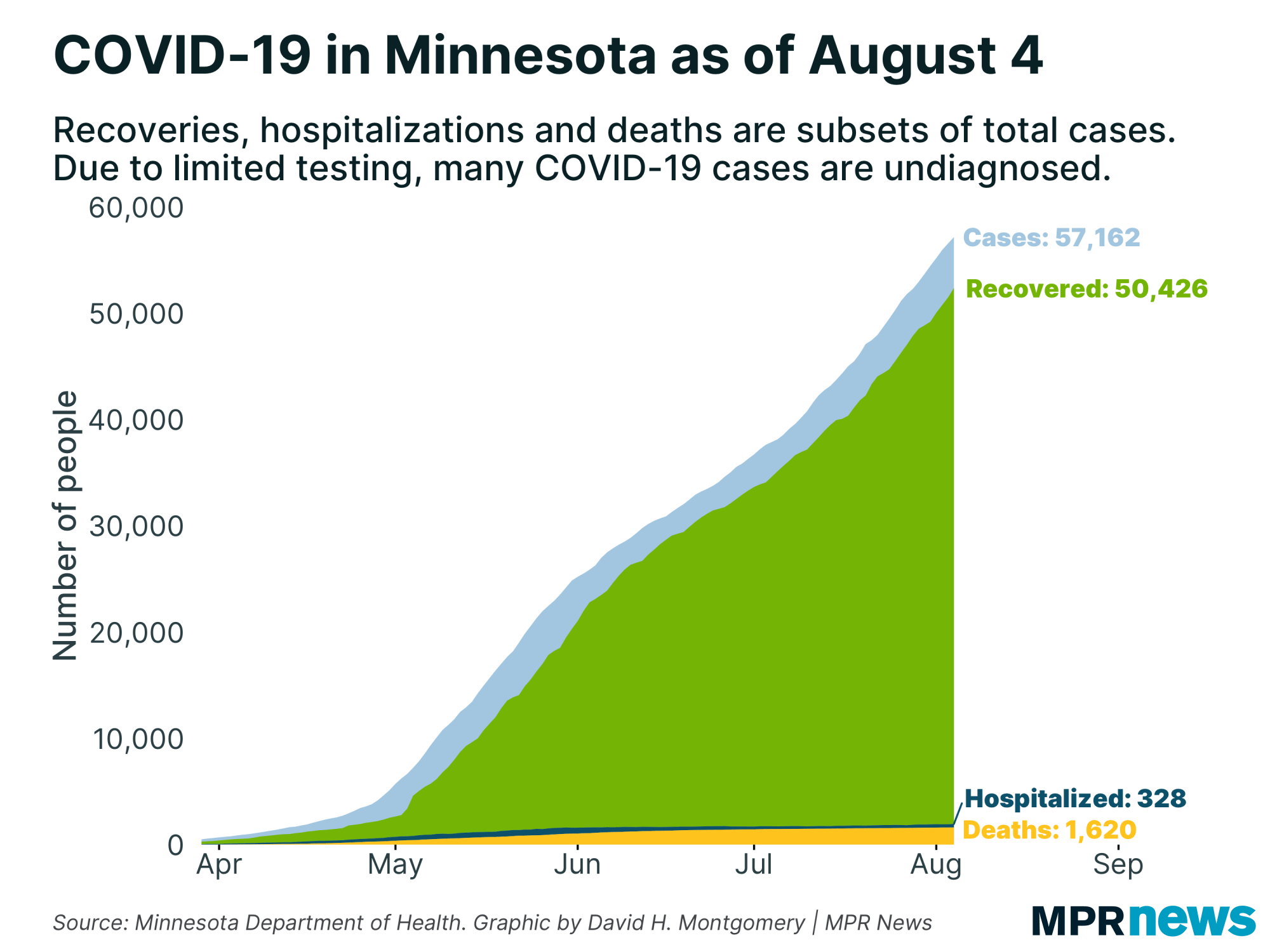 COVID-19 opens a big hole in the state budget
The newest budget data Tuesday confirmed a widespread belief a deficit was ahead.
The estimate essentially shows a $4 billion swing from February, with revenues expected to trend $3.6 billion lower and spending, including funds approved since February, expected to rise $391 million.
It's a sharp turn from February when an economic forecast predicted a $1.5 billion surplus would accumulate by next summer. A two-year, $48 billion budget that was approved last year runs through July 2021.
The coronavirus pandemic pushed many people out of work and led to restrictions on commerce and travel that reduced consumer spending. Last month, officials reported tax collections had already dipped by $100 million in a period that captured only a small fraction of the COVID-19 fallout.
"The $2.359 billion budget reserve remains available to mitigate the budgetary impact of the crisis," according to Minnesota Management and Budget, the state's budgeting agency. "Given the uncertainty about the path of pandemic, the economic outlook will remain volatile for some time."
Later, MMB Commissioner Myron Frans said Minnesota shouldn't drain the reserve entirely because this storm could last awhile.
The Legislature has two weeks left before it must adjourn its session.
While federal money is expected to help ease the strain, Walz said he's operating as though the deficit could deepen. State leaders, he said, can't work on the belief that they can "just dump the budget reserves in and you're even today, because tomorrow if we go back in, it's not there."
Elective surgeries, dental work OK'd to resume
The governor had put a hold on elective surgeries and nonemergency dental procedures over the past weeks to preserve crucial protective gear and equipment needed to respond to a surge in COVID-19 cases. On Thursday, he said that hospitals, so far, have enough gear to handle the cases.
On Tuesday, he formally lifted the hold, allowing doctors, hospitals and dental clinics to return to that work starting next week.
Walz acknowledged that health care workers were nervous about this move, concerned that it will siphon off supplies of masks and other personal protective gear needed as the surge in COVID-19 hospitalizations approaches.
However, he said officials felt confident in their supplies and called the return of elective surgeries a calculated risk that "strikes the proper balance" between safety and restarting this economic sector.
No 'red alarm' yet as cases, ICU patient numbers climb
Health Commissioner Jan Malcolm said that the latest numbers on deaths showed the ongoing trend Minnesota's seen since the pandemic began — nearly all of those who died were living in long-term care facilities and had underlying health problems.
Despite the increase officials are seeing now in cases and hospitalizations, she said the climb remained within the state's ability to manage it so it does not overwhelm the health care system.
Two key metrics — how long it takes for the raw case count to double and how long it takes for current hospitalizations to double — remained relatively moderate. The "red alarm" will sound if and when case counts start doubling every two to three days; right now it's about eight days, she said.
One other positive: Patients needing ICU care aren't rising as quickly as current hospitalizations. "We're still feeling good about that," she added.
She cautioned, though, that Minnesota was not yet at the steepest part of its curve.
Meatpacking plants at the center of many new cases
The jump in positive cases continues to be driven by a handful of counties with outbreaks centered around meatpacking plants. Testing has intensified around those outbreaks and led to more positive tests for the disease.
About 25 percent of the 1,000 new cases over the weekend came from five counties — Nobles, Kandiyohi, Stearns, Martin and Cottonwood counties — that have seen outbreaks in food processing plants, Health Commissioner Jan Malcolm said.
Cases in Nobles County in southwestern Minnesota, where an outbreak centered around the JBS pork plant in Worthington, continue to swell. The county continued to have the largest outbreak outside the Twin Cities and the largest by far of any Minnesota county relative to its population.
Confirmed cases in Nobles County have jumped from a handful in mid-April to 1,069 on Tuesday as testing in the region accelerates, revealing more cases. That's about 1 in 20 people in the county confirmed infected.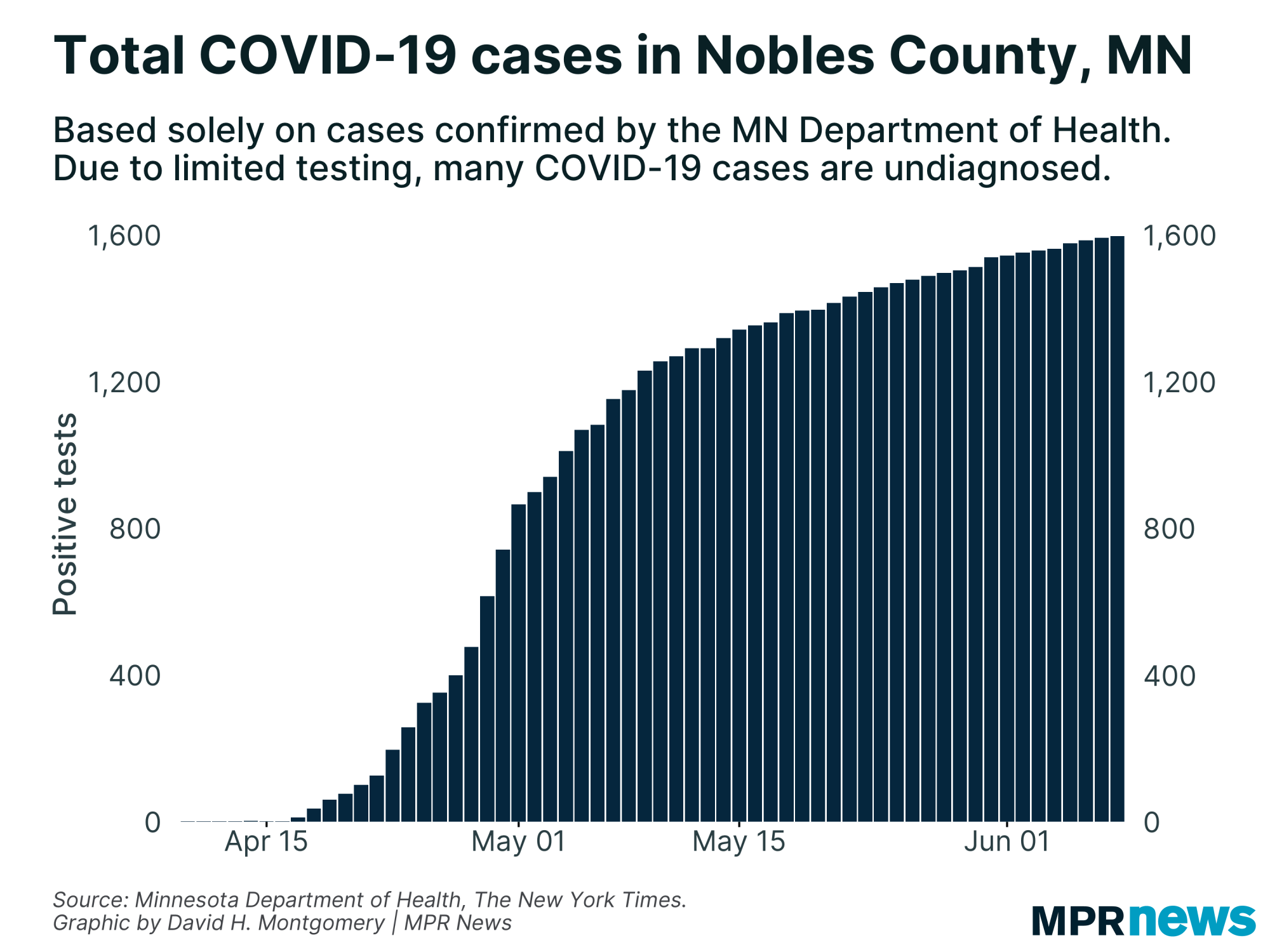 The JBS plant shut on April 20 as executives worked to control the disease's spread. The union representing workers at JBS said Sunday that it's been told the facility will reopen on Wednesday. In a statement, union leaders said workers will be spaced farther apart and the plant will expand cleaning and disinfecting.
The closure of the plant and others in the Midwest has caused major disruption in the supply chain, with some hog farmers forced to kill healthy pigs because there was no place to process them.
Similar problems were reported in Stearns County, where COVID-19 cases tied to two packing plants — Pilgrim's Pride poultry plant in Cold Spring and Jennie-O Turkey in Melrose — have skyrocketed. An undisclosed number of workers at both plants have tested positive for the virus.
At the beginning of last week, there were 55 confirmed coronavirus cases in Stearns. By Sunday, as testing for the disease intensified, there were 589 and by Tuesday confirmed cases had jumped again to 815.
Kandiyohi County in west-central Minnesota is also seeing cases jump two weeks after officials with the Jennie-O turkey processing plant there said some employees had tested positive for the coronavirus. The county had confirmed three COVID-19 cases back then. On Tuesday, the Health Department reported 200 people have now tested positive.
Some businesses back to work, others frustrated
While the uncertainty continued for bars and restaurants, the state on Monday lifted some restrictions on retailers that could put as many as 30,000 Minnesotans back on the job; bars and restaurants, however, remain takeout-only until May 18.
Walz's tweaked stay-at-home order lets retailers and other businesses offer curbside pickup of purchases.
The governor on Monday said that about 91 percent of Minnesota's workforce is now able to return to their workplaces with hygiene and distancing rules in place. Restaurants and bars remain the biggest sector still unable to bring customers back into their buildings.
Liz Rammer, CEO of the trade group Hospitality Minnesota, said Monday that more than half her members, including eateries, won't survive if things stay the same over the next two months.
"We're confident," she said, "that our hospitality businesses are ready to open now. Our businesses and the public are ready to approach this new new normal."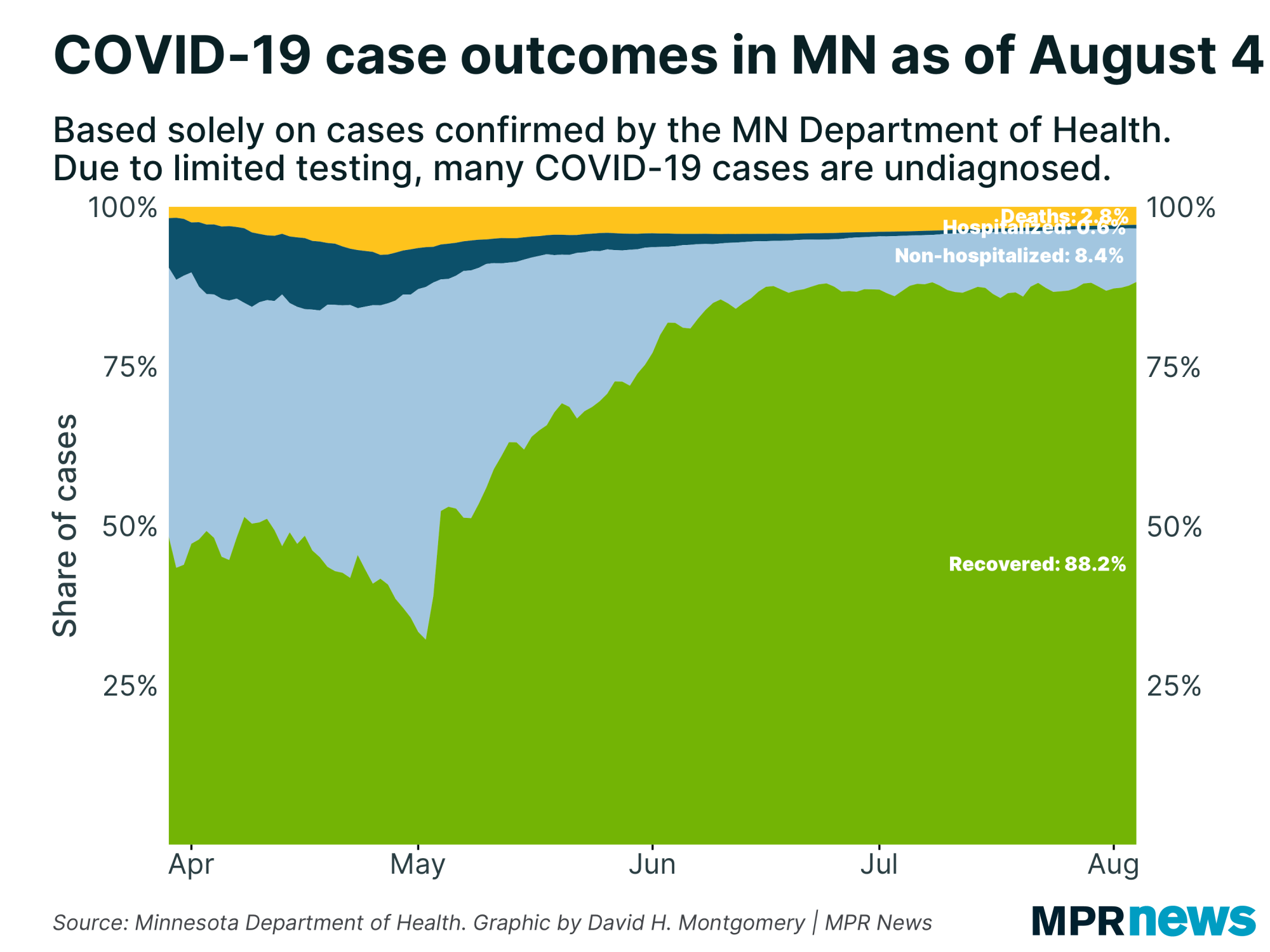 Walz fielded similar questions Tuesday amid news that some businesses and communities were chafing at Walz's stay-at-home order, which has been running for more than a month.
The order kept people out of crowded public spaces, helping slow the outbreak and buying time for the state's health care system to secure supplies and prepare for waves of cases and hospitalizations.
But, as Walz has acknowledged, it's come at a steep economic cost for many who've been thrown out of work. Earlier this week a Twin Cities barbershop publicly defied Walz's order and opened his shop to customers.
Leaders in the town of Lakefield, in southwestern Minnesota, recently voted to support businesses that want to defy Walz's order and reopen. GOP leaders have also prodded Walz to move faster, even as COVID-19 cases continue to climb.
"I want things open as badly as they do," the governor said, adding that reopening the wrong way could rekindle the disease's spread and put the lives of vulnerable people at risk.
"This is one of those difficult things that, if we do this right, it'll appear like we're wrong because we didn't overrun the health care system," he said. "It's a bit like someone who can't swim, and you keep them out of the water. Whether you can claim you kept them from drowning might have been a little debatable, but if they had jumped in the deep end, it would have been trouble."
---
Developments from around the state
Hennepin Co. board approves measures to help long-term care facilities, low-income renters
The Hennepin County Board took action on Tuesday designed to stem the tide of COVID-19-related fatalities at the more than 300 long-term care facilities in the county.
The measure passed by the board offers to make county resources — like Hennepin Healthcare — available to help increase onsite testing of residents and staff. Commissioner Jan Callison said she'd like to see the program mirror the county's practice of temporarily housing homeless people in hotels to help them stay isolated from the virus.
"I can foresee a strategy that says once the testing indicates there is an infection, we have hotels where folks can be moved temporarily while the facility is disinfected or whatever has to be done people can be moved back," Callison said.
Nearly 85 percent of coronavirus-related deaths in Hennepin County are among older residents of long term care centers or other congregate living residences.
The county Board on Tuesday also approved the use of $15 million of federal COVID-19 relief funds for emergency housing assistance.
Six community-based organizations will help select recipients and disburse the money, county officials said. And they said renters can reapply for more help if needed. The funds will help more than 9,000 low-income renters who've been impacted by the pandemic, officials said.
— Brandt Williams | MPR News
Leech Lake band asks nonresidents to avoid area
The Leech Lake Band of Ojibwe is asking nonresidents to avoid traveling to or through the Leech Lake Reservation in northern Minnesota because of the COVID-19 pandemic.
Leech Lake Chairman Faron Jackson says the band is "taking every precaution to ensure that the health and well-being of our communities is protected."
Jackson asks anyone who lives more than a county away from the reservation's boundaries to "please stay home." The reservation is near the headwaters of the Mississippi River and shares territory with Chippewa National Forest.
In a statement, the Leech Lake band points out that American Indians have higher incidences of underlying medical conditions such as diabetes, heart disease and respiratory illnesses that make individuals vulnerable to the coronavirus.
The band's Reservation Business Committee has declared a public health emergency, triggering its emergency operations plan. The band also has adopted stay-at-home resolutions and closed nonessential government operations and services, including its casinos.
— The Associated Press
Lawmakers eye aid for small grocers
Minnesota lawmakers are fashioning a grant program to assist small groceries to retrofit stores and provide protective equipment for employees.
Identical bills were introduced Monday and are sponsored by the chairs of the House and Senate agriculture committees. Stores with 20 or fewer employees could get grants of $500 each. Stores with more than that could qualify for $1,000. Food retail chains would cap out at $2,000.
House Agriculture Chair Jeanne Poppe , DFL-Austin, said money could be used for equipment, such as checkout lane partitions and gear for customer-facing workers. "Especially some of the smaller grocers may not have access to PPE equipment, masks or plexiglass or different things," she said.
Stores could also pay for signage to direct customers to social distance.The bill has been rolled into a broader farm finance bill expected to get a vote soon.
— Brian Bakst | MPR News
State OKs $11M for animal carcass disposal
Minnesota will spend up to $11 million from its COVID-19 response account to help farmers dispose of wasted animal carcasses due to disruptions at meat-processing facilities.
Several food plants have been idled or cut back on production due to coronavirus outbreaks among employees. That's caused a clog in the supply chain and led farmers to destroy animals that would have otherwise been processed for meat.
In a notice posted Monday, the Walz administration said the money would be freed up for the Department of Agriculture to dispose of the carcasses.
A state official said the money would be used to set up four carcass disposal sites near hog production areas where producers could bring destroyed animals to be ground up and composted. The initial contract in Nobles County is for the disposal of 100,000 hogs over 37 days.
The Legislature put $200 million into the COVID-19 fund for quick dispersal as needs arise. The administration must run spending of more than $1 million off a panel of top lawmakers, who would have to muster a majority to stop the use.
To date, $114 million in spending has been authorized — for everything from purchases of medical masks, gloves and gowns to a testing partnership with the Mayo Clinic and the University of Minnesota.
— Brian Bakst | MPR News
Boundary Waters reopening for day use
The Boundary Waters Canoe Area is opening for day use on Tuesday but will remain closed to overnight paddlers through May 17.
The Superior National Forest said that's to align with the state's stay at home order and Gov. Tim Walz's request to recreate close to home. Those who made overnight reservations through May 17 will receive a full refund.
The cancellation of overnight permits is a blow to canoe outfitters in northern Minnesota that provide gear and food to people entering the wilderness. But the Superior National Forest said allowing day use provides some opportunities for local recreation and businesses.
Bill Forsberg, who operates Timber Trail Lodge and Boundary Waters Outfitters outside Ely, Minn., said his customers are frustrated but understanding.
"People still want to come, and so far most of our customers are willing to just hang on to their permit in hopes that they can come," he said. "But, groups in June are now starting to get nervous, let alone the ones in May."
Forsberg said he lost several thousand dollars in reservations for the next two weeks.
Meanwhile, the National Park Service says Voyageurs National Park will also be closed to overnight use through May 17. Quetico Provincial Park across the Canadian border from the Boundary Waters remains closed until the end of May.
— Dan Kraker | MPR News
---
Top headlines
An uncertain fall means once college-bound students are weighing their options: The unpredictability of COVID-19 has many Minnesota high school seniors reconsidering plans to enroll in college this fall. Many schools are preparing for declining student enrollment and a financial fallout.
Republicans push Walz to speed up business reopenings: DFL Gov. Tim Walz says he's working on reopening more businesses that were closed amid COVID-19 concerns, but he's not sure when it will happen. Senate Republicans say the governor needs to move faster or those businesses will disappear.
---
COVID-19 in Minnesota
Health officials for weeks have been increasingly raising the alarm over the spread of the novel coronavirus in the United States. The disease is transmitted through respiratory droplets, coughs and sneezes, similar to the way the flu can spread.
Government and medical leaders are urging people to wash their hands frequently and well, refrain from touching their faces, cover their coughs, disinfect surfaces and avoid large crowds, all in an effort to curb the virus' rapid spread.
The state of Minnesota has temporarily closed schools, while administrators work to determine next steps, and is requiring a temporary closure of all in-person dining at restaurants, bars and coffee shops, as well as theaters, gyms, yoga studios and other spaces in which people congregate in close proximity.