Poll: Most Minnesotans support stay-home measures, but state is divided
A majority of Minnesota voters support the restrictions on everyday life the state imposed to try to combat the COVID-19 pandemic, according to a new MPR News/Star Tribune/KARE 11 Minnesota Poll.
But a solid minority feels the state has gone too far.
The survey, which interviewed 800 registered Minnesota voters from May 18 to May 20, was conducted by Mason-Dixon Polling and Strategy. It has a margin of error of plus or minus 3.5 percent, with higher margins of error when breaking respondents into smaller groups by region, political party or other factors.
It found about 57 percent of voters feel the state's COVID-19 response has been "about right," with another 9 percent wishing the state had gone farther. About 32 percent of voters felt the state had "gone too far."
Grow the Future of Public Media
MPR News is supported by Members. Gifts from individuals power everything you find here. Make a gift of any amount today to become a Member!
"As much as it has been hard to be at home, it seems like we didn't have the catastrophic situation like they had in New York and elsewhere," said Elaina Buzzell, a 39-year-old Minneapolis resident who's been staying home as much as possible.
A majority of Minnesotans have a similar point of view, with 59 percent saying the pandemic restrictions have been worth the social and economic pain they've inflicted. But the 32 percent who say the measures have caused more harm than good are numerous, too, even if outnumbered.
"I think it's excessive and way beyond what was necessary," said Mark Peterson, a 54-year-old auto repair shop owner from Owatonna, Minn.
Feelings like Peterson's are more common outside the Twin Cities metro area, but the poll found a plurality of voters in every region of the state feel the restrictions have been worth it.
Attitudes around the state may have shifted, however, since the survey ended. The three days of polling concluded on the same day last week that Gov. Tim Walz made his latest announcement on the state's COVID-19 response.
The governor allowed for restaurant patio dining only starting June 1. It was a decision that has drawn rebuke from restaurateurs who were preparing for more business.
Republicans, Democrats split on virus, response
One of the big divides over the response to the virus is along party lines. Democrats overwhelmingly support the state's response, which has been led by the DFL governor. If Democrats disagree with the COVID-19 response, it's because they wish it had gone farther. Buzzell is one of these, believing a mask-wearing requirement would be a good move.
Two-thirds of Republicans, meanwhile, feel the restrictions have gone too far, while 30 percent feel the restrictions have been about right.
A 53 percent majority of independent voters support the restrictions, while 37 percent say they've gone too far.
But these differences don't appear to suggest Republicans are hurt more by the economic impact of the restrictions. Democrats and Republicans are both about equally likely to say someone in their household has lost a job or had their income reduced because of the pandemic, with about 35 percent saying yes and 50 percent no in both parties.
The partisan split about the state's response is mirrored in voters' opinions about COVID-19 itself. A majority of Republicans say COVID-19 isn't a problem in their community at all, versus just 6 percent of Democrats. Meanwhile two-thirds of Democrats, like Buzzell, believe the worst of the disease is yet to come.
Peterson, in contrast, said he doesn't "see any evidence that this is any worse than any other flu or any other disease we've been through that we didn't run and hide from."
Though COVID-19 death rates vary from country to country and there are disputes about how to classify the deaths, most evidence suggests the disease spreads more easily and has a higher death rate than the seasonal flu. 
Those vastly different thoughts on the disease exist even though fairly similar shares of all political groups say they know someone who's been infected with the virus: 39 percent of Democrats, 37 percent of independents and 30 percent of Republicans.
No agreement on returning to normal
On Monday, Walz ended his stay-at-home order while maintaining some restrictions, such as limitations on sit-down service at restaurants. But there's no consensus among Minnesotans on what they'll do when formal restrictions are lifted.
About three-quarters of Minnesotans say they've worn masks when going out in public over the past week, while one-quarter haven't. Majorities in all parts of the state and all political parties say they've worn masks, though metro-area residents, Democrats and women all say they're more likely to mask up.
Minneapolis recently mandated masks when indoors in public places such as stores, though that requirement won't take effect until next week. There have been no other legal mask requirements in Minnesota, but many stores have required customers to wear masks while inside.
Buzzell wishes the state would mandate masks, saying she's heard from friends in places with mask requirements and that it seems "like a reasonable thing." Peterson, in contrast, isn't wearing a mask.
"I don't wear a mask because I'm not worried about myself and I'm not worried about me giving it to somebody else, so there is really for me no purpose to wear a mask," he said.
Businesses hoping for customers to get back to normal might be waiting a long time. Only 29 percent of respondents said they plan on resuming all their normal activities when legally allowed. Another 33 percent say they'll be more selective about what they do in public, while 27 percent say they'll be very limited in what they do. Another 11 percent say they'll shelter in place until the disease is no longer a threat.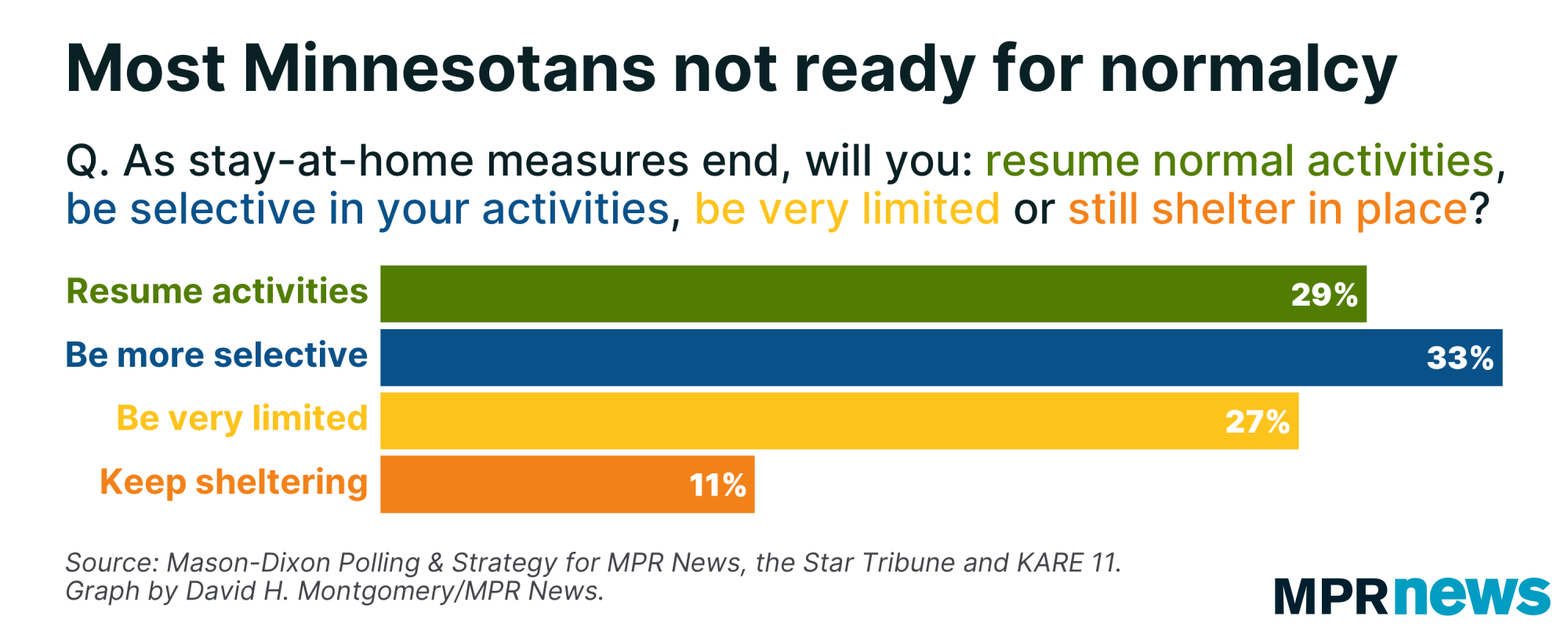 In no part of the state did a majority of Minnesota voters say they planned to get back to normal when allowed, but respondents from southern Minnesota were disproportionately likely to say so. Residents of Hennepin and Ramsey counties were the most likely to say they'll keep severely limiting their activities even when legal restrictions end.
---
Methodology
The findings of this MPR News/Star Tribune/KARE 11 Minnesota Poll are based on live interviews conducted May 18 to May 20 with 800 Minnesota registered voters. The poll was conducted for MPR News, Star Tribune and KARE 11 by Mason-Dixon Polling and Strategy Inc.
The sample for this survey was drawn from a Mason-Dixon database that includes approximately 2.2 million registered Minnesota voters who are matched with a telephone number — either a land line, a cellphone or both. A random sample of 100,000 voters from unique households with unique phones was drawn from this database for use in calling on this poll.
Those interviewed were randomly selected by computer from this phone-matched Minnesota voter registration file with quotas assigned to reflect the state's voter registration distribution by county. For example, Hennepin County and Ramsey County combined account for 32 percent of the state's registered voters, so 32 percent of the survey interviews were completed there. The interviews were conducted via land line (35 percent) and cellphone (65 percent).
The margin of sampling error for this sample of 800 registered voters, according to standards customarily used by statisticians, is no more than ± 3.5 percentage points. This means that there is a 95 percent probability that the "true" figure would fall within that range if all voters were surveyed. The margin of error is higher for any subgroup, such as a gender or age grouping.
The self-identified party affiliation of the respondents is 38 percent Democrats, 33 percent Republicans and 29 percent independents or other.
Sampling error does not take into account other sources of variation inherent in public opinion surveys, such as non-response, question wording or context effects. In addition, news events may have affected opinions during the period the poll was taken.
The demographic profile of this poll of registered voters is an accurate reflection of their respective voter populations. This determination is based on more than 100 statewide polls conducted by Mason-Dixon in Minnesota over the past 32 years — a period that spans eight presidential election cycles that began in 1988.