May 28 update on COVID-19 in MN: 967 dead; Floyd protests may drive spread
Updated 7:30 p.m. | Posted: 5:09 a.m.
State health officials said Thursday said they are expecting a spike in coronavirus cases stemming from massive protests in Minneapolis and St. Paul over the death of George Floyd.
"It's certainly going to be a factor in what happens in our outbreak and our case counts," Health Commissioner Jan Malcolm told reporters.
She said that while she understands the pain and anger people are feeling over Floyd's death while in Minneapolis police custody and respects their desire to protest, she's concerned that people gathering in the streets are at risk of getting the virus and transmitting it.
"I'm understanding the forecast is for very large protests this weekend, with a lot of people coming in from across the state and around the country and gathering in large groups," she said. "That's almost sure to have an impact on furthering spread."
Malcolm reiterated her plea for people to wear masks and socially distance but acknowledged doing those things will be very difficult in the situation that's playing out in Minneapolis and St. Paul.
Deaths near 1,000
Malcolm's worrisome comments came hours after her agency reported that Minnesota's COVID-19 toll continued a steady climb.
Before you keep reading ...
MPR News is made by Members. Gifts from individuals fuel the programs that you and your neighbors rely on. Donate today to power news, analysis, and community conversations for all.
The Health Department said 967 Minnesotans were now confirmed to have died from the disease, up 35 from Wednesday. It was the largest single-day increase in deaths reported since the pandemic began.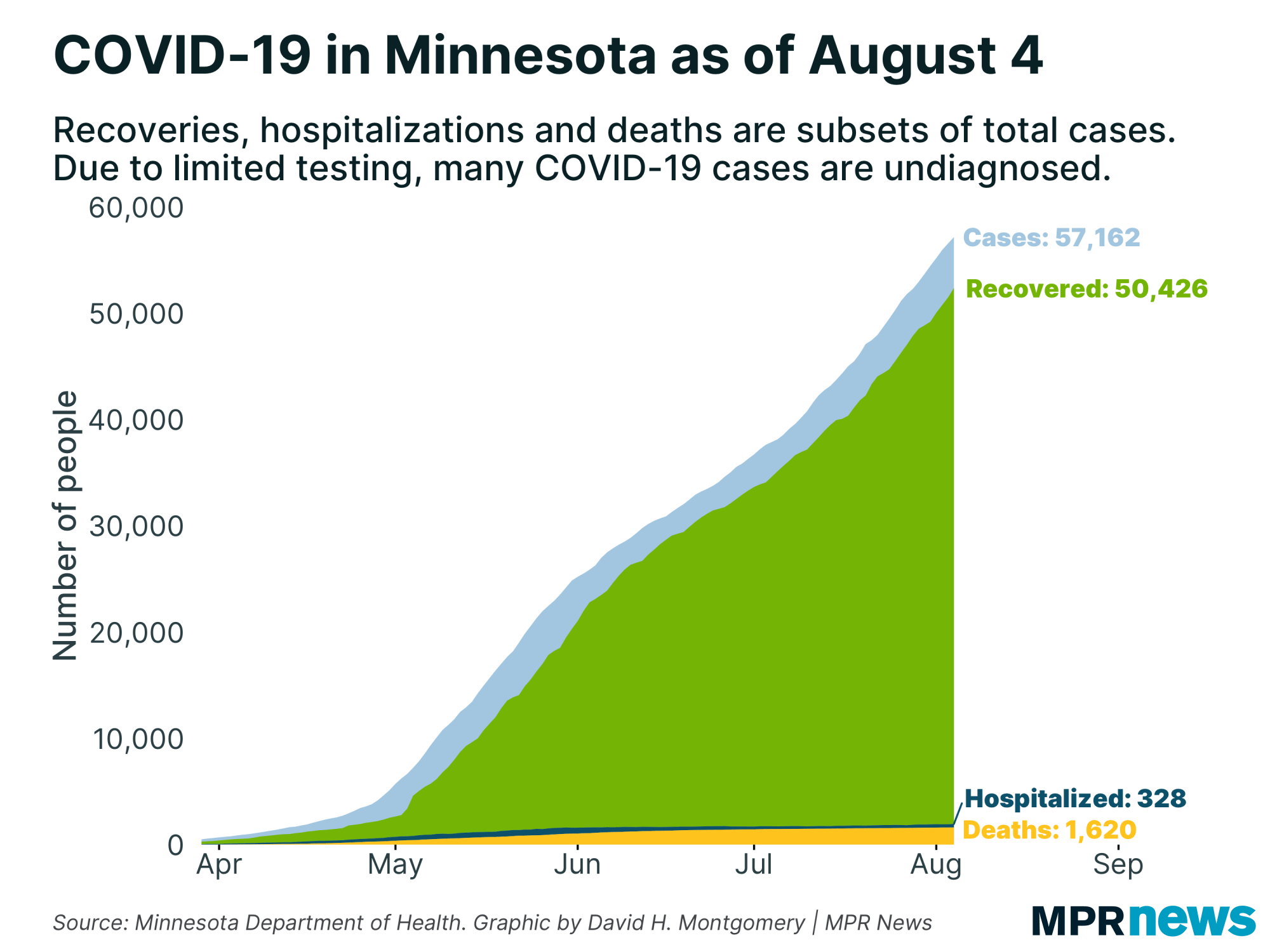 The number of people currently hospitalized rose to 606. However, the count of people now in intensive care fell to 242, down 18 from Wednesday and the lowest it's been in several days.
Officials continue to pay close attention to the daily intensive care counts, a key metric, as they work to manage the spread of the disease so it doesn't overwhelm the state's health care system.
They've said Minnesota's two-month stay-at-home order helped buy time for the state to secure supplies and prepare for the expected surge in hospitalizations and ICU cases, which had been climbing this week.
Malcolm recently noted that intensive care beds were filling up in the Twin Cities metro area. Officials said Tuesday that 87 percent of ICU beds in the metro area are now in use, much of that from COVID-19 cases, while other regions in the state still had available capacity.
Malcolm and other leaders continued to implore Minnesotans to stay vigilant and take the disease seriously. Counts of total cases — 22,947 as of Thursday — and deaths continue to climb even as Minnesota loosens more restrictions, potentially opening the door to greater community spread.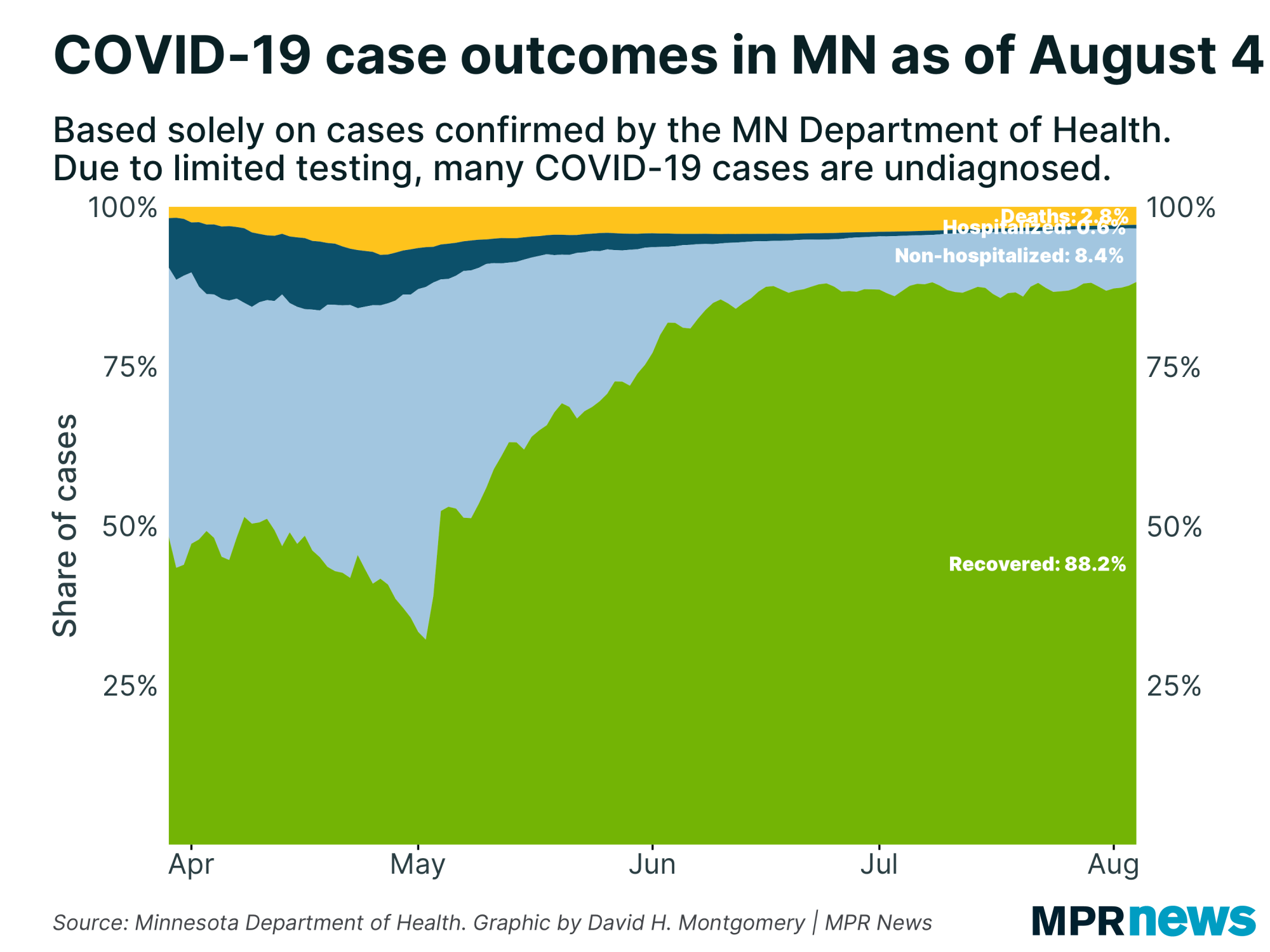 'Measure of success'
Malcolm was asked whether she was happy so far with the state's "battle plan" strategy to stop the spread of the virus in long-term care facilities. She said there are some emerging bright spots in the numbers.
She said that a few facilities have no cases at all, and roughly half that do have cases have only one or two. And, over half of those facilities no longer have any cases.
In the larger facilities that have had a lot of cases, Malcolm said a third of them have had no new cases in a week.
"That, too, is a measure of success. How well are facilities able to manage cases and how good a job are we doing in supporting them in doing that."
Malcolm acknowledged that the number of deaths in long-term care facilities is unacceptably high, but also suggested that Minnesota may be posting higher numbers in this area because the state is counting these deaths differently from other states.
She noted that other states don't count someone from a long-term care facility who dies of COVID-19 in a hospital as a "long-term care facility death." Minnesota does.
Meatpacking hot spots remain
Many of the recent outbreaks outside the Twin Cities metro area are focused around meatpacking plants. Officials have intensified testing in those hot spots, uncovering more infections.
In southwestern Minnesota's Nobles County, where an outbreak hit Worthington's massive JBS pork plant, about 1 in 15 people have tested positive for COVID-19. In mid-April, there were just a handful of cases. By Thursday, there were 1,496 confirmed cases, although the numbers are rising at a much slower rate than in previous weeks.
The JBS plant shut on April 20 but has since partially reopened with expanded hygiene and health monitoring measures.
Similar problems have been reported in Stearns County, where COVID-19 cases tied to two packing plants — Pilgrim's Pride poultry plant in Cold Spring and Jennie-O Turkey in Melrose — have skyrocketed. An undisclosed number of workers at both plants have tested positive for the virus.
There were about 55 confirmed cases in Stearns County two weeks ago. By Thursday, confirmed cases were at 1,995 with 12 deaths.
Kandiyohi County in west-central Minnesota is also seeing cases continue to climb more than a month after officials with the Jennie-O turkey processing plant there said some employees had tested positive for the coronavirus. The county had confirmed three COVID-19 cases then.
On Thursday, the Health Department reported 476 people have now tested positive.
While the counts in those counties are high relative to their population, officials say the growth in new cases in those areas appears to be stabilizing.
In other counties, however, case counts are climbing rapidly. Todd County, in central Minnesota, has seen the number of confirmed cases leap from just a few at the start of the month to nearly 300 as of Thursday.
---
Developments from around the state
MN Supreme Court sets deadline over Walz recall
The Minnesota Supreme Court has set deadlines for submitting information related to a recall petition of Gov. Tim Walz.
A petition filed last week with 32 Minnesota voter signatures seeks to remove Walz from office over his handling of the coronavirus pandemic. It says Walz exceeded his powers and infringed on rights with restrictions he imposed. Justices say they want supporting evidence in hand by Friday.
The governor's defenders have until Tuesday to make a counter-case. In Minnesota, there is a high bar for a recall of elected officials.
— Brian Bakst | MPR News
Court dismisses business challenge to Walz COVID-19 curbs
A coalition of businesses that challenged Minnesota coronavirus restrictions have suffered a legal setback.
The state Court of Appeals dismissed the lawsuit filed by the Free Minnesota Small Business Coalition, which challenged orders imposed by Gov. Tim Walz. The appeals court said it lacked jurisdiction to review the validity of the Walz orders.
The groups had challenged them on equal protection grounds and said Walz exceeded his authority with the curbs on business activity.
Another lawsuit is pending in federal court.
— Brian Bakst | MPR News
---
Top headlines
Pandemic disruptions taking a toll on farmers' mental health: Plant backlogs caused by the pandemic are forcing farmers to destroy their products instead of shipping them to market. The situation is heaping more stress on farmers.
Pandemic pushes more people into insurance market: As people lose jobs, they and their dependents typically also lose health insurance. Most Minnesotans get their health care insurance at work. It adds up to hundreds of thousands of people facing a loss or interruption in coverage.
---
COVID-19 in Minnesota
Data in these graphs are based off Minnesota Department of Health cumulative totals released at 11 a.m. daily. You can find more detailed statistics on COVID-19 at the Health Department website.
The coronavirus is transmitted through respiratory droplets, coughs and sneezes, similar to the way the flu can spread.
Government and medical leaders are urging people to wash their hands frequently and well, refrain from touching their faces, cover their coughs, disinfect surfaces and avoid large crowds, all in an effort to curb the virus' rapid spread.