Veto-proof majority of Minneapolis council members supports dismantling police department
Updated: 9:10 p.m.
A veto-proof majority of the Minneapolis City Council indicated support Sunday for dismantling the city's police department.
The show of support from nine council members came at a rally at Powderhorn Park calling for defunding of the department, in the wake of the May 25 killing of George Floyd while in police custody.
The council members said past efforts to reform the department have failed, so they are not going to try and implement new training policies or civilian oversight.
But Council member Phillipe Cunningham said the process will not happen overnight.
Grow the Future of Public Media
MPR News is supported by Members. Gifts from individuals power everything you find here. Make a gift of any amount today to become a Member!
"This isn't like, tomorrow we're not going to have a police department and we're going to have this huge gap," he said. "There will be intentional transition and investments and policies. I just want to make sure folks understand that there's not going to be suddenly no one to call when they need help."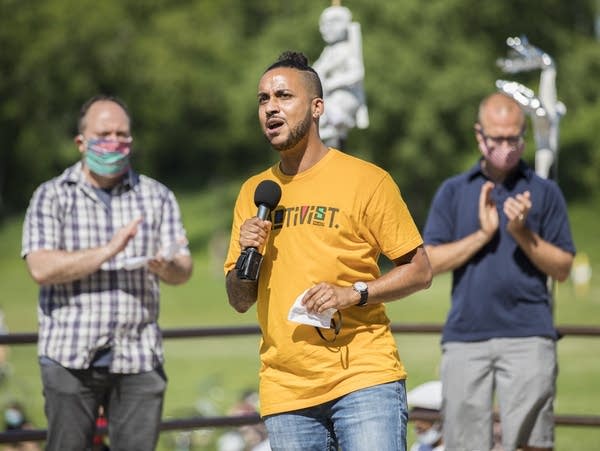 Cunningham represents part of north Minneapolis which normally sees a heavy police presence. But he said those officers were in short supply last week as people rioted in parts of the city and burned buildings. Cunningham said his constituents banded together to look out for their neighbors.
"So even as things slow down in terms of the urgency of needing to be out protecting the community, we are going to continue building. We've built a movement over in north Minneapolis," he said.
In addition to Cunningham, Cam Gordon, Steve Fletcher, Jeremiah Ellison, Andrea Jenkins, Alondra Cano, Lisa Bender, Jeremy Schroeder and Andrew Johnson pledged their support for dismantling the department.
Defunding police rally at Powderhorn Park
11 of 11
1 of 11
2 of 11
Kevin Reich, Linea Palmisano and Lisa Goodman were the three council members not in attendance at Sunday's event. One council seat is vacant.
Minneapolis Mayor Jacob Frey said Saturday that he does not support dismantling the police department, a position that drew jeers from protesters who marched near his home.
In a statement after Sunday's meeting at Powderhorn Park, Frey reiterated that he does not support abolition of the department. He pledged to work alongside Police Chief Medaria Arradondo and the community "toward deep, structural reform and addressing systemic racism in police culture. And we're ready to dig in and enact more community-led, public safety strategies on behalf of our city."
Over the past several years, police killings of residents sparked similar demands for getting rid of the police department from groups like MPD 150 and Reclaim the Block. But for all the talk about getting rid of the current police system, there was little discussion Sunday on what exactly would replace it.
Activist Tony Williams supports replacing the department with unarmed public safety responders.
"So it might not be uniformed police officers or armed folks," he said. "But it might be a uniformed mental health crisis response team, for example that handles some of these calls, that looks nothing like the current police department system."
Cunningham said the department should be replaced with well-funded resources designed to help people in crisis.
"What we know is that officers — and they will say themselves — that they are not the best response for a myriad of issues: mental health crises, opioid overdoses — even domestic violence," he said. "They know they're not the best response because it's just a cycle of going back and going back. They're not trained social workers."
Gordon, who has served on the City Council for more than 14 years, says the charter requires the city to fund a police department. So, he says that will have to be changed, likely through a voter referendum during the next city elections in 2021.
In the meantime, Gordon said the council can start by changing ordinances, the police contract and the budget.
"We have other levers we can work on now. Maybe it's a time for the City Council to try just exerting more power in steps. And the mayor and the police department will go along with it, even if they think they can challenge us based on the charter," he said.
The state's Human Rights Department announced last week that it's investigating the department for racially biased policing. And the council signed off Friday on a restraining order issued by the state courts which, among other things, bans the use of chokeholds by officers.
Police Chief Arradondo has said he plans on announcing reforms of his own soon. Arradondo was not available to comment on the council majority's announced intent to dismantle the department.