COVID-19 in MN: Small signs summer wave may be ebbing
3 things to know
1,215 newly confirmed or probable cases, lowest daily count in 3 weeks

13,160 known, active cases; 663 currently hospitalized

72.2 percent of 16-and-older residents with at least one vaccine dose
Updated 6:13 p.m.
Minnesota's late-summer COVID-19 wave continues to grind toward the fall. While the latest numbers offer some hope the curve may be flattening, the state is not out of the woods yet.
Officials remain concerned about an increase in the number of cases among school-age children as the new school year begins. Compared to this time last year, both case rates and hospitalizations among this group are higher.
State infectious disease director Kris Ehresmann said this trend is a combination of the delta variant being more contagious and kids having much more exposure than last year. In fall 2020, kids were masking everywhere and doing distance or hybrid learning.
All Minnesotans age 12 and older are urged to get vaccinated, and officials are imploring students, teachers, staff and visitors to wear masks inside school buildings regardless of vaccination status.
Grow the Future of Public Media
MPR News is supported by Members. Gifts from individuals power everything you find here. Make a gift of any amount today to become a Member!
"Masking reduces transmission of COVID. Period," Minnesota Health Commissioner Jan Malcolm told reporters Thursday. "Your mask protects you and those around you."
She also pointed to new Centers for Disease Control and Prevention research that shows hospitalization rates among kids in areas of the country with low vaccination coverage were higher than in parts of the country with higher vaccination coverage. Malcom said this data demonstrates that vaccines not only protect individuals, but they also protect community members who can't yet get vaccinated.
The Health Department on Thursday reported 1,215 newly confirmed or probable cases — the lowest daily count in three weeks. Known, active cases are also trending down, with the state averaging 7,684 over the past reporting week, the lowest since Aug. 25.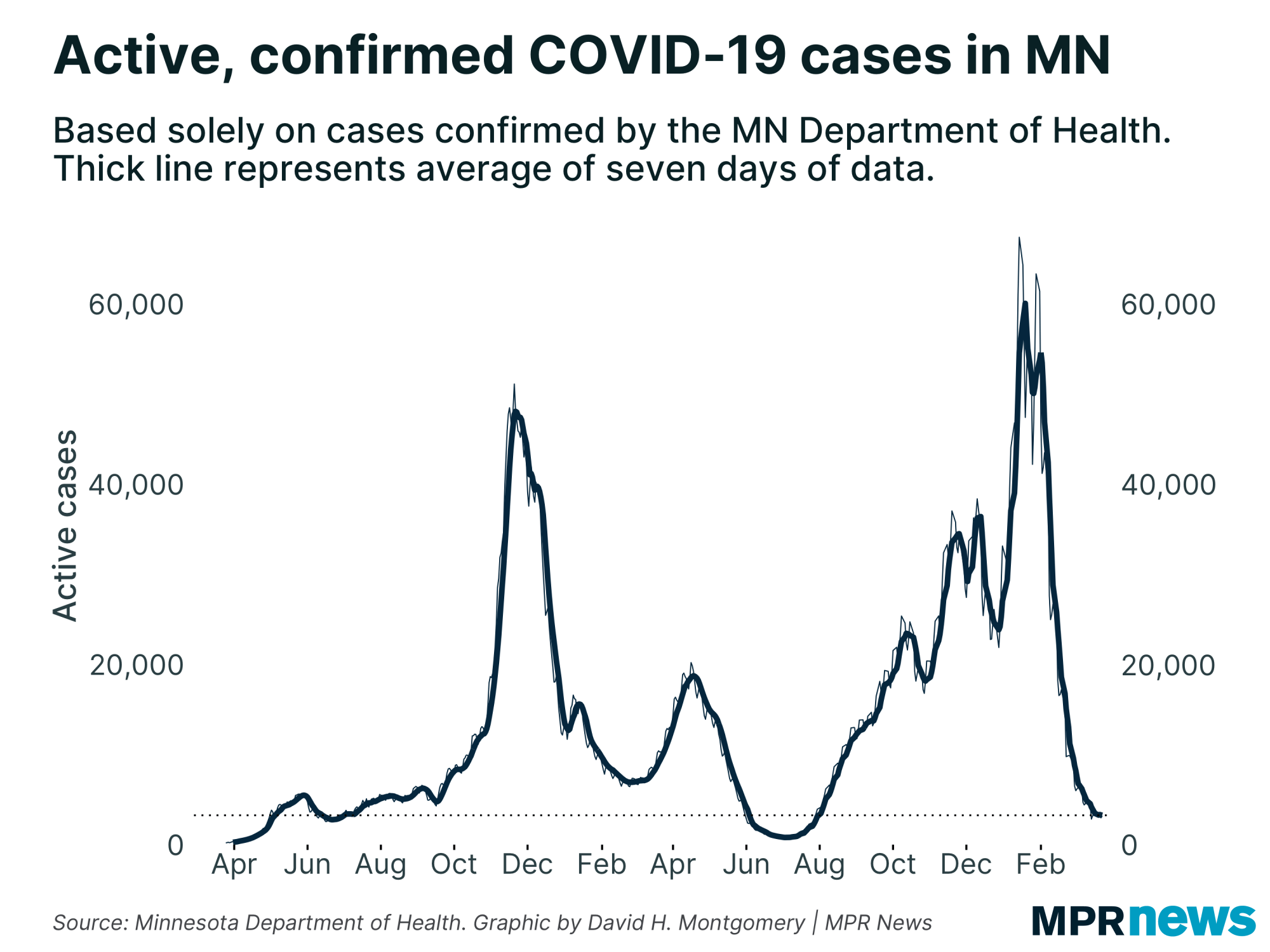 It's too soon to say the worst of the fourth wave is over. Officials still worry about the potential effects of the new school year, Labor Day gatherings and the Minnesota State Fair, although there are no signs so far of an uptick from the fair crowds.
"The slightly good news is the rate of increase has been slowing a bit," Malcolm said Thursday.
Children are back in classrooms with the start of school, but the Minnesota Department of Education hasn't been requiring schools to report whether they're requiring masking. But Education Commissioner Heather Mueller said the department will be collecting this information in coming days to see if there is a connection between new cases and masking policies.
Gov. Tim Walz no longer has the emergency powers needed to issue mask mandates, though he could issue another peacetime emergency that the Legislature would have to extend after 30 days. He has said that the Legislature should be involved in these discussions and that he may be hard pressed to find the support he needs there.
Cases have accelerated through the late summer, driven by the highly contagious delta variant.
The rate of COVID-19 tests coming back positive is trending near 6 percent, remaining above the 5 percent threshold that public health officials find concerning.
Hospital and intensive care needs have risen during this summer wave, although they still haven't reached peak counts seen in the fall and spring — 663 people are in hospital beds currently with COVID-19, including 178 ICU cases. During the mid-April wave, 202 patients at one point needed ICU beds.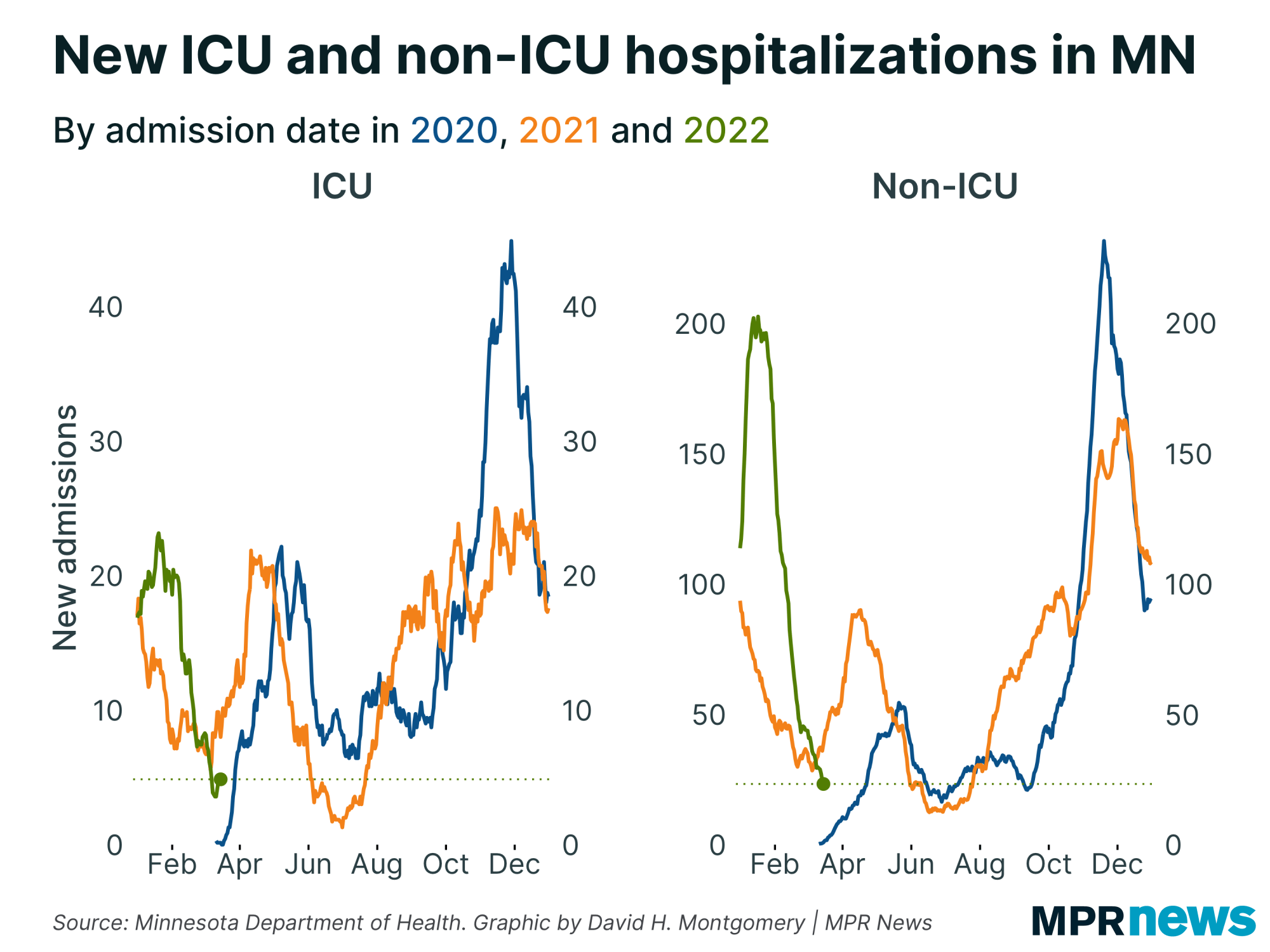 The Health Department added nine newly reported deaths, bringing the state's toll in the pandemic to 7,874. The state's averaged about five deaths daily over the past week.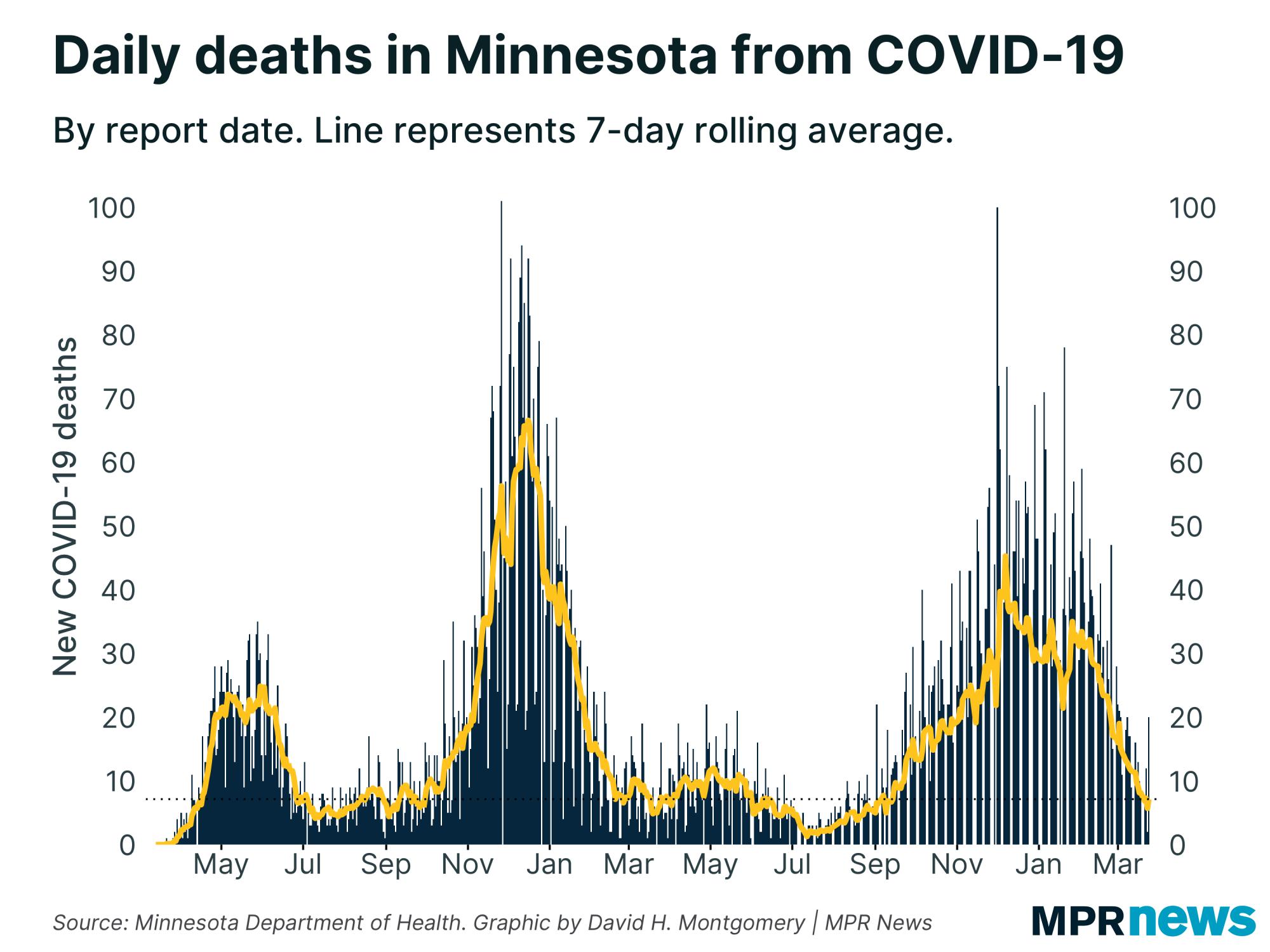 Minnesota remains better positioned now than during the fall and spring spikes. More than 71 percent of state residents age 12 and older have received at least one vaccination shot, and more than two-thirds of that population are completely vaccinated.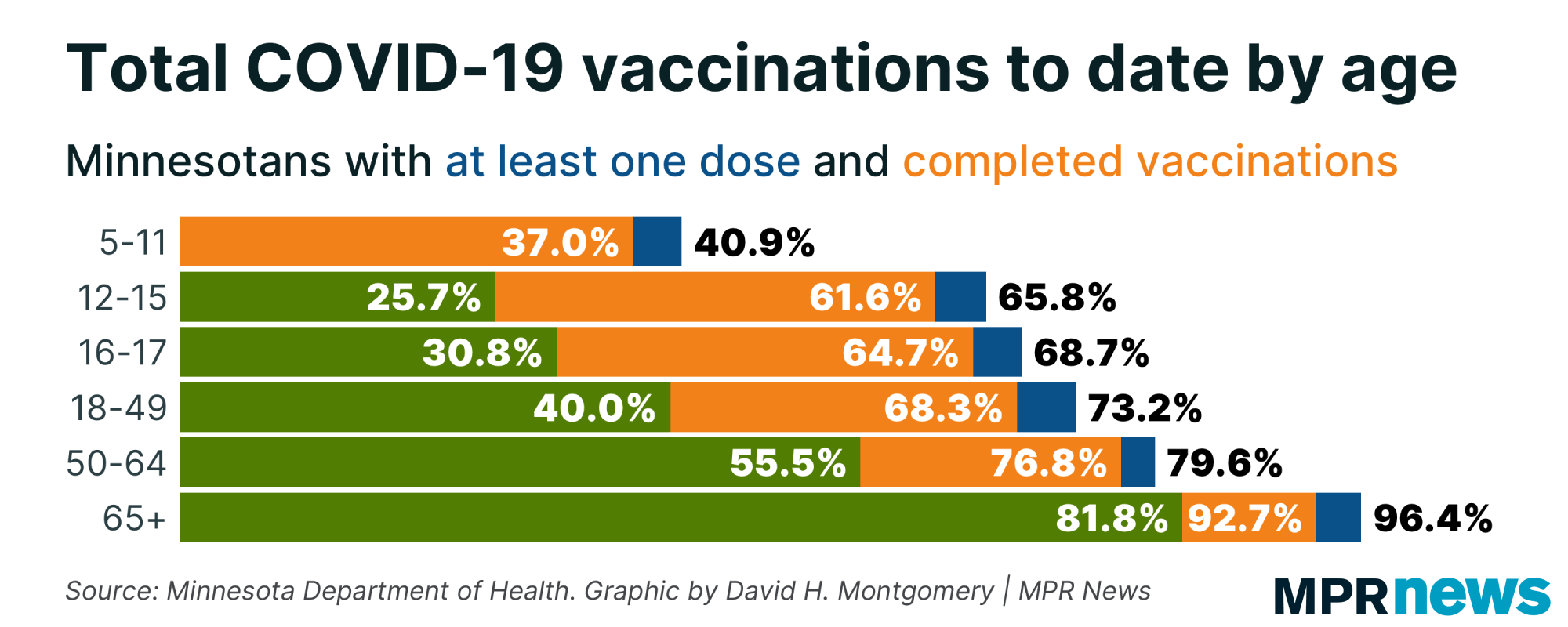 Still, it remains a slow march to get more Minnesotans vaccinated, and wide gaps remain in the vaccination rate among state regions.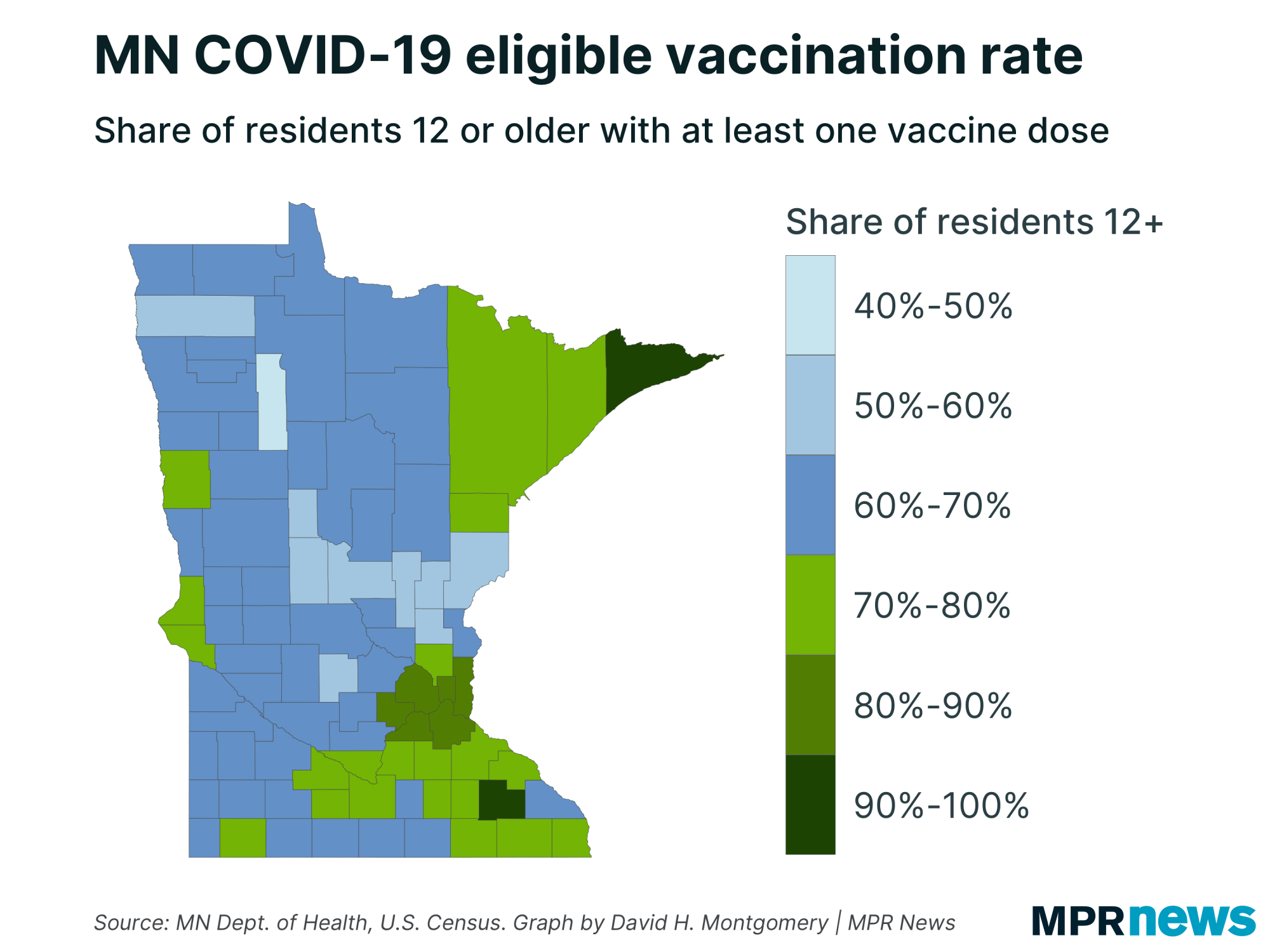 Listen to Thursday's briefing by state health and education leaders: