Shooting incident injures one, shuts down Minnesota State Fair on Saturday night
Officials promise larger police presence on Sunday
Posted: Sept. 3 | Updated: Sept. 4, 4:45 p.m.
At least one shot rang out in the crowd gathered at the Mighty Midway entrance at the Minnesota State Fair on Saturday – sending fairgoers running for safety and leaving at least one person hurt. 
The fair closed and started sending fairgoers home minutes later, more than an hour before its scheduled shut down. 
The incident happened just after 10 p.m., and a video camera streaming from the KSTP broadcast center nearby showed scores of people suddenly turning and running away from the intersection of Liggett Street and Carnes Avenue. 
Fair officials said there had been a large contingent of police officers in the area, who heard the gunfire. Officers later found someone with what was described as a non-life-threatening injury. The person was treated at Regions Hospital in St. Paul.
Grow the Future of Public Media
MPR News is supported by Members. Gifts from individuals power everything you find here. Make a gift of any amount today to become a Member!
In a Sunday morning news conference, the State Fair police chief said his department had "requested and received additional law enforcement resources" earlier on Saturday after a large group of young people started causing fights and disturbances at the fair.
He and other state officials believe the additional police presence kept the situation contained.
"I don't know what else could have been done," said Ron Knafla, chief of the Minnesota State Fair Police Department. "For somebody to engage in such a brazen act in a crowd of people, with no regard for the safety or the lives of others, is just disgusting in my opinion."
Earlier, thousands of people filled the fair's streets and concessions on the cool, clear evening. About an hour before the incident occurred law enforcement officers were gathered at the head of the Midway, where many of the fair's rides are located.
The shooting comes despite metal detectors at the fair gates, although some fairgoers have reported only cursory examinations of bags and other belongings after fairgoers set off the magnetometers. Videos posted to social media also show people scaling the fair's perimeter fence on Saturday night, away from the official fair entrances and metal detectors. 
Last night's incident follows a 2019 shooting that injured three people and preceded a serious vehicle-pedestrian crash at the fair's main gate on Snelling Avenue on the last day of the State Fair in 2019. 
It also follows a surge of gun violence in the Twin Cities, including two recent shooting incidents at the Mall of America.
Gov. Tim Walz and state public safety commissioner John Harrington had joined State Fair Police Chief Ron Knafla just hours before the fair opened to assure fairgoers about the safety of the event.
On Sunday, Walz said despite this high-profile incident, it's believed there have been fewer incidents in general over the course of this year's fair. He said it's a sign that the updated security plans, including added partnerships to call in extra law enforcement personnel when needed, have largely been successful.
"I think what you're hearing from these folks is the plan operated," Walz said. "There's always the assumption is something could have been done. My question is three dozen officers within several feet of this happening and it still happened? And I don't know in a free society … at what point that is."
At the entrance to the Midway, there was only a scrap of police tape left on a pole as of 9 a.m. Sunday. A fair worker came by a short time later to rip it off.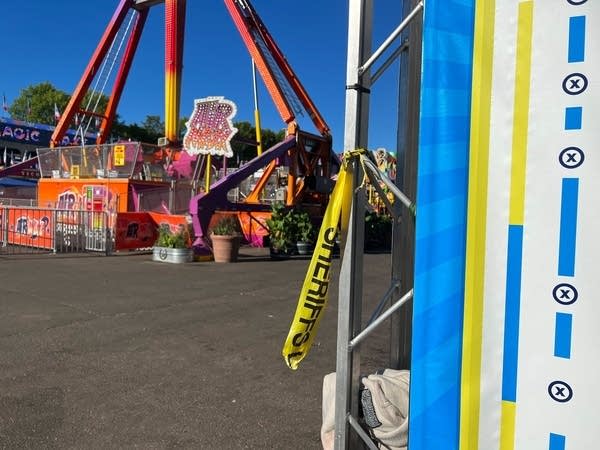 Lines were long outside security to enter the fairgrounds. People walked through metal detectors. Those who made the machines beep were pulled aside to empty pockets or let security personnel look through bags. Not all people with bags had them inspected.
A state trooper and other uniformed law enforcement stood watch from a distance.
"Fair, fair, fair," one couple chanted as they made it through the gates.
"Welcome to the fair," bellowed a volunteer every few minutes.
This is a developing news story. Check back for updates.