How to prepare for the winter storm that might break Minnesota records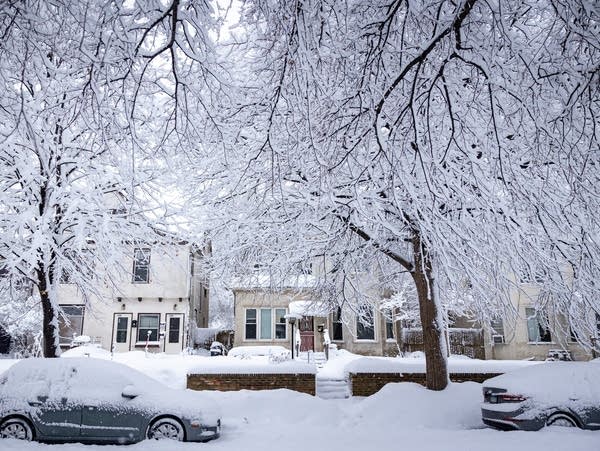 Updated: Feb. 22, 10:42 a.m.
It's going to be a doozy. This week's incoming winter storm is predicted "to topple some decades-long snowfall records for the Twin Cities and southern Minnesota," said MPR News chief meteorologist Paul Huttner. The winter storm warning began at 3 p.m. Tuesday and ends at 6 p.m. Thursday.
We're looking at a potential 18 to 20 inches of snow during this three-day storm. "Heavy snow will combine with northeast wind gusts of 35 mph across the region, to near 50 mph in western and central Minnesota," stated the National Weather Service, adding that the worst portion will be Wednesday evening through Thursday. 
If this is your first Minnesota winter, you might feel unprepared for this week's storm. What do I buy, what do I do, how do I stay safe? It's OK not to know what to do in a situation you're facing for the first time. Here are some resources and tips to help.
Above all, stay home if you can
Miss the concert, skip the family brunch and keep yourself and others safe by resuming travel and activities only after the storm passes. If you can work remotely, do that. 
Grow the Future of Public Media
MPR News is supported by Members. Gifts from individuals power everything you find here. Make a gift of any amount today to become a Member!
Do not drive if it's not absolutely necessary – whether it's your first winter or you're a longtime Minnesotan. There are possible snow drifts, black ice and strong winds to worry about. Experienced snow-drivers understand this triple combo is not easy on the heart, eyes or vehicle. 
Take stock of essential supplies
Heated blankets and space heaters are great luxuries, but not usually necessary. Instead, make sure to have flashlights on hand in case of power outages. Use candles, lighters or matches as a last resort. Charge your electronics ahead of time and, if possible, have a portable battery fully charged at the ready.
Set aside a gallon of drinking water per person per day for the length of the storm, recommends the American Red Cross. This may feel extreme, but if the pipes in your home burst or freeze you should not use the water from them until it is fixed. If you do lose access to water, FEMA recommends not rationing water — drink when thirsty and then try to find more water. 
Prepare your home
Severe winter weather poses risks for cold drafts, burst pipes and power outages. Some people cover their windows with plastic wrap to help with insulation, while others cover them with insulated curtains. Towels and blankets can help cover the window sill draft as well. 
Keep room temperature above 65 degrees Fahrenheit to avoid the risk of pipes bursting. For power outages, check if it's just your home by checking the breaker box and fuses–if power lines are down or damaged, call your electric company.
During times of strong wind, stay away from windows where tree branches could cause damage. 
If your home is damaged, document what you've lost. 
The American Red Cross states, "Know where you will go if your home becomes too cold. You could go to a friend's house, a public library or a warming center." 
Fire safety during the storm 
As a first snow-timer, you might think we only have to worry about the snow and cold. While we keep warm we can forget to prevent risks of fires and carbon monoxide poisoning. Do not use a generator, grill, camp stove or charcoal-burning device indoors.
You might assume it's a good idea to place heaters near cold places such as by the windows. However, if you have curtains, draperies or blankets covering the windows the CDC recommends keeping space heaters 3 feet away from flammable fabric materials. This includes furniture and blankets. Never cover the space heater.
Another assumption might be that it's okay to burn paper in your fireplace. Do not burn paper in your fireplace! The CDC recommends using dry firewood instead. 
If you must leave home, here's what to know

How to dress
The CDC goes into detail further down on its indoor safety measures page that we should dress properly if we must go outside. Cover the nose, ears, toes, cheeks, chin and fingers — they are commonly the first affected areas to get frostbite. Cover your mouth with a mask or scarf to protect your lungs and face from cold air. 
The American Red Cross recommends that you wear layers of loose clothing. Layer not only the chest but leg area of your body. Long socks, thermal pants and leggings go a long way. Make sure the clothing is dry, and wear water-resistant boots.
How to avoid, spot and treat frostbite and hypothermia
The CDC includes a PDF of how to avoid, spot and treat frostbite and hypothermia. Older adults, infants and people who withstand long outside exposure (for example hikers, hunters or people experiencing homelessness) are at high risk of frostbite and hypothermia.
While the temperatures are not expected to be profoundly cold during this storm, the wind and accompanying windchill are major factors to remember. For example, the National Weather Service said on Tuesday that, for parts of western Minnesota, "The cold wind chills as low as 20 below zero could cause frostbite on exposed skin in as little as 30 minutes." 
Frostbite is tricky: People are often unaware of the beginning stages because frozen tissue is numb. Redness or pain in any skin area could be a sign of frostbite, along with a firm or waxy feel to the skin and numbness.
Treating frostbite incorrectly can cause further harm. Do not use the fireplace, radiator, heating pads or heated blankets and do not massage frostbitten areas. Instead, use warm-to-touch water for affected frostbite, remove all wet clothing, and use dry blankets and clothing.
Hypothermia can happen easily if the person is wet, so don't play in or near water during the storm.
Car safety and preparation
Driving during a blizzard
If you must drive your car, do what you can to stay safe before you even leave home.
Make sure your phone is fully charged. Tell someone where you're going and the route you plan to take. If you have an emergency roadside kit, take that along. If not, bring any of these items you have: windshield scraper, snow shovel, blankets or a sleeping bag, extra layers, a flashlight with extra batteries, snacks, water and jumper cables.
Clear your car completely of ice and snow, including all windows, the hood of the car, headlights, brake lights, mirrors and reflectors. Excess snow on your car can fly onto other vehicles and cause accidents.
You should always buckle up, but it's especially essential to wear your seatbelt during blizzard conditions. Turn on your headlights, even in the daytime. 
Go SLOW. Road conditions aren't always how they appear. Be patient, because there will be traffic and delays, with possible closed roads. Keep more distance than usual between you and other cars. Make turns slowly and gradually. 
If your car begins to slide, stay calm. Take your foot off the gas and quickly turn your wheels in the direction you want to go. Don't slam on the brakes.
If visibility is bad, pull over! Do not continue driving until conditions improve.
What to do if your car gets stuck
Stay in your vehicle. Walking in a storm is dangerous, and your car is the best shelter.
Run your car for about 10 minutes every hour for heat, and crack a window to avoid carbon monoxide poisoning.
Be visible to potential assistance. Turn on the lights inside your car and raise your hood to indicate you need help.
Where to park your car
Lift up your windshield wipers. This will make it easier to clear your car of snow and ice when the time comes, and your wipers won't be frozen stuck to your windshield.
Minneapolis winter parking restrictions are still in effect, though in the event of a snow emergency, only the snow emergency rules will be in place. The city is expected to declare a snow emergency on Wednesday. 
Minneapolis is also opening up five parking lots for residents to park for free, with a total of more than 1,500 spots, all available now. Those are:
Farmer's Market Lot: 225 E. Lyndale Ave.

Basilica Lot: 13 N. 17th St.

Vineland Ramp: 727 Vineland Place

Salvation Army: 602 N. 4th St.

Lyn-Lake Lot: 2940 Garfield Ave. S.
St. Paul said Tuesday that the city will be under snow emergency parking rules Wednesday and Thursday. Remember, St. Paul's rules are different from those in Minneapolis. 
The city is also opening up eight parking ramps for free parking during the storm, beginning Wednesday at 5 p.m.
Smith Ramp: 145 Smith St.

Kellogg Underground Ramp: 129 Kellogg Blvd.

Lawson Ramp: 10 W. 6th St.

Lowertown Ramp: 316 Jackson St.

7A Ramp: 13 W. Exchange St.

Robert St. Ramp: 95 E. 7th St.

Block 19 Ramp: 145 E. 7th St.

World Trade Center Ramp: 477 Cedar St.
Minneapolis night snow plow route begins 9 p.m. Wednesday and ends at 8 a.m. St. Paul's night snowplow route begins 9 p.m. Wednesday and ends at 7 a.m.
WCCO is keeping track of surrounding cities' snow emergency information.
Do your part
Shoveling duties
Residents are responsible for shoveling sidewalks outside their homes. In Minneapolis and St. Paul you do not have to do this during the storm but must within 24 hours after it stops snowing. 
Minneapolis enforces the rule that all other properties besides single-family homes and duplexes must clear sidewalks four daytime hours after it stops snowing.
"Avoid overexertion when shoveling snow. Take frequent breaks and, if possible, work with a partner," states the American Red Cross.
As long as you're out clearing snow, dig out any fire hydrants near your home in case of emergency.
Stay informed
Weather conditions can change quickly. Keep safe by regularly checking for the latest weather forecasts, advisories and updates, especially before venturing outside.
Check the Updraft and the MPR Weather Twitter feed for the most up-to-date information. We also recommend keeping an eye on the National Weather Service office in the Twin Cities or their office in Duluth. 
Sign up for texts or email notifications for St. Paul snow emergency updates and/or Minneapolis snow emergency updates.
What's happening by you?