Blizzard knocks out power to tens of thousands across Minnesota
Updated: April 2, 9:15 a.m. | Posted April 1, 5:40 a.m.
An April Fools' Day blizzard knocked out power to tens of thousands of homes and businesses across central and southern Minnesota early Saturday, and made for treacherous travel conditions across the region.
April Fools' Blizzard
7 of 7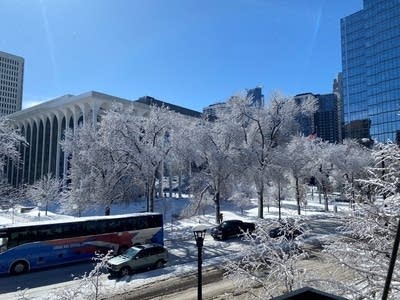 1 of 7
2 of 7
The National Weather Service reported 8.5 inches of snow at Minneapolis-St. Paul International Airport. That pushes the season snow total to 89.7 inches — the third-greatest on record for the Twin Cities.
The top two season snow totals on record for MSP are 98.6 inches in the winter of 1983-84, and 95 inches in 1981-82.
Other snow reports relayed by the National Weather Service on Saturday morning included 12 inches in Medina, 10.5 inches in Oakdale, 10 inches near Corcoran, 9.8 inches at Mahtomedi and 9.6 inches near the University of Minnesota campus in Minneapolis.
Grow the Future of Public Media
MPR News is supported by Members. Gifts from individuals power everything you find here. Make a gift of any amount today to become a Member!
Spotters reported 9.5 inches in Plymouth and Brooklyn Park, 9.2 inches in Fridley, 8.4 inches near Montrose, 8 inches in Maplewood and Burnsville, 6.2 inches near Owatonna and 5.5 inches in Red Wing.
In the Twin Cities and across much of central and southern Minnesota, the precipitation had started as rain — heavy at times — on Friday before changing over to snow on Friday night.
Northerly winds gusted in excess of 40 miles per hour in the region late Friday, prompting the Weather Service to issue blizzard warnings overnight.
The wet, heavy snow left an icy coating on every surface — including trees, roads and power lines.
As of 9 a.m. Sunday, about 17,000 Xcel Energy customers remain without power in its service area in Minnesota — most of those in the Twin Cities. That was down from more than 215,000 overnight in Minnesota and western Wisconsin. The utility said the storm caused damage to trees, poles and power lines.
"Priority is given to those situations that also threaten public safety," said Trisha Duncan with Xcel Energy. "So if there's downed power lines or if there are customers that are medically in need of power to maintain their services, those take priority."
Duncan said crews are also prioritizing areas impacting the most customers. She recommends people keep gas meters clear of ice and snow to keep them working properly.
Dakota Energy Cooperative in the south Twin Cities metro, and People's Energy Cooperative that serves much of southeast Minnesota, were among the other utilities responding to numerous outages Saturday morning.
In western Wisconsin, Xcel was reporting about 1,212 of its customers without power as of 12:15 p.m. Saturday, down from more than 8,500 earlier in the morning; St. Croix Electric Cooperative reported more than 500 customers without power. By Sunday, most customers had restored power, thought St. Croix Electric Cooperative reported 33 customers still had outages.
The Minnesota Department of Transportation reported icy roads across the southern half of the state early Saturday, with a flurry of crashes and spinouts reported during the early morning hours.
The State Patrol reported more than 800 crashes and spinouts along Minnesota highways between 4:30 p.m. Friday and 7:30 a.m. Saturday — including 15 jackknifed semis.
Another 168 crashes and spinouts were reported between 7:30 a.m. and 11:30 a.m. on Saturday, with 13 injuries.
To the west, Interstate 29 has reopened over the full stretch between Fargo, N.D., and Watertown, S.D., as of midday Saturday. Interstate 94 has also reopened in North Dakota.
Metro Transit reported about 43 percent of its bus routes were delayed as of noon; the average delay was about 14 minutes. The agency also reported some minor delays on the Green and Blue light rail lines.
Minneapolis-St. Paul International Airport reported several dozen canceled or delayed flights Saturday morning, though many flights were still arriving and departing as scheduled. Long lines were reported at the security checkpoints in Terminal 1.
All remaining blizzard or winter storm warnings in Minnesota expired at 7 a.m. Saturday, as the snow continued to exit the region.
While it'll take some time to clear roads, sidewalks and driveways, the Weather Service said conditions should improve quickly on Saturday morning. Sunshine is expected through the later morning and into the afternoon, with highs in the upper 30s in the Twin Cities.
Temperatures are expected to reach the 40s across much of the state on Sunday.
That warmer forecast led to Minneapolis and St. Paul officials declining to declare snow emergencies.
"The last thing we want to do is plow cars in with some big snowballs, basically, that would form, said Joe Pauman, director of transportation maintenance and repair for the city. "And so we're hoping to lose some of the snow with with the weather over the course of the next couple of days and then we'll re-evaluate and next week, you know, if we need to go down our residentials and give them some more attention, we will."
Both cities are focusing on clearing main roads first.
"Our crews are also assisting our forestry division as well as Xcel Energy on residential streets there," said Lisa Hiebert, a spokesperson for St. Paul Public Works. "With the wet heavy snow, there are some downed power lines and power outages, as well as broken tree branches that are blocking roadways and things like that so those are being prioritized throughout the city."
But don't put your shovels, snowblowers and winter gear away after this weekend. Forecasters say another storm system may bring rain and snow to the region in the middle of next week.
Links for more information
Here's how to keep tabs on forecasts, travel conditions and flight updates.
Forecast updates
Travel conditions
These state transportation departments offer live updates on road conditions and crashes:
For bus and light rail riders in the Twin Cities, Metro Transit offers weather-related updates on its Metro Transit and Metro Transit Alerts Twitter pages, as well as on its website.
Flight updates
If you're planning to fly from Minneapolis-St. Paul International Airport or another airport around the region — or if you are expecting visitors to arrive by plane — airports offer flight status updates online:
Trail conditions
While a winter storm can cause trouble for travelers, it can be welcome news for skiers, snowmobilers and other winter activity enthusiasts.
The Minnesota Department of Natural Resources offers updates on cross-country ski and snowmobile trail conditions at state parks and along state trails around Minnesota.
The Minnesota Ski Areas Association posts updates on snow conditions at downhill ski and snowboard areas around the state.
The Loppet Foundation posts updates on cross-country ski trail conditions in Minneapolis.
SkinnySki.com shares cross-country ski trail updates from across the state.