Meet the woman who discovered an invasive insect in Minnesota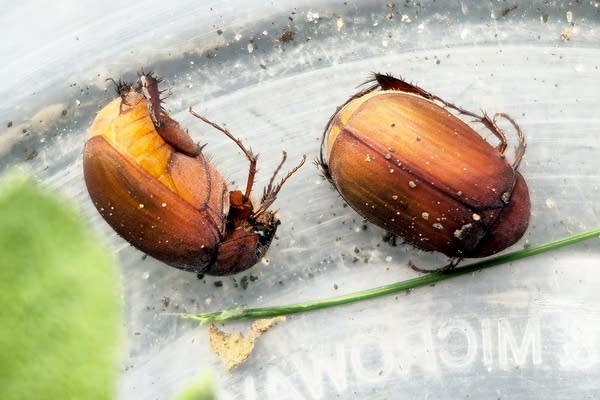 Citizen scientist Krista Menzel describes herself as a "crazy bug lady" — and she's the woman who discovered an invasive insect's presence in Minnesota this summer.
With degrees in biology and art, and the owner of a huge garden in St. Paul, she was set up for success in spotting different species. It began as a nerdy summer side project when Menzel began seeing endangered Rusty Patched Bumble Bees in her yard.
"Once you start gardening, you start looking at the beautiful flowers and things like that. And then you start taking pictures of them. And then you start looking at who's on the flowers, and then you start taking pictures of them. And it all just kind of spirals after a while," Menzel said.
That ultimately led her to find the Asiatic garden beetle, confirm its identity on iNaturalist.com and report it to the Department of Agriculture. Now, the department is asking all Minnesotans to be on the lookout for that beetle along with elm seed bugs.
Grow the Future of Public Media
MPR News is supported by Members. Gifts from individuals power everything you find here. Make a gift of any amount today to become a Member!
Menzel said the Asiatic beetles look "somewhat" like invasive Japanese beetles — which were first reported in Minnesota in 1968 — but "without the extra bling … These are smaller, they're just brown, and they kind of have an interesting iridescent sheen."
The agriculture department shared the species' discovery with the public last week. But Menzel found their assessment of Asiatic beetles to be a bit alarmist and warned against Minnesotans spraying pesticides in excess. She instead encouraged people to report sightings and wait for guidance.
"Getting involved with iNaturalist has really made me start paying attention," Menzel said. "You realize there are hundreds of different species of these insects out in the yard. And the more native plants you have in your garden, the less you use chemicals, the less lawn you have, and the more natural space you have in your yard, the more of these species you're going to attract."
She encouraged everyone to get outside and start paying more attention to nature.
"Especially if you have kids, get them excited about observing what they're seeing out in their yard or out in their school or on trips," Menzel said. "We all walk around now with these basically really high-level cameras in our pockets."