Which flag fits? Superlatives and accolades for Minnesota's flag redesigns
Updated: 9:25 a.m.
Public submissions for Minnesota's new state flag have been revealed. There are a lot of stars and stripes and loons — LOTS of loons.
We have absolutely no control over what design will be the final choice by the State Emblems Redesign Commission.
But that won't stop us and the rest of the MPR newsroom from recognizing some of the great and humorous submissions.
What superlative or accolade did we miss? Which flag design would you nominate? Let us know and we will add our favorites to the list! Email your name, superlative and flag design number to tell@mpr.org or fill out the form at the bottom of this story.
Grow the Future of Public Media
MPR News is supported by Members. Gifts from individuals power everything you find here. Make a gift of any amount today to become a Member!
Cutest couple
They look so happy together!
Best lesson on design
Thank you to whoever submitted this with notes. We've learned so much!
Best design that makes us hungry
Hot dish for all!
Hungriest flag
My, what big teeth you have! We're pretty sure that's a little hotdish he's about to eat, too.
Editor's note: Our tired eyes thought it was hotdish, but we were told it is more likely a blueberry muffin — the state muffin. Either way, delicious!
Best use of a star
There were lots of stars, but not many used the state as part of the design. We don't want to give up southwest Minnesota, though.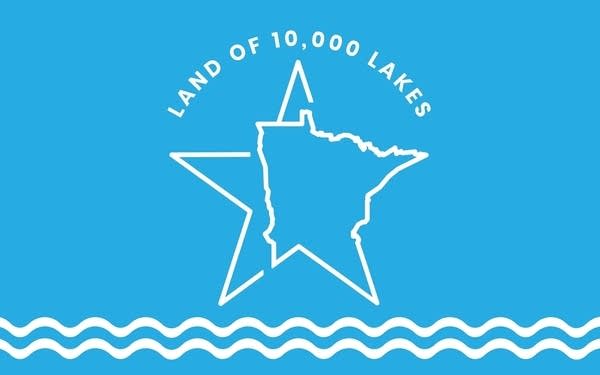 Most stars
We checked. This has the most.
Most sporty
Flag? Maybe. The colors are perfect for Vikings. Skol!
Best use of a hockey stick
Crisp like a slapshot in the back of the net.
Most… interesting
We just wanted to include this one. And it does have a hockey stick.
Most likely to pair well on a flannel shirt
Picture it: This picturesque cold winter scene as an iron-on patch.
Best design without the color blue
Green for our natural beauty. Purple for Prince.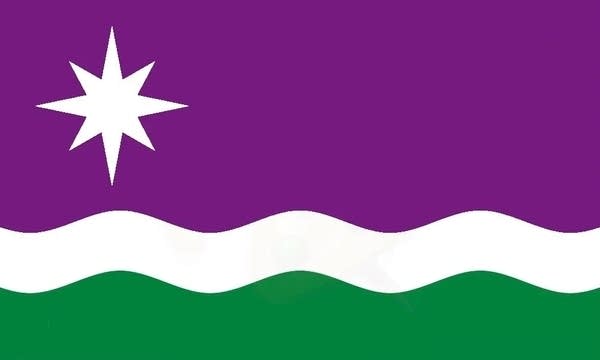 Best design with the color blue
What's better than blue? More blue!
Most likely to be featured on an MPR tote bag
Who do we call to make this happen?
Best use of Morse code
No secret message here.
Best goodest flag
Awwww, who's a good boy? You are!
Most likely to give you nightmares
Look, it's a beautiful design… but why a two-headed loon?
Best use of lasers
Right on point. But also scary.
Eerily like the Kris Lindahl billboards
Just look at that wingspan! Guaranteed offer on your nest!
Best bald eagle in a supporting role
Because the loon is the star in Minnesota.
Most likely to be airbrushed on a T-shirt
Hear the call of the North Woods!
Have an idea for a superlative? Share with MPR News!