Democrats flood newly opened U.S. House seat race in Minneapolis
A big shakeup in Minnesota politics leaves another congressional seat wide open.
U.S. Rep. Keith Ellison, a Democrat from Minneapolis, decided to run for state attorney general, after the incumbent, Lori Swanson, entered the contest for governor on Monday. And Tuesday, on the last day to file, eight other Democrats hoping to win Ellison's seat made a beeline to the Secretary of State's office with just hours to go before the deadline.
Ellison, as he filed his paperwork, said he chose not to seek the "comfort and security" of a likely political victory and instead pursue an office to protect consumers.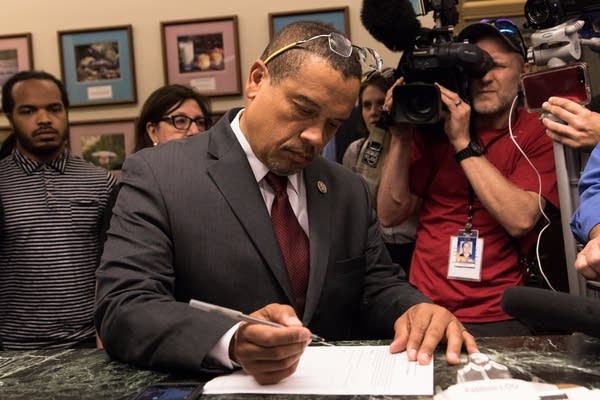 "We say the Pledge of Allegiance, and when we say it we put our hand on our heart and we say at the end 'liberty and justice for all.' There's no exceptions," Ellison said. "Nobody's cut out of that. Not based on your religion or race or anything or where you live. All means all."
Grow the Future of Public Media
MPR News is supported by Members. Gifts from individuals power everything you find here. Make a gift of any amount today to become a Member!
Ellison plans to continue as deputy chair of the Democratic National Committee. He joins five other DFLers in the August primary contest for attorney general. Republican voters will choose among three candidates.
As the ink dried on Ellison's paperwork, the higher ambitions of others known and less known soon became apparent. Eight Democrats filed to run for the Fifth Congressional District seat, considered safe for the DFL. Among them, his ex-wife, Minneapolis school board member Kim Ellison.
Julie Sabo, a former state senator and daughter of the late U.S. House Rep. Martin Olav Sabo also entered the fray. So did freshman state Rep. Ilhan Omar, DFL-Minneapolis, the nation's first Somali-American legislator.
"I have proven myself to be someone who shows up, takes on the hard fight, and delivers. I am ready to do the same thing for the people of Congressional District Five and the people of our state," Omar said.
DFLer Jamal Abdi Abdulahi — who's also Somali-American — filed to run Tuesday. So did Patricia Torres Ray of Minneapolis, a native of Colombia who's been a state senator for more than a decade.
"I am running for Congress because the immigration fight is the moral fight of our time," Torres Ray said. "I have been preparing for this fight for a very long time."
Other candidates filing Tuesday included Torres Ray's Senate colleague Bobby Joe Champion of Minneapolis and former Minnesota House Speaker Margaret Anderson Kelliher. She lost to Mark Dayton in the DFL primary for governor eight years ago. Kelliher says she's ready to return to politics.
"The history as speaker working with a Republican governor, a Democratic senate, people from all over the state. That's a microcosm of the country. And I can do that," Kelliher said.
Rounding out the list of DFL candidates for the Fifth Congressional District is Frank Nelson Drake, who ran as a Republican in the 2016 general election and lost to Ellison in a landslide.
Republican voters in the district may choose among three Republican candidates in the August 14 primary: Self-described "frequent filer" Bob "Again" Carney, Christopher Chamberlin — who lives far outside the district in St. Cloud, and the party's endorsed candidate, Jennifer Zielinski.
A relative newcomer to politics, she ran unsuccessfully for a Minneapolis Park Board seat last year. Zielinski, who works for Allina Health, welcomes attention to the race.
"I'm happy with all the competition for CD5 here. I think this is what a great race looks like. We have a lot of great candidates on both sides. And I look forward to really giving CD5 a choice coming into the primary," she said.
Fifth Congressional District Chair Brandon Schorsch said delegates could come back for another district-level convention, but that's yet to be decided.
"It's something I'm extraordinarily interested in doing. It's part of my duty as an officer of the party to at least allow delegates to have that discussion," Schorsch said.
Schorsch says the DFL will have to decide soon who, if any of the eight candidates will get the party's official backing. Early voting in the primary begins three weeks from Friday.