Here comes the sun: Solar schools project launches in central Minn.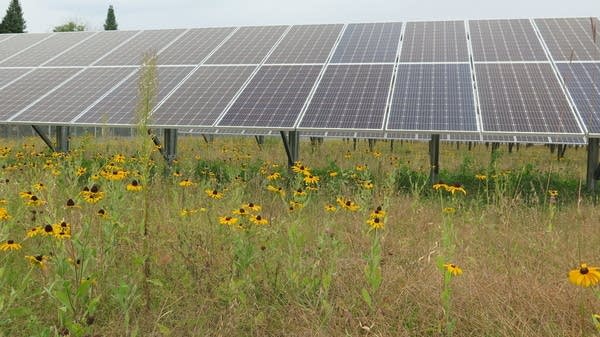 The students at Pine River-Backus High School have something that most Minnesota students don't have — at least not yet: A solar array on school grounds.
At Pine River-Backus, it's right there behind the football field and track. And it's huge, for a school solar array.
"This is one of the largest projects we've ever done," said Erica Bjelland, who does education and community outreach with the Rural Renewable Energy Alliance.
The group — a nonprofit solar developer — was among several organizations that worked together to plant those solar panels on six sites on central Minnesota campuses, including at Pine River-Backus. The numbers add up quickly: Four electric utilities and co-ops, two school districts, one community college, a five-county economic development commission, an energy equity firm, a foundation and Xcel Energy's Renewable Development Fund.
Grow the Future of Public Media
MPR's budget year comes to a close on June 30. Help us close the gap by becoming a Sustainer today. When you make a recurring monthly gift, your gift will be matched by the MPR Member Fund for a whole year!
By working together, the collaborators have done something that so far has been elusive in the realm of solar at schools: They've come up with a project large enough to get outside financial support without relying on local taxpayers.
Solar projects are tough to establish: They have high up-front costs, and there's been some reluctance to embrace solar because of uncertainty around exactly how much electricity it will produce in the long run.
But as a cohort, the group in central Minnesota was able to secure the Renewable Development Fund grant. In addition, Maryland-based New Energy Equity invested in and financed the project. The equity firm owns the solar panels and sells the electricity they generate to the schools.
Local leaders hope this project, which officially opens with a ribbon-cutting Thursday in Pine River, will become a model for other Minnesota schools interested in saving money on their utility bills through solar energy.
But this project isn't just about generating electricity. It was deliberately designed as a means of teaching students about renewable energy.
That's where Bjelland comes in. She's in the midst of developing a curriculum for teachers in the Pine River-Backus and Pequot Lakes school districts to incorporate into the classroom.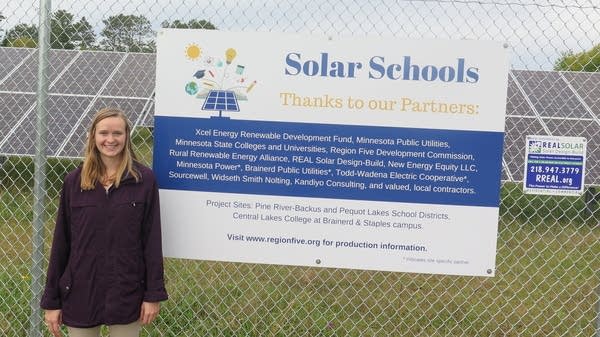 One classroom visit this spring made her realize the project can also be a means of broadening students' perspectives.
"Some of the students looked at me and my coworker — we're both women — and said, 'Girls can do solar energy?'" she said. "It was a really cool way of [doing] the solar outreach and having the students be like, 'Oh! Maybe I could see myself as a student of solar energy, as well, in the future.'"
Getting to Thursday's ribbon-cutting has been a long haul: Seven years ago, representatives from Region Five Development Commission, the organization that coordinated the project, started making their pitch to school districts.
Cheryal Hills, the executive director of the five-county economic development group, said those initial conversations were less about economic stewardship, and more about savings.
"It definitely was more and more people talking about the ability to stabilize their energy costs," she said.
But eventually, she said, the project's mission expanded: It was about education. And reinvesting in the area. And planting the seeds for future solar development. And saving money.
For Pine River-Backus, where on average more than half of elementary students qualify for free or reduced lunch, the money the district can save on energy costs can make a real difference.
"It's so significant," said Superintendent Dave Endicott.
He said the district expects to save about $5,000 a month in energy costs for the first few months of the project. That means more money for staff, or school programs.
"[That] could mean a teacher," he said. "So if we run into a budget shortfall somewhere down the road, now we have something that might be able to keep that position in place."
Those savings are possible because the rate the district is paying New Energy Equity as part of a power purchase agreement is less than what it had been paying its local utility company for electricity. Endicott said he expects the new solar array to cover about 80 percent of Pine River-Backus' electricity needs.
"What a cool thing to be in a place where poverty is prevalent, but we've got the largest solar panel project in the state of Minnesota for a school district sitting right here," he said. "I mean, I go to a football game and you can see the solar array out there, and that's so cool."
The project's $3.5 million dollar cost was covered in part by the grant from Xcel. The company was one of four utilities and co-ops — including Minnesota Power, Todd-Wadena Electric Cooperative and Brainerd Public Utilities — involved in the project. All of them had to sign off and figure out how the solar project would affect the grid.
"There were so many things I had to research, it felt like getting a Ph.D. Every time I had another conversation, I had to Google everything," Hills said.
Hills said early in the process, she and the other partners approached another co-op to join the process, too. But that co-op opposed the project, saying the collaborative would have to become a utility to get it done. The solar partners wanted "a coalition of the willing," she said, so they moved on.
Along the way, the group faced plenty of other resistance, too, she said. One school district that was interested in joining the project had to bow out early in the process because its school board came under community pressure not to participate.
Hills said she thinks the resistance is twofold: People were wary that solar energy companies might over-promise the electricity output. And others resisted solar energy because it's often associated with the broader environmental and social movements around climate change that some people don't agree with.
Hills said she hopes that proven energy savings for the schools and the fact that most contractors hired on the project came from the region will make people more open to future development. "We built capacity and knowledge of the contractors in this region to do more solar," she said.
But it goes beyond that, she said. Some insights from the collaborators are contained in a 29-page report, and participants are already getting calls from people interested in doing something similar.
"I'd like it to be an example of how collaboration can be authentic and real," she said, adding there's plenty of other issues to tackle, from welcoming new immigrants to finding ways to encourage a growing market for local foods.
"What I know it has done is cemented relationships in this region that will help us overcome other challenging issues that we collectively have to work on," she said.