April 9 update on COVID-19 in MN: 50 dead; Walz faces GOP pushback over stay-home order
Updated: 7:37 p.m. | Posted: 5:30 a.m.
As COVID-19 deaths jumped and hospitalizations rose, Gov. Tim Walz urged Minnesotans Thursday to stay vigilant to help stem the disease's spread — and he responded to fresh criticism from a key GOP leader that extending the stay-at-home order through May 4 was not warranted.
"I want people back to work as bad as anyone," but decisions have to be driven by evidence and expert guidance, Walz told reporters minutes after Senate Majority Leader Paul Gazelka took to Twitter to rip the extended stay-home order.
"I'm tired of this. I'm frustrated by this. My heart breaks for the people who are worried about their economic well-being," Walz added. "But you can't get frustrated, go on a hunch and throw caution to the wind and pretend that our neighbors' lives are somehow disposable."
The governor also said he's watching closely the outbreak of cases at a pork processing plant in South Dakota near the southwest Minnesota border. "I'm very worried," he said, noting that many workers move back and forth across the border. "We're starting to adjust accordingly," he added.
Grow the Future of Public Media
MPR News is Member supported public media. Show your support today, donate, and ensure access to local news and in-depth conversations for everyone.
Walz's comments came hours after the state Health Department reported that Minnesota deaths tied to COVID-19 jumped to 50 on Thursday, 11 more than Wednesday, the largest one-day increase reported since the outbreak began.
The count of positive tests for the disease in Minnesota also leaped to 1,242. Of those, 675 people — more than half — have recovered to the point they no longer need to be isolated.
At least one key indicator — the number of people in intensive care — remained stable at 63, down one from Tuesday and Wednesday. However, the overall number of people currently hospitalized rose to 145.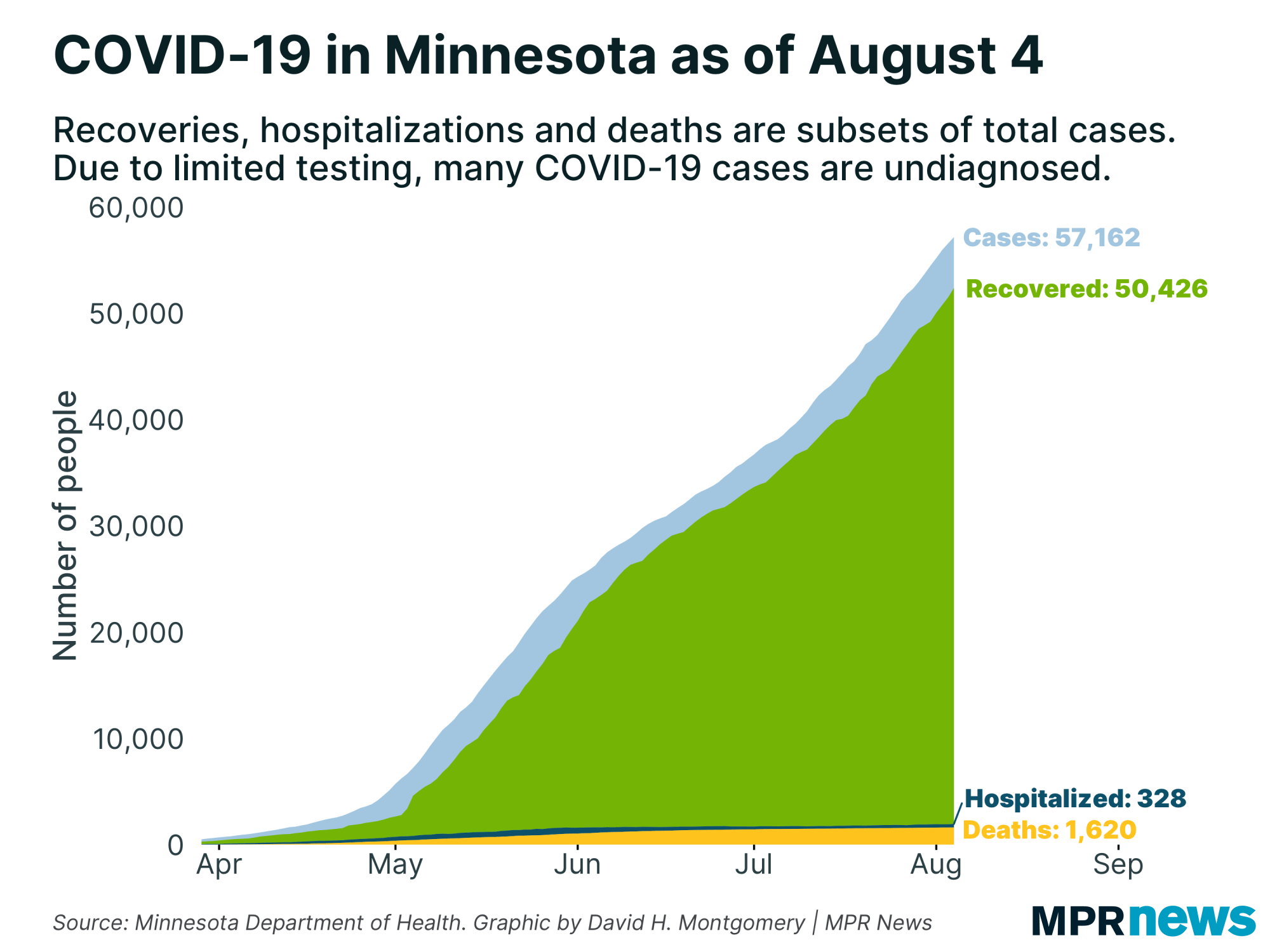 The new numbers come a day after Walz extended his stay-at-home order until May 4. Restaurants and bars will continue being limited to takeout-only under the order, but Walz said he has instructed his commissioners to create standards for reopening, with social distancing, parts of the economy.
The order's goal is to help Minnesota buy time to manage the disease. Health care leaders support the move, Walz said Wednesday. It's expected to push the peak of COVID-19 to mid-July, leading Walz to acknowledge: "It's not going to be a typical Minnesota summer."
Beyond the updates on cases and deaths, the Health Department Thursday noted:
Among those who have died in Minnesota, ages run from 56 to 100. Of the newly reported deaths, seven were in Hennepin County, two in Ramsey County, and one each in Winona and St. Louis counties. This was St. Louis County's first death in the pandemic.

Statistics indicate the first death of a black Minnesotan since the pandemic began.

Sixty-five of Minnesota's 87 counties have at least one case of COVID-19, unchanged from Wednesday.

Martin County on the Minnesota-Iowa border continues to account for the largest number of cases outside of the Twin Cities metro area and Rochester. Total cases ticked up one, to 35; deaths were stable at four.
Along with the medical crisis, the governor the past few weeks has repeatedly acknowledged many Minnesota residents and businesses are suffering financially because of the disease and the state's efforts to slow its spread. His stay-home order has idled more than 11 percent of the workforce.
So far during the stay-at-home order, Republicans and Democrats have been generally supportive of Walz's decision-making. But that seems to be shifting.
On Wednesday afternoon, Gazelka, R-East Gull Lake, the Legislature's most prominent Republican, expressed support for Walz's decision to extend the stay-at-home order while taking steps to reopen the economy.
"It is welcome news some businesses can open up and safely resume work even as the stay-at-home order is extended. I will continue to share the feedback I get with the governor as he makes these decisions," he said Wednesday.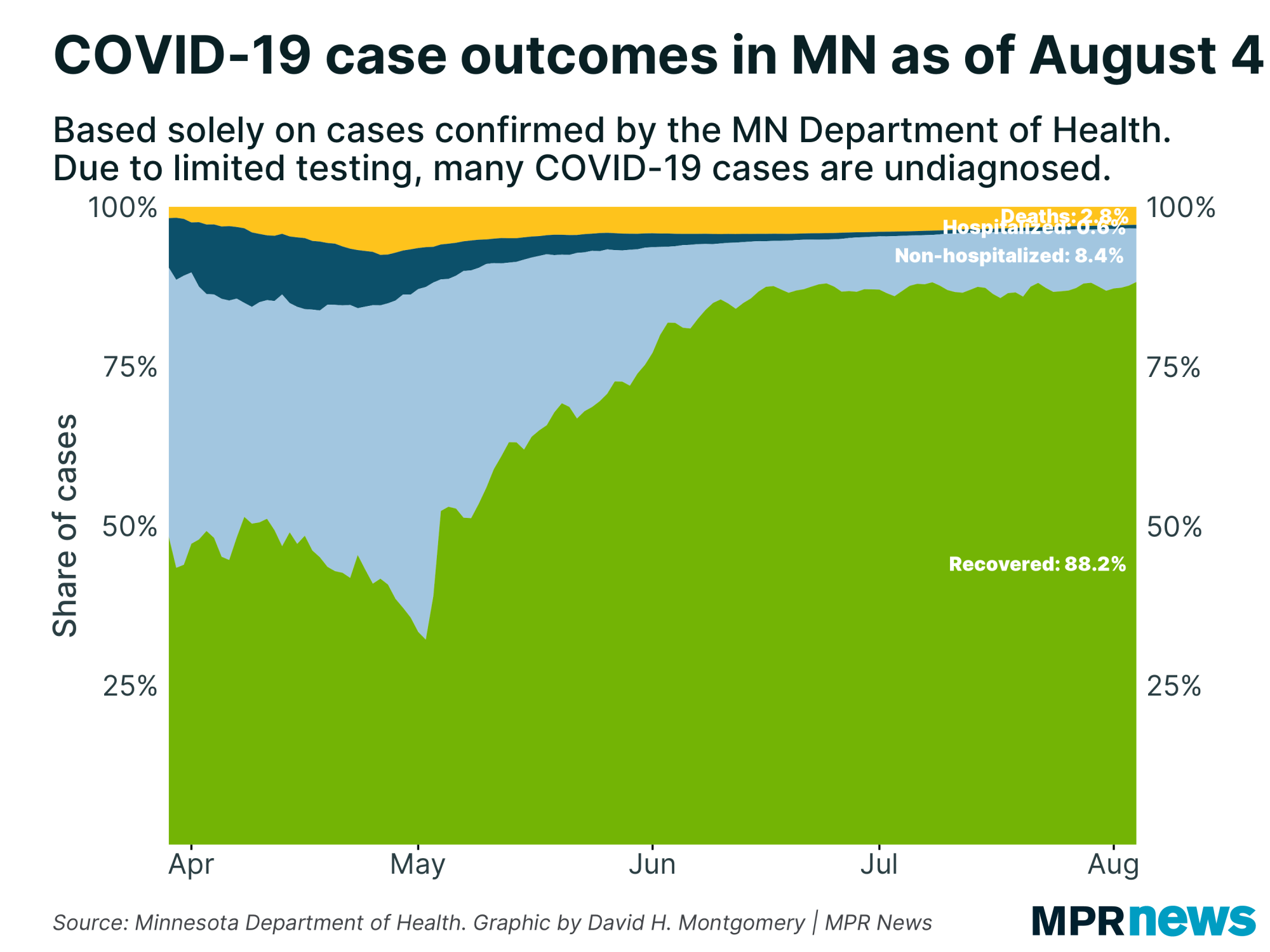 Gazelka was also measured when he spoke early Thursday, telling MPR News that he'd hoped the order would not be extended or that it be kept in place only for seniors. But he added, "I appreciate the robust conversation" with Walz.
However, minutes before Walz's briefing was set to begin on Thursday, Gazelka wrote on Twitter: "I do not approve of the governor's unilateral decision to continue the order to shelter at home until May 4. We have to get on with our lives."
Gazelka questioned the Walz team's projections of needing to prepare for as many as 5,000 intensive care cases eventually. "Why shut MN business down for a NY sized surge?" he wrote.
Asked to respond, Walz told reporters that he was working off the best data and guidance available, including state health leaders and Mayo Clinic, and that he would make changes if circumstances warrant. "One tweet does not equal dissent," he said.
"I hope that I am as wrong as can be about [the need for] all of those beds," he said. "The data shows I cannot risk that at this time."
During the Thursday briefing, MDH Commissioner Malcolm pushed back on claims that the number of COVID-19 related deaths is being exaggerated. On Fox News this week, Republican state Sen. Scott Jensen of Chaska, who is a physician, said public health officials are being allowed to "massage and game the numbers" so hospitals can get more money from Medicare.
"Our Health Department Office of Vital Records has been working to ensure that deaths will be counted as confirmed COVID-19 deaths only when the information that a medical certifier provides in a written cause of death statement explicitly mentions COVID-19," Malcolm said. She added that the department does not change information on death certificates without the involvement of the doctor or nurse who signed it.
For daily COVID-19 updates in your inbox, subscribe to our morning newsletter.
---
Developments from around the state
MN's first COVID-19 hospital not yet at capacity, prepares for surge in patients
Bethesda Hospital in St. Paul is heading into its third week of strictly caring for patients dealing with COVID-19. Bethesda, Minnesota's first hospital geared fully toward treating patients with COVID-19, has seen an increase in patients, but isn't yet at capacity.
Maria Raines, the chief of nursing at Bethesda, said there's been a lot of community support.
"We actually have had many businesses in the community that are reaching out. They have been providing food for our employees so we have a process set up where that food can be brought into the hospital and we're able to provide that," Raines said. "We've had outreach of other community agencies wanting to drop off homemade masks."
There have been no confirmed COVID-19 cases among staff, Raines said, something they are trying to tightly monitor. Bethesda has 35 ICU rooms and 55 medical-surgical beds.
— Peter Cox | MPR News
St. Paul shuts playgrounds, sports courts, skate parks
The city of St. Paul said Thursday it is closing all playgrounds, sports courts – including tennis, basketball, and volleyball – and skate parks in response to the COVID-19 spread.
Parks, trails, open spaces, dog parks, and athletic fields remain open, with restrictions, including social distancing of 6 feet. No pickup games, contact sports, or organized teams are allowed, the city said.
— MPR News Staff
ND quarantine order exempts essential out-of-state workers
North Dakota Gov. Doug Burgum is easing quarantine restrictions on people coming from areas with widespread COVID-19 cases.
Burgum had issued an order requiring a two-week quarantine for anyone returning to North Dakota from states the Centers for Disease Control and Prevention has listed as having widespread cases of coronavirus.
This week, Minnesota was added to that list, causing a lot of confusion for people in communities along the border.
On Wednesday, Burgum amended the quarantine order to exempt anyone who is an essential worker, a consumer buying essential supplies, or is engaging in outdoor activities, including driving for pleasure.
Burgum said the goal was to quarantine snowbirds returning from states like Arizona or Florida, not to impose border restrictions between communities.
— Dan Gunderson | MPR News
COVID-19 cases up sharply in St. Louis County
St. Louis County in northeastern Minnesota has seen a significant jump in the number of confirmed COVID-19 cases in the county.
As of Wednesday, 11 more people in the county have confirmed cases of COVID-19 — bringing the total number of cases in St. Louis County to 28. In two of the new cases, patients have been hospitalized.
Many of the new cases are linked to St. Ann's Residence, an assisted living facility in Duluth.
"This is obviously very concerning. It's a vulnerable population that St. Ann's residence serves, and these are the situations we've been preparing for but hoping wouldn't happen," said Amy Westbrook, who directs the St. Louis County public health division.
Older people and those with underlying health conditions are especially vulnerable to the effects of the new coronavirus. Westbrook said the virus is also likely being spread by community transmission, which means health officials haven't been able to trace the origins of all the cases.
— Dan Kraker | MPR News
'It's unfair': Grocery workers not part of workers' comp bill
Grocery store workers say they're disappointed they won't automatically qualify for workers' compensation benefits if they test positive for COVID-19.
Under a bill the Legislature passed Tuesday, coronavirus infections would be presumed to be work-related for doctors, nurses, firefighters, home health, child care and many other workers.
Jennifer Christensen, president of the union representing about 6,000 workers at grocery stores in the east Twin Cities metro area and Duluth, said it's unfair that grocery workers are not covered.
"The likelihood of our members catching the virus from a customer is pretty high. Many of our folks are working 60 hours a week," Christensen said.
Christensen said that while many people get to isolate themselves, grocery store workers must go where people gather in large numbers.
— MPR News staff
---
Top headlines
MN corrections commissioner says early inmate releases possible for COVID-19: Minnesota Corrections Commissioner Paul Schnell says he is not downplaying the COVID-19 risks for inmates and staff, and is looking for ways to create safer spaces. Schnell says he is considering the release of some prisoners up to six months early to allow more space between inmates.
Businesses shuttered by COVID-19 get sales tax extension: The Minnesota Department of Revenue has extended a grace period for businesses that were ordered to scale back or close entirely to combat the spread of COVID-19. Bars, restaurants and other entertainment venues face restrictions into early May. Sales tax payments for March and April won't have to be made until May 20. That extra time is granted without penalties or interest.
Minnesotans find Passover meaning in a pandemic: Seder tables across Minnesota will likely be a little bit smaller this year, as families mark the beginning of Passover in the midst of a global pandemic.
U of M considers budget cuts due to COVID-19 pandemic: The regents and U President Joan Gabel are looking for places to cut in the next fiscal year budget while still offering some relief for students and families reeling from loss of income. Among the first steps, Gabel announced a possible tuition freeze, one full week of unpaid work for approximately 200 of the university's senior leaders, and her own temporary 10 percent pay cut starting July 1.
---
COVID-19 in Minnesota
Health officials for weeks have been increasingly raising the alarm over the spread of the novel coronavirus in the United States. The disease is transmitted through respiratory droplets, coughs and sneezes, similar to the way the flu can spread.
Government and medical leaders are urging people to wash their hands frequently and well, refrain from touching their faces, cover their coughs, disinfect surfaces and avoid large crowds, all in an effort to curb the virus' rapid spread.
The state of Minnesota has temporarily closed schools, while administrators work to determine next steps, and is requiring a temporary closure of all in-person dining at restaurants, bars and coffee shops, as well as theaters, gyms, yoga studios and other spaces in which people congregate in close proximity.