April 10 update on COVID-19 in MN: 57 dead; possible only 1 percent of cases found
Updated: 6 p.m. | Posted: 5:15 a.m.
As deaths and cases continued to climb, health officials on Friday made it clear that the 1,336 COVID-19 cases confirmed in Minnesota might reflect as little as 1 percent of all the cases in the state right now.
Why? Because Minnesota only has a limited number of tests, thousands of Minnesotans with flu-like symptoms haven't been able to get tested to see if they have COVID-19.
State Health Department economist Stefan Gildemeister told reporters the agency had reached that 1 percent figure by looking at the number of reported deaths from COVID-19, which are much more noticeable than the number of cases, then working backward to estimate "how many infected patients does it really take" to get that number of deaths.
"Multiply the confirmed cases by 100," he said. "That's where we expect to be."
MPR News is Member Supported
What does that mean? The news, analysis and community conversation found here is funded by donations from individuals. Make a gift of any amount today to support this resource for everyone.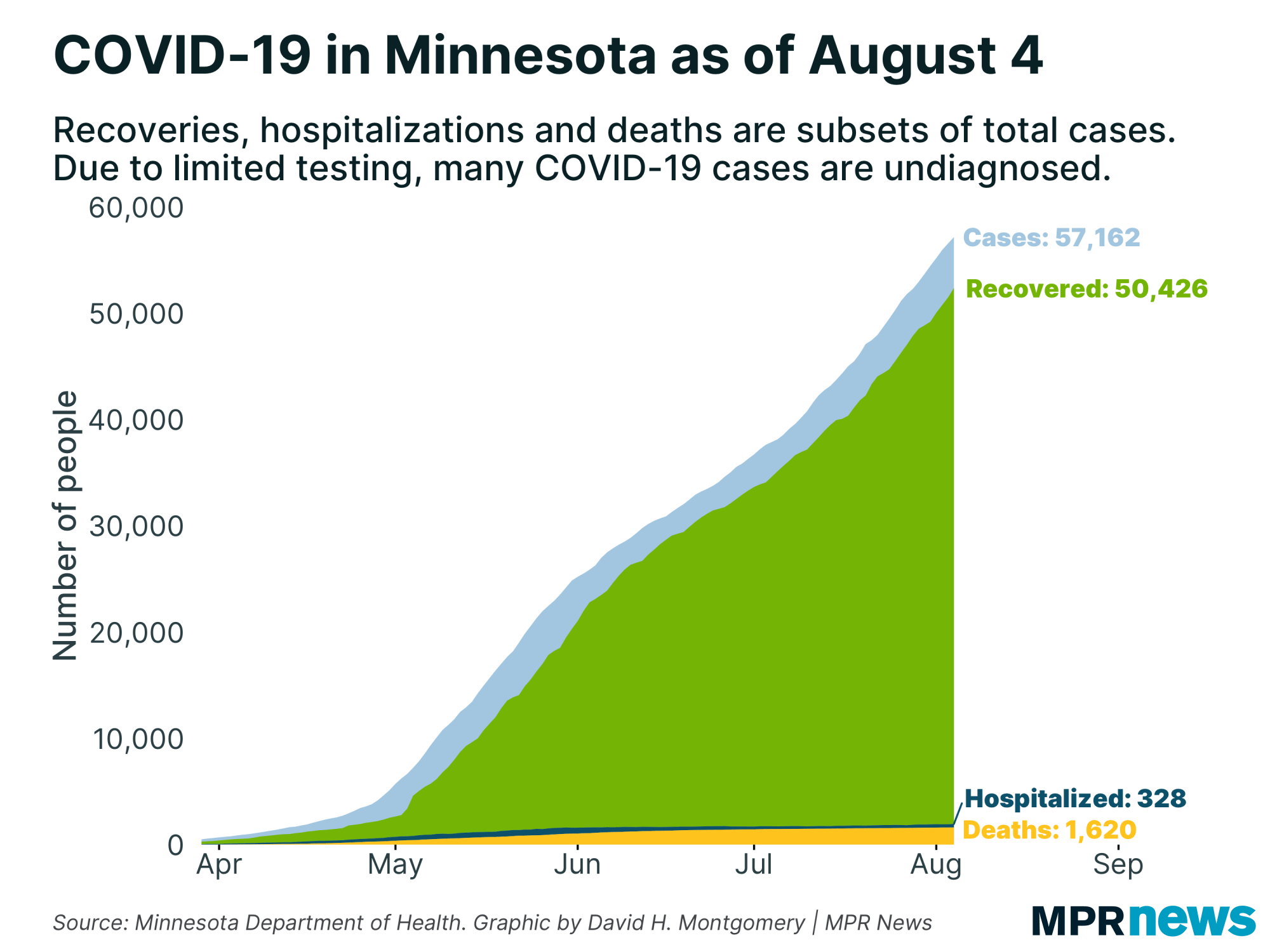 Besides the increase in Minnesotans testing positive, the Health Department on Friday reported seven more deaths tied to COVID-19, bringing the toll in Minnesota to 57 since the pandemic began.
At least one key indicator — the number of people in intensive care — remained stable at 64, up one from Thursday but the same as earlier in the week. The overall number of people currently hospitalized ticked down to 143.
The latest numbers come as Gov. Tim Walz faces pushback over extending his stay-at-home order from a key Republican leader.
After generally supporting the governor's moves, Senate Majority Leader Paul Gazelka on Thursday said he opposed extending the stay-home order to May 4 and ripped the scope of Walz's preparations for a surge in cases and hospitalizations expected this summer.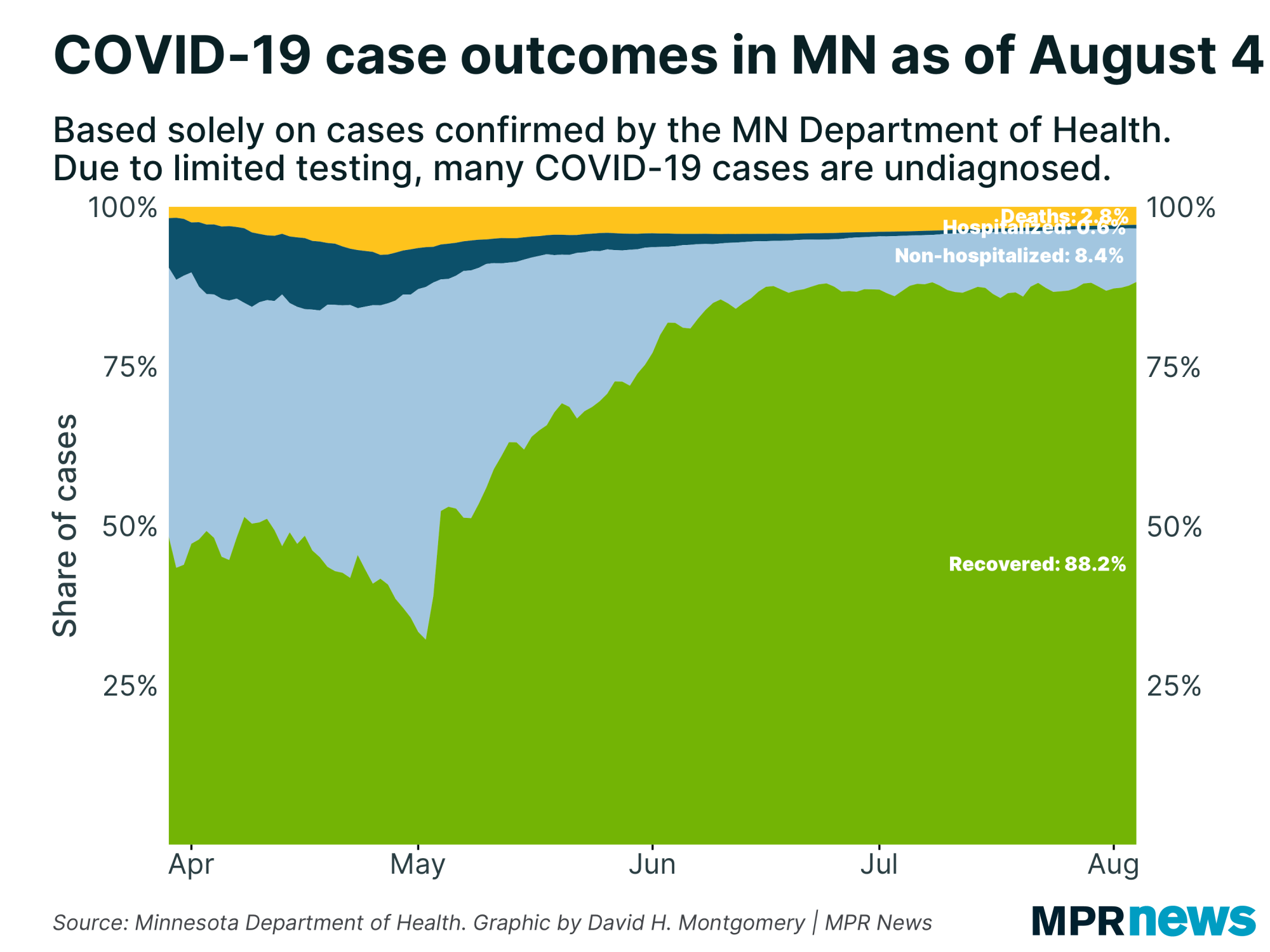 Gazelka, R-East Gull Lake, kept up the criticism Friday, saying central Minnesota businesses are worried about the order's long-term economic damage. "The resorts are scared because prior to this three-and-a-half additional weeks they were scared about the money not coming in, and now they're very, very concerned."
The DFL governor Thursday stood by his actions, saying his coronavirus decision-making would continue to be guided by evidence and experts and that Minnesota would not risk reopening the economy too quickly and jeopardizing the gains made so far to manage the outbreak.
"I'm tired of this. I'm frustrated by this. My heart breaks for the people who are worried about their economic well-being," Walz said during his Thursday conference call. "But you can't get frustrated, go on a hunch and throw caution to the wind and pretend that our neighbors' lives are somehow disposable."
Beyond the updates on cases and deaths, the Health Department Friday noted:
Of the 57 people who've died to date, 36 were living in group care facilities; 82 such facilities in Minnesota now have at least one confirmed case of COVID-19.

Among those who have died in Minnesota, confirmed ages run from 56 to 100. Of the seven new deaths, three were in St. Louis County, two in Hennepin County and one each in Dakota and Brown counties. It was the first COVID-19 death in Brown County.

About 55 percent of Minnesotans testing positive for COVID-19 since the pandemic began have recovered to the point where they no longer need to be isolated. The 20-44 age range has seen the most cases to date, 505.

Sixty-six of Minnesota's 87 counties have at least one case of COVID-19. Nobles County is now on the list.

Martin County on the Minnesota-Iowa border continues to account for the largest number of cases outside of the Twin Cities metro area and Rochester. Total cases ticked up one, to 36; deaths remained at four.

Two homeless people in Hennepin County have tested positive for COVID-19.
Officials also said they were keeping close watch on the outbreak of cases at a pork processing plant in South Dakota near the southwest Minnesota border. Walz said Thursday he was very concerned about that outbreak because of the back-and-forth traffic of workers between the states.
Beyond concerns about rural hospitals being overwhelmed, state leaders remain uneasy about the mounting financial pressures on those smaller hospitals around the state.
It's "absolutely a worry," Health Commissioner Jan Malcolm told reporters. She said Walz has been talking with the state's congressional delegation about making aid to rural hospitals a priority in any next federal rescue package. "They need financial stability of their core operations," Malcolm sad. "There's a big recognition of that."
For daily COVID-19 updates in your inbox, subscribe to our morning newsletter.
---
Developments from around the state
Distilleries around MN step up to help supply hand sanitizer
Several distilleries around Minnesota have shifted their production to making hand sanitizer during the coronavirus crisis. Vikre Distillery in Duluth is one of several in the state making hand sanitizer to help supply the much-needed product.
The Duluth distillery on Friday finished making an 8,000-gallon batch. Co-owner Joel Vikre said after they ran out of the first 1,000 gallons, institutions like hospitals and police departments told his staff they needed a lot more.
"We just created an order form to get the sense of what the demand would be, and it kind of went nuts," Vikre said. "The thing that strikes me is a crisis happens, and the normal supply chains, they break down surprisingly easily."
Friday morning, a line of people waiting to fill up bottles with sanitizer stretched for nearly three blocks. Vikre said they should have enough to distribute for several more days.
11 Wells Spirits in St. Paul is planning to give away hand sanitizer for personal use from noon to 4 p.m. on Saturday; find details on their Facebook page.
— Dan Kraker | MPR News
Edina Art Fair rescheduled for August
The Edina Art Fair, usually Minnesota's first major art fair of the season, is moving to August because of the new coronavirus.
The art fair, which can attract some 300,000 visitors, will now run from Aug. 21-23.
Organizers of the event say that almost all of the 280 artists scheduled for the original date in early June are still planning to be there.
— Euan Kerr | MPR News
MN's first COVID-19 hospital not yet at capacity, prepares for surge in patients
Bethesda Hospital in St. Paul is heading into its third week of strictly caring for patients dealing with COVID-19. Bethesda, Minnesota's first hospital geared fully toward treating patients with COVID-19, has seen an increase in patients, but isn't yet at capacity.
Maria Raines, the chief of nursing at Bethesda, said there's been a lot of community support.
"We actually have had many businesses in the community that are reaching out. They have been providing food for our employees so we have a process set up where that food can be brought into the hospital and we're able to provide that," Raines said. "We've had outreach of other community agencies wanting to drop off homemade masks."
There have been no confirmed COVID-19 cases among staff, Raines said, something they are trying to tightly monitor. Bethesda has 35 ICU rooms and 55 medical-surgical beds.
— Peter Cox | MPR News
St. Paul shuts playgrounds, sports courts, skate parks
The city of St. Paul said Thursday it is closing all playgrounds, sports courts – including tennis, basketball, and volleyball – and skate parks in response to the COVID-19 spread.
Parks, trails, open spaces, dog parks, and athletic fields remain open, with restrictions, including social distancing of 6 feet. No pickup games, contact sports, or organized teams are allowed, the city said.
— MPR News Staff
---
Top headlines
Hospitals cut pay, furlough workers to ease COVID-19 financial blow: Across the state, hospitals are making cost-cutting measures to shoulder the blow of a temporary ban on elective surgeries and procedures. Together, hospitals are predicting a $3 billion loss over the next three months. The state's largest private employer Mayo Clinic is instituting across the board pay cuts and furloughs to shoulder a projected $3 billion loss this year.
3M says a New Jersey company is price gouging New York officials over N95 masks: 3M has sued a New Jersey firm that allegedly engaged in extreme price gouging for N95 respirator masks that can prevent the spread of the COVID-19 virus.
Minneapolis officials say too many are ignoring posted virus signs: City officials may get tougher on people who ignore social distancing rules. However, Minneapolis police are not eager to issue fines.
Grocery stores step up safety measures amid COVID-19 outbreak: Minnesota grocers have deployed plastic screens between customers and cashiers, equipped employees with gloves, hand sanitizer and face masks, marked floors to show customers where to stand, and limited how many shoppers can be in a store.
---
COVID-19 in Minnesota
Health officials for weeks have been increasingly raising the alarm over the spread of the novel coronavirus in the United States. The disease is transmitted through respiratory droplets, coughs and sneezes, similar to the way the flu can spread.
Government and medical leaders are urging people to wash their hands frequently and well, refrain from touching their faces, cover their coughs, disinfect surfaces and avoid large crowds, all in an effort to curb the virus' rapid spread.
The state of Minnesota has temporarily closed schools, while administrators work to determine next steps, and is requiring a temporary closure of all in-person dining at restaurants, bars and coffee shops, as well as theaters, gyms, yoga studios and other spaces in which people congregate in close proximity.