May 19 update on COVID-19 in MN: 748 deaths; plan coming Wednesday for bars, eateries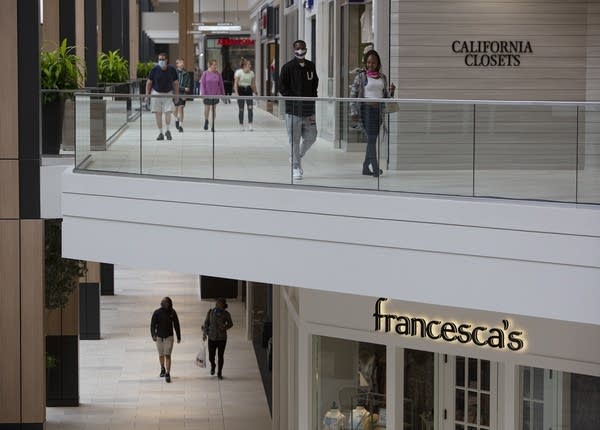 Updated 5:20 p.m. | Posted: 5 a.m.
State officials say they'll roll out a plan Wednesday that will allow people back into Minnesota bars, restaurants and other public gathering places.
Details weren't available, but Steve Grove, the state's commissioner of employment and economic development, wrote on Twitter that state leaders will unveil "phased plans" for those high-traffic venues, which have taken a huge economic hit during the pandemic.
Grove's announcement came minutes after the Health Department reported 748 Minnesotans have now died from COVID-19, up 17 from Monday. Current hospitalizations jumped to 545, while the count of those needing intensive care held steady at 229. Total cases in the state since the pandemic began reached 17,029.
Even as they inch the state back toward normalcy — the state's two-month stay-at-home order came to an end Monday — officials continue to implore Minnesotans to wear masks outdoors and keep their distance from others.
Grow the Future of Public Media
MPR News is supported by Members. Gifts from individuals power everything you find here. Make a gift of any amount today to become a Member!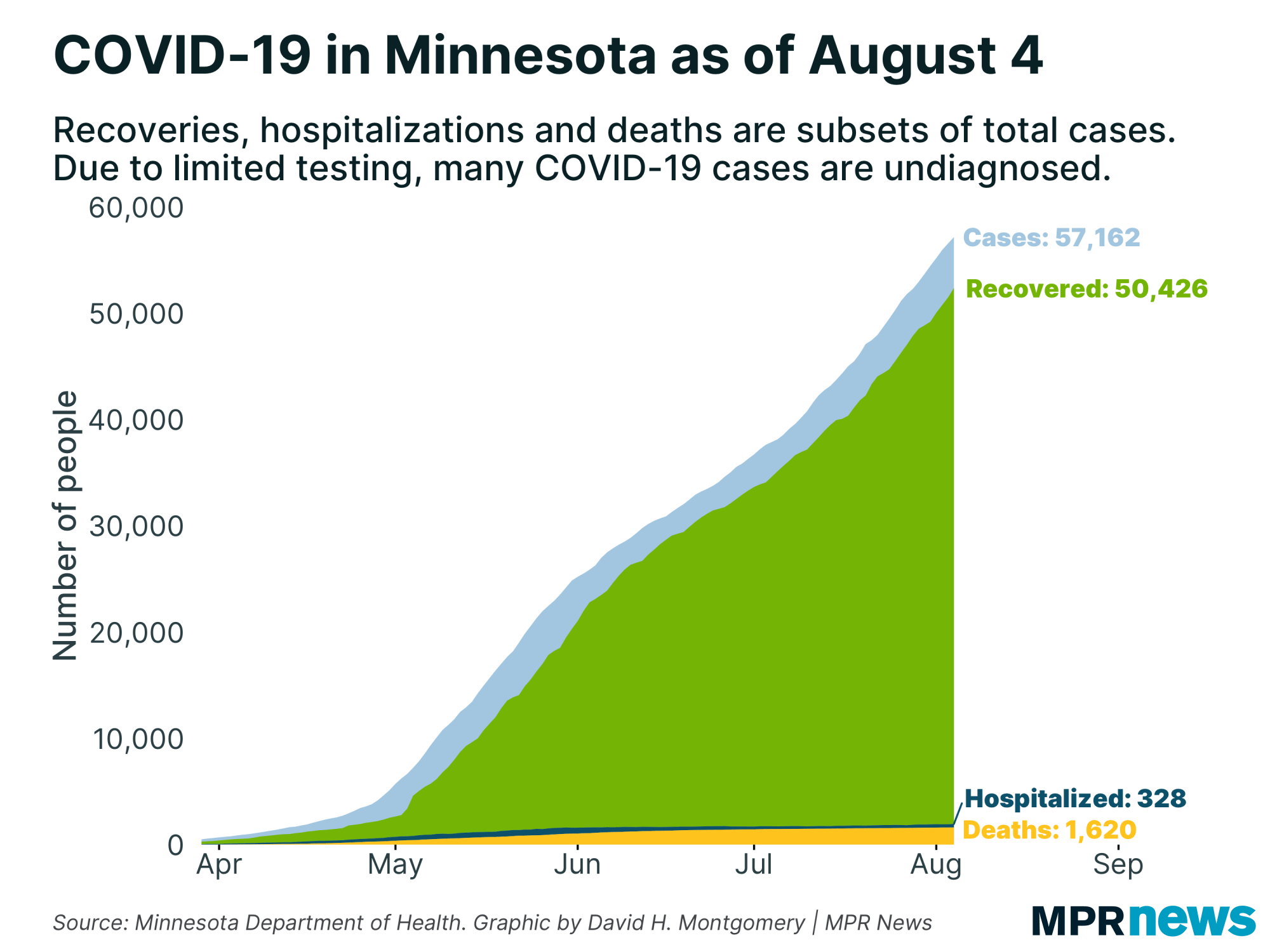 Right direction?
Gov. Tim Walz has said he won't hesitate to retighten restrictions if coronavirus cases shoot up and hospitals come under strain. He kept the stay-home order in place for nearly two months to check the spread of the disease and push back the expected peak so it would not overwhelm the state's health care system, one of his biggest fears.
While deaths, case counts and hospitalizations are still growing, there are signs now that the strategy is paying off despite the economic pain it triggered.
Health Commissioner Jan Malcolm on Tuesday noted that the time it now takes for case counts to double is stretching out longer — about 13 days currently — helping to make the spread of the disease more manageable.
Tuesday's statistics also showed more than two-thirds of the Minnesotans who've tested positive for the disease during the pandemic have recovered to the point they no longer need to be isolated.
Health officials say they're watching several key metrics to gauge if the disease is accelerating as restrictions are lowered. Among them: the number of days it takes for cases to double, the amount of daily testing, the proportion of positive tests and the level of community spread that can't be traced to specific contacts — an indication the disease might be more widespread.
The state continues to add investigators to contact those infected and work to reach others who might have had contact with them and might also be potentially infected.
Even as that tracing work intensifies, it's possible that many who became infected may never know the source of the infection given that people with no symptoms can have the coronavirus and unknowingly pass it on.
Despite the investigation and tracing efforts, "not everyone is going to be able to say 'I got it from Fred' or 'I got it from Frieda,'" said Kris Ehresmann, the state's infectious disease director. "For many situations, you may not know where you picked it up."
While the numbers of positive tests and hot spots for the disease are spread across sectors and regions of Minnesota, more than 80 percent of those who've died from the disease were living in long-term care, nearly all had underlying health problems.
On Tuesday, officials also announced that the state has purchased a former food warehouse in St. Paul to use as a temporary morgue in case COVID-19 deaths overwhelm existing capacity.
A purchase agreement released by the Minnesota Department of Administration on Tuesday shows the state paid about $5.5 million for the 71,000-square-foot property. State officials say the space is expected to have capacities to hold up to 5,100 bodies, and could be needed if predictions of 1,000 deaths per week at the coronavirus peak hold up.
Meatpacking hot spots remain
Many of the recent outbreaks outside the Twin Cities metro area are focused around meatpacking plants. Officials have intensified testing in those hot spots, uncovering more infections.
On Tuesday, Malcolm said health leaders were focused on eight counties outside the Twin Cities metro area where outbreaks were centered around packing plants.
In southwestern Minnesota's Nobles County, where an outbreak hit Worthington's massive JBS pork plant, about 1 in 16 people have tested positive for COVID-19. In mid-April, there were just a handful of cases. By Tuesday, there were 1,394 confirmed cases, although the numbers are rising at a much slower rate than in previous weeks.
The JBS plant shut on April 20 but has since partially reopened with expanded hygiene and health monitoring measures.
Similar problems have been reported in Stearns County, where COVID-19 cases tied to two packing plants — Pilgrim's Pride poultry plant in Cold Spring and Jennie-O Turkey in Melrose — have skyrocketed. An undisclosed number of workers at both plants have tested positive for the virus.
There were about 55 confirmed cases in Stearns County two weeks ago. By Monday, confirmed cases were at 1,782 with 10 deaths.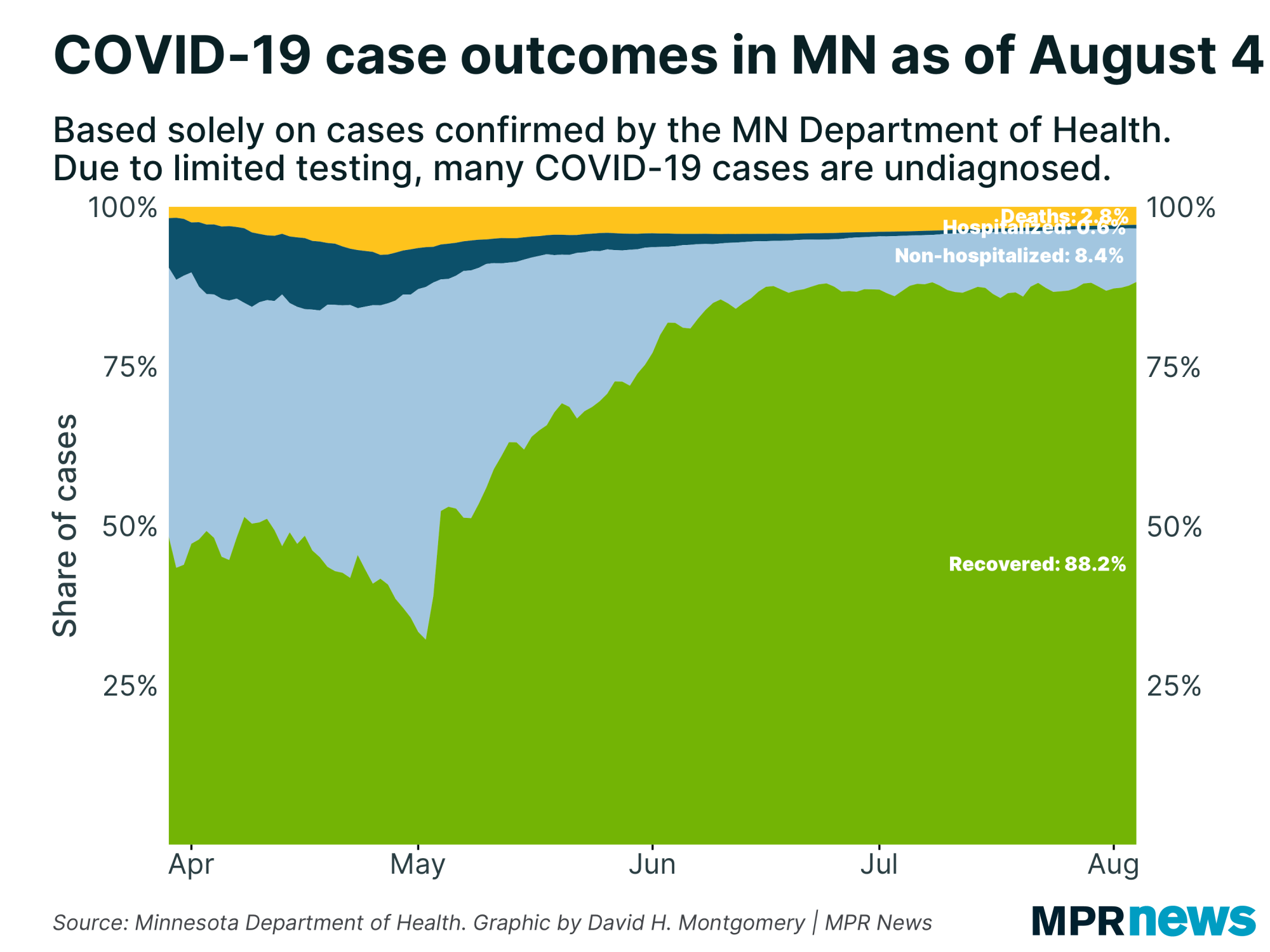 Kandiyohi County in west-central Minnesota is also seeing cases continue to climb four weeks after officials with the Jennie-O turkey processing plant there said some employees had tested positive for the coronavirus. The county had confirmed three COVID-19 cases back then.
On Tuesday, the Health Department reported 420 people have now tested positive.
While the counts in those counties are high relative to their population, Malcolm said growth of new cases in those areas had moderated and "hopefully, the situation is stabilizing."
Plan for restaurants, bars due Wednesday
Monday marked the first day retailers could reopen with limited capacity and group gatherings of 10 or fewer people, including at places of worship, were permitted once again.
Most retail businesses have been permitted to welcome customers back into stores with some capacity limits. But those that serve food and drinks have been restricted to takeout-only and haven't been able to resume sit-down service.
Bars and restaurant owners have become increasingly concerned that they'll go under if they can't reopen soon to dine-in customers. On Monday, a central Minnesota bar owner vowed to defy the state and reopen immediately, but backed down when a judge approved Attorney General Keith Ellison's restraining order.
Walz has previously said June 1 is his goal to reopen those establishments as well as salons and barbershops, bowling alleys, theaters and other places of public accommodation.
On Tuesday morning, DEED Commissioner Grove said the state on Wednesday would outline a phased reopening plan. He didn't provide details, but in other states, that's meant keeping restaurants from filling all their normal tables at the start.
---
Developments from around the state
Nurses warn masks, gear shortages continue
Minnesota nurses told lawmakers Tuesday that shortages of masks and other protective health gear remain a problem in their hospitals.
"We're maxed out. We worry about the safety of our patients. We worry about our own safety and the safety of our families," Ericka Helling, a nurse at Fairview Southdale Hospital, told a Minnesota House panel examining health care worker safety. "We need you to help us to do better work, to keep us all protected."
Securing supplies of masks, gowns and other gear turned urgent at the start of the COVID-19 pandemic as officials feared the virus would overwhelm the health system. To conserve those supplies, Gov. Tim Walz placed a temporary ban on elective surgeries and nonemergency dental procedures. Walz recently lifted the ban, saying hospitals had sufficient supplies.
On Tuesday, though, Helling and other nurses disputed that, saying that the shortage had changed the standards in many hospitals and that nurses must now reuse face masks and other items.
The virus has already sickened 1,500 nurses, said Mary Turner, president of the Minnesota Nurses Association.
While no nurses have died from COVID-19, Turner said she dreaded the day she would have to announce a nurse died "because they weren't properly protected at the bedside."
While the situation has improved significantly over the past month, there are still issues in the supply chain, Mary Krinkie, vice president of government relations at the Minnesota Hospital Association, told committee members.
Lawmakers will be considering a possible legislative response to the nurses' concerns, said House Speaker Melissa Hortman, DFL-Brooklyn Park, the chair of the panel.
State Health Commissioner Jan Malcolm told reporters later that the decision to restart elective surgeries might get another look if supplies of masks and other gear tighten.
"Nothing is off the table in terms of what can and should be revisited," she said.
— Tim Pugmire | MPR News
Guthrie slashes staff as its doors shut until next spring
The Guthrie Theater let go more than 200 employees this week. Before the pandemic, the Guthrie employed 262 people — just over half of them worked full-time.
Following artistic director Joseph Haj's announcement that the Guthrie is closing its doors until March of next year, the company reduced its staff to just 55 people who will continue working while the theater is dark.
Some will return in the fall and winter to prepare for next year's season, but with only one stage producing just three plays, many positions have been eliminated for the foreseeable future.
— Marianne Combs | MPR News
Ramsey County asks state to help address homelessness amid pandemic
Ramsey County is requesting aid from the state to support emergency shelter beds for 200 people in the county who have no home.
County Manager Ryan O'Connor said the county has been working closely with the state and other counties in the metro area to come up with a plan to address homelessness during the COVID-19 pandemic. He told Ramsey County Board members on Tuesday that he expected a response from the state on the request for aid this week.
"I hope it's a positive response and we get to see that help is on the way to help us manage an issue that's gone beyond our operational capacity to address alone," O'Connor said.
O'Connor estimates that the county spent more than $10 million dollars addressing COVID-19 between March and mid-April. The state of Minnesota earlier this month established a fund of $7.2 million dollars to assist people experiencing homelessness who have symptoms or a diagnosis of COVID-19.
— Jon Collins | MPR News
Walz signs bill aiding MN farmers facing foreclosure
Gov. Tim Walz has signed a bill that stops farm foreclosures until Dec. 1 for farmers struggling with the impacts of the COVID-19 pandemic who elect to take part in creditor mediation.
Minnesota's Farmer-Lender Mediation Act requires any creditor foreclosing on agricultural debt of $15,000 or more to provide the debtor a legal notice of their right to a neutral state mediator. The law normally provides for 90 days to reach agreement. But the legislation that unanimously passed the House and Senate last week and was signed Monday temporarily extends the deadline to 150 days or Dec. 1, whichever is later.
Rep. Todd Lippert, of Northfield, said his bill is meant to help farmers stay on the farm as they face packing plant and ethanol plant shutdowns, low milk prices and the need to euthanize hogs and poultry.
Paul Sobocinski, an organizer with the Land Stewardship Project who farms near Wabasso, says farmers need to be aware of their rights under the new law. He says it protects them from foreclosure through harvest time, and buys time for the markets to recover and for federal aid to come to farmers.
— The Associated Press
Deadline nears to run in Minnesota 2020 elections
Tuesday marked the start of a two-week candidate filing period for Minnesota's 2020 elections. 
All 201 seats in the Legislature, a U.S. Senate race and eight congressional contests are among the offices at stake in November. That's in addition to the presidential contest and a range of municipal offices. Some state races could feature August primaries to determine party nominees.
Candidate filing opens under changed conditions to account for the coronavirus pandemic. Major party candidates are permitted to file in person, by mail or electronically.
Candidates who show up to file at the secretary of state's office are being advised about social distancing and encouraged to wear face coverings. Minor party hopefuls will be allowed to collect electronic signatures for ballot petitions. That's new under a temporary law change.
"The purpose of this language was to allow for the collection of petition signatures in a manner that was as close to the existing process as possible while also avoiding face-to-face contact," the secretary of state's website advises.
— Brian Bakst | MPR News
---
Top headlines
Older Minnesotans sheltering at home need help, volunteers step up: Because the new coronavirus is especially dangerous for older adults and those with underlying health conditions, the need for services for those stuck in their homes has increased. Several nonprofits say more volunteers have come forward.
In a pandemic, technology helps tribe reconnect with Dakota language: Members of the Prairie Island Indian Community say there's a silver lining for their heritage in this chaotic time. By moving Dakota language classes online, they are attracting more tribe members than ever.
A teacher stays connected in a virtual classroom: Minnesota schools will end the year with students and teachers separated. No last day field trips or end-of-the-year pizza parties in the classroom. For many teachers, losing physical contact with students is the hardest part of distance learning. Moorhead kindergarten teacher Karla Brewster talked about maintaining relationships with students in a time of distance learning.
Central Minnesota bar owner keeps doors closed despite threat to reopen: Kris Schiffler vowed Sunday he would defy the state order. But on Monday, after a Stearns County judge blocked the reopening, Schiffler complied, even as a long line of noontime customers stood at his door.
---
COVID-19 in Minnesota
Health officials for weeks have been increasingly raising the alarm over the spread of the novel coronavirus in the United States. The disease is transmitted through respiratory droplets, coughs and sneezes, similar to the way the flu can spread.
Government and medical leaders are urging people to wash their hands frequently and well, refrain from touching their faces, cover their coughs, disinfect surfaces and avoid large crowds, all in an effort to curb the virus' rapid spread.
The state of Minnesota has temporarily closed schools, while administrators work to determine next steps, and is requiring a temporary closure of all in-person dining at restaurants, bars and coffee shops, as well as theaters, gyms, yoga studios and other spaces in which people congregate in close proximity.