New State Fair CEO oversees her first Great Minnesota Get-Together
Renee Alexander has been to the Minnesota State Fair more times than she can remember as a visitor and employee, but Thursday's opening day marks her first as general manager. She is also the first woman in the top job. 
But truth be told: the fair didn't want her, at first. 
In 1989, when she was heading into her senior year at the University of Wisconsin in River Falls, Alexander applied for a position in the fair's sales department. 
"One of my friends from college, it was her mom's cousin (who) was working here. And she worked in the sales department. Sales handles all the food and beverage, they handle all the exhibitors, the Midway. So, I initially interviewed with them, and they did not hire me." 
Grow the Future of Public Media
MPR News is supported by Members. Gifts from individuals power everything you find here. Make a gift of any amount today to become a Member!
This was for an internship, mind you. She was majoring in business communications at the time. 
But Alexander's resume landed next on the desk of Karen Leach, who ran free entertainment at the fair. She hired Alexander on the spot, and put her to work on the musical acts, daily parade and all the other free shows that fill the fair. 
"It was just a magical summer of learning (about) all of the inner workings of coordinating entertainment, and (riding) on a golf cart delivering pop and water and ice to the stages, and getting the parade stepped off every day," Alexander said in an interview with MPR News. "It was amazing."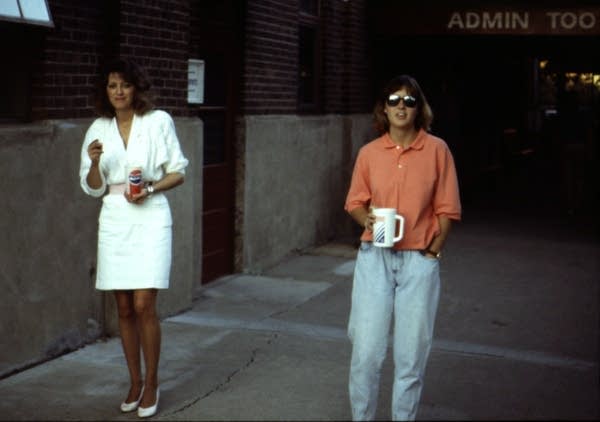 The rest is fate: Once a lowly intern, she's now running the place.  
Fair connections don't run in Alexander's family, like many at the Great Minnesota Get-Together. She was born in Kansas and moved to Coon Rapids, Minn., when she was eight, when her dad's General Motors job shifted to the Twin Cities. She started visiting the fair as a kid and saw her first concerts at the Grandstand — Alabama and Kenny Loggins — in 1985. 
She says her initial impression was that the folks that ran the fair probably showed up the week before opening, cut the grass, slapped on some paint and flung open the gates. 
But her first look behind the scenes proved to her that a lot of effort goes into planning the fair. After college, she worked again in the free entertainment department, and hired the legendary Sean Emery, the juggler and comedian who was the longest-serving entertainer at the fair and a staple for family-friendly diversions. 
Alexander left that job after a few years. She worked for a talent agent, for Sesame Street Live and even a traveling Space Shuttle exhibit. 
A few years later, she came back to the fair as entertainment director, and has for years booked one of the fair's biggest attractions — the Grandstand shows. 
She says the shows bring in about 10 percent of the fair's attendance. That could feel like a lot of pressure, but Alexander says she never worries about ticket sales. Instead, she focuses on selling the Minnesota State Fair to headliners who wonder if they will be playing to passersby from a trailer in a parking lot, as many had done on their way to stardom. 
"I really went out and pushed hard to say we're basically the amphitheater in Minneapolis, because there isn't an amphitheater here," said Alexander. "So, I really tried to build the venue as a concert venue that happens to be on a fairgrounds, as opposed to a fair venue."  
Her sales pitches paid off, bringing in performers like Rush, Keith Urban and Stevie Nicks. Alexander says she'll always regret not getting Prince — but hey, Taylor Swift played the fair before she sold out U.S. Bank Stadium 16 years later. 
Alexander will continue running the Grandstand in her new role — she has booked an act for next year already but can't reveal who is performing yet. 
As for her vision for the fair, she isn't planning to rock the boat just yet. "It is a challenge for sure, you know, making sure that we maintain and keep those traditions going, but also pepper in some new things every year," she said. 
Notable changes this year include the end of the traditional paper tickets for rides at the Midway and Kidway. Electronic cards will be used instead. The defunct river raft ride on Como Avenue has been replaced with an expansive new gate for taxis, shuttles and other specialty transportation. Alexander says the area will feel less like the fair's back door. 
Her future goals include finding ways to lower barriers for new vendors and figuring out ways to help entrepreneurs get into the fair without gambling a huge stake on food or merchandise for the 12-days of business. And replacing the fair's last aging restroom buildings is also on her wish list. 
Alexander says ultimately the fair's success doesn't lie with her — but with fairgoers, whom she's spent decades rubbing elbows with. 
One of her favorite moments happened when she was walking out of a food building during a previous fair. Alexander had a boat of waffle fries in her hand. "And a complete stranger came up to me and said, 'I will trade you a waffle fry for a cheese curd.' We had this exchange," she said.  
Alexander took a cheese curd from the woman, who then took a waffle fry from Alexander.  
"You don't think anything of it and those moments happen out here all over the place where people sit at a picnic table with strangers and talk or they pass a bucket of cookies down the row at a Grandstand show," she said. "I mean, the fair's a lot of small moments that build up into this giant amazing thing."