Your guide to the Republican and Democratic state conventions
Several thousand hard-core political party members are gathering this weekend to try and influence the 2018 election.
The DFL Party kicks off its party convention in Rochester Friday, and Republicans are will be doing the same for their convention in Duluth.
Once there, delegates will attempt to endorse a candidate for two U.S. Senate seats, an open race for Minnesota governor, several other constitutional offices and debate their respective party platforms. To win the endorsement, candidates must hit 60 percent support from delegates at the convention. On the DFL side, there are roughly 1,400 delegates, with more than 2,000 delegates deciding endorsements for the Republicans.
It's a major political litmus test for candidates, but it's not the final step. Endorsed candidates must also compete in an Aug. 14 primary to make it on the November ballot, and for Republicans, that outcome is already a certainty. Former Republican Gov. Tim Pawlenty is skipping the Republican convention and heading straight to a primary. Democrats could potentially coalesce around a single candidate this weekend, giving them a head start on the general election.
Here's a look at the dynamics at play in the race for governor and U.S. Senate and a snapshot of the candidates competing for endorsements this weekend.
Democrats
Governor
All three leading DFL candidates for Minnesota governor are seeking the party's endorsement in Rochester on Saturday, a race that could determine whether Democrats coalesce early around one candidate or head into a competitive primary election.
The contest is between U.S. Rep. Tim Walz, State Auditor Rebecca Otto and St. Paul state Rep. Erin Murphy.
The Democrats have come to appreciate the power of the governor's office, with current DFL Gov. Mark Dayton blocking many policies pushed by the Republican-controlled Legislature.
Democrats are desperate to maintain that level of power, especially with the chance that Republicans could retain control of the Legislature this fall.
But after the 2016 election, party activists are battling internally over whether they want to endorse a candidate with progressive bona fides to turn out the base, or if they should find someone who can win back moderate and rural voters they lost in the last cycle.
Erin Murphy
Murphy, a nurse by trade, has spent the last 12 years in the state House representing St. Paul, including two years as majority leader. She's spent years going from district to district to help elect other Democrats to the House, but now she's traveling the state for herself, trying to stack up support in a bid for governor. In the weeks leading up to the convention, she's lined up plenty of endorsements from unions and the more progressive wing of the party, including the Minnesota Nurses Association, OutFront Minnesota and AFSCME Council 5.
Rebecca Otto
Otto served one term in the Minnesota House before running for Minnesota state auditor in 2006. After three terms as auditor, she's seeking the governor's office, arguing she's the only candidate in the race who has won statewide. She's running on a platform of policy positions, from creating a state bank to taxing carbon emissions to create clean energy jobs. She's earned the backing of groups like Our Revolution (which co-endorsed Murphy), an offshoot of the Bernie Sanders presidential campaign.
Tim Walz
Walz was a geography teacher living in Mankato in 2006 when he decided to run for a conservative-leaning congressional seat in southern Minnesota. He won that race, but now he's trying to trade his view of the U.S. Capitol for the Minnesota Capitol, arguing his record in Washington and his experience winning over rural voters in southern Minnesota position him best to win statewide this year. He's lined up endorsements from some big-hitters in his pursuit, including Education Minnesota and former Vice President Walter Mondale.
U.S. Senate
Minnesota will have not one, but two races for the United States Senate on the ballot this fall, but only one was supposed to be up this cycle.
That's the seat held by Amy Klobuchar, a Democrat who was first elected to the Senate in 2006. There are no major Democrats registered to run against Klobuchar, who is expected to be endorsed by acclamation at the convention in Rochester of Friday.
Amy Klobuchar
Klobuchar was a two-term Hennepin County attorney before she snagged the DFL endorsement and won the race for U.S. Senate in 2006. Since then, she's grown considerably more popular in the state, winning a second term with more than 65 percent of the vote. She's also considered a rising star in her party and has been mentioned as a potential candidate for president in 2020.
The other Senate seat
Former U.S. Sen. Al Franken resigned late last year after a number of women alleged he improperly touched them.
That unexpectedly threw his seat into the mix this fall, a race that's expected to draw national attention and millions of dollars of outside spending. On the DFL side, U.S. Sen. Tina Smith, who was appointed to the seat after Franken resigned, is running to serve the remaining two years of Franken's term and expected to get the backing of Democrats over the weekend. She's being challenged for the endorsement by Nick Leonard, a DFL activist and attorney.
The endorsed candidate will face a primary challenge in August from Richard Painter, a former Republican and ethics attorney with a national profile who switched parties to run for the seat.
Tina Smith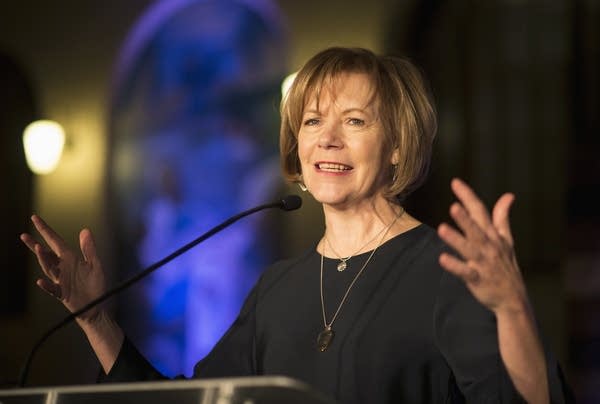 For years, Smith operated behind the scenes in DFL politics, helping elect Democrats to office and serving as the chief of staff of former Minneapolis Mayor R.T. Rybak and eventually Dayton. She became a politician in her own right after the 2014 election when she ran as Dayton's lieutenant governor. In January, Dayton appointed her to the U.S. Senate after the unexpected resignation of Franken. Now, she's defending that seat on her brief record in Washington, positioning herself as a progressive on issues like gun control and immigration.
Richard Painter
Painter spent most of his life as a Republican and served in the administration of George W. Bush as his chief ethics counsel. But in the era of President Trump, Painter has left the Republican Party and gained a national profile for his criticism of the Trump administration. Now he's now running as a Democrat for the Senate on an anti-Trump platform and is seeking the party's endorsement but also heading to a primary.
Nick Leonard
Leonard is a little-known DFL activist and attorney from Minneapolis who is making a run at the party's endorsement over the weekend. He's positioning himself against Smith as the "true progressive" in the race and highlighting the fact that he could be the first openly gay man elected to the United States Senate.
Republicans
Governor
Former Minnesota Gov. Tim Pawlenty will be the elephant who's not in the room in Duluth. Pawlenty wants his old job back, but he's skipping the convention to run in the August primary.
This year marks a critical election for Republicans, who haven't held the governor's office since 2010. If Republicans can maintain their hold on the Legislature and win the governor's race in the fall, it will mark the first time they've controlled government in the modern era of politics.
But activists and candidates must weigh one big factor year: Do they try to recreate the populist message that helped Trump, who nearly won the state in 2016, or do they back away from the president at a time when his approval rates are low?
Jeff Johnson
The Hennepin County Commissioner is taking his second run at the governor's office, after losing to Dayton in 2014. This time, Johnson is trying to capture the drain-the-swamp message that helped Trump nearly win Minnesota, campaigning on undoing government regulations and limiting power in St. Paul. He's also arguing he's a better option than Pawlenty, earning the endorsement of Pawlenty's former lieutenant governor, Carol Molnau. Johnson is seeking the party's backing and was a clear favorite in the Republican precinct caucus preference poll in February.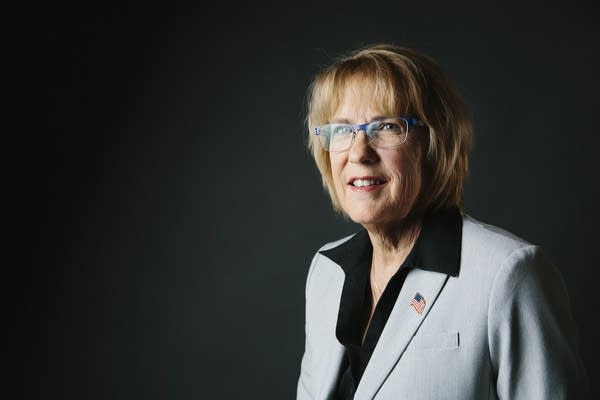 Mary Giuliani Stephens
Giuliani Stephens is an attorney and the two-term mayor of Woodbury who previously served on the Woodbury City Council. She wants to make the jump from local to state politics in her run for governor, touting her executive experience balancing city budgets and her willingness to work with members of both parties to get things done. She's the only Republican woman running for governor and is considered a potential dark horse candidate in the race for the endorsement in Duluth.
Tim Pawlenty
The former two-term governor has already raised more than $1 million, greatly outpacing the other Republicans seeking the nomination. Since leaving the governor's office, Pawlenty spent five years lobbying for banks in Washington, D.C., something his opponents are already using against him, but he's running on issues like eliminating Medicare fraud, cutting social security taxes and cracking down on the opioid epidemic. After initially saying Trump was "unfit" for president, Pawlenty said he ultimately voted for him.
Phillip Parrish
Parrish is a longtime Republican activist who is taking a hard-line position against immigration and refugee resettlement in the state
U.S. Senate
It's been a decade since Minnesota Republicans held a U.S. Senate seat, but this year they will get two opportunities to change that.
That includes the race against DFL U.S. Sen. Amy Klobuchar, who is seeking a third term this fall. Republicans have struggled to chip away at Klobuchar's popularity in the past, losing to her by more than 65 percent of the vote in 2012, the last time the seat was on the ballot.
This year they've recruited a Republican state representative who is channeling Trump in his attempt to win the seat.
Jim Newberger
Newberger is a three-term Republican representative from Becker who is leaving the chamber to run for the U.S. Senate. He worked for more than three decades as a paramedic before getting into politics. He's focused on public safety and environmental issues in St. Paul, but in the race for the Senate, he's running on an anti-abortion, pro-Second Amendment rights platform and is closely aligning himself with the Trump administration.
Robert Barnheiser
Barnheiser is a former minister and firefighter and an activist who is running on an anti-abortion platform. He also opposes women and minority hiring requirements and wants to make faith a stronger part of public and government life.
The other Senate seat
After losing a United States Senate seat to Franken by just 312 votes in 2008, Republicans hope they can capitalize on his unexpected departure to win it back this fall now that Franken resigned.
But Republicans must still run against an incumbent after Dayton appointed Democrat Tina Smith to replace Franken. It's expected to be an expensive race with plenty of national groups targeting the seat.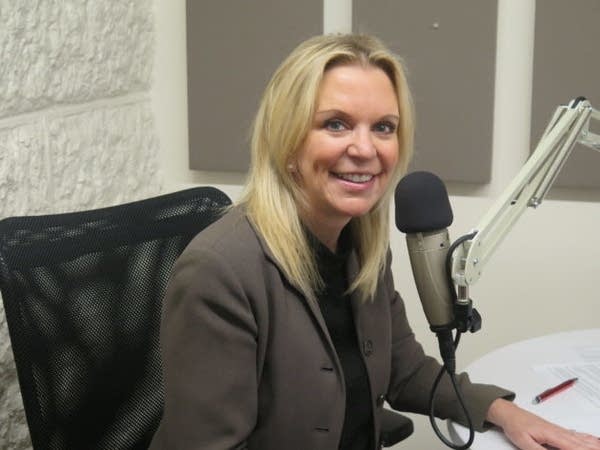 Karin Housley
Housley is a realtor and two-term Republican senator from St. Mary's Point. She jumped into the race to replace Franken early and has locked up plenty of GOP support behind her, including the endorsement of Republican House Speaker Kurt Daudt. She's touting her work to prevent elder abuse and cut regulations and lower taxes for small businesses. She already has name recognition in hockey circles: Housley is married to NHL Hall of Famer and Buffalo Sabres head coach Phil Housley.
Bob Anderson
Your support matters.
You make MPR News possible. Individual donations are behind the clarity in coverage from our reporters across the state, stories that connect us, and conversations that provide perspectives. Help ensure MPR remains a resource that brings Minnesotans together.