Chauvin trial: MPD instructor says cops aren't trained to use knee on neck
Tuesday's proceedings have ended for the day
MPR News is streaming live coverage of the trial. Some images or material discussed during the trial will be disturbing to many viewers. Watch the morning proceedings here. Watch the afternoon proceedings here.
3 things to know:
Judge to limit questioning of Floyd friend

MPD top cops: Chauvin's force on Floyd violated department policy, values; "improvised" knee maneuver not taught

Case expected to hinge on responsibility for Floyd's death; defense points to Floyd's health conditions, drugs; prosecution points to Chauvin's actions
---
Updated: 12:46 p.m.
A key part of Derek Chauvin's murder trial defense is that the Minneapolis officer's use of force against Floyd last May was appropriate and in line with department policy. But high-ranking Minneapolis police leaders — including Chief Medaria Arradondo — have spent the past few days testifying that simply isn't so.
On Tuesday, a Minneapolis use-of-force instructor testified that officers aren't trained to use their legs or knees on somebody's neck, while another police official told jurors that Chauvin received extensive training in how to defuse tense situations.
Prosecutors showed Lt. Johnny Mercil, a use-of-force instructor, a photo of Chauvin with his knee on Floyd's neck and asked him if it is something Minneapolis police officers are trained to do.
Grow the Future of Public Media
MPR News is supported by Members. Gifts from individuals power everything you find here. Make a gift of any amount today to become a Member!
Mercil said Chauvin was using force — but that it's not a technique he has trained officers to use. Mercil added that officers are told that when possible, they should use the least amount of force necessary to control someone because it reduces the risk of injury to both the subject and the officer.
Mercil also said the head, neck and sternum are particularly vulnerable to strikes or pressure. Officers are made aware of that during training, he said.
Earlier, Sgt. Ker Yang, who is in charge of crisis intervention training, said that four years before Floyd's death, Chauvin took a 40-hour course on crisis intervention that included training on how to recognize people in crisis and how to use de-escalation techniques to calm them down.
Yang said officers are taught to make critical decisions in dealing with people in crisis, including those suffering mental problems or the effects of drug use, and then de-escalate the situation. Prosecutor Steve Schleicher said records show that Chauvin attended a 40-hour course on the method in 2016.
"When we talk about fast-evolving situations ... a lot of the time we have the time to slow things down and reevaluate and reassess and go through this model," Yang said.
Under questioning from defense attorney Eric Nelson, Yang testified that people watching an arrest may also be in crisis and that officers have to take in the situation around them as well.
Nelson has consistently asked police witnesses about the possible threats posed by observers. It is part of his narrative that the crowd gathered at the scene posed a threat and that Chauvin's actions were consistent with training.
Judge signals he'll limit questioning of Floyd friend
Court proceedings began Tuesday with a Zoom appearance by Morries Hall, a friend of Floyd who was with him in the car as police approached. The judge indicated that he'll limit Hall's testimony.
A toxicology test turned up fentanyl in Floyd's blood, and investigators found drugs in the car. Floyd's girlfriend Courteney Ross testified earlier in the trial that Hall had provided drugs to Floyd in the past.
"If there were to be a future third-degree murder charge, and Mr. Hall was charged with being involved in this drug activity that had caused Mr. Floyd to pass away due to an overdose, him even being in that car incriminates him in terms of behaviors of Mr. Floyd, what he observed, when he observed it," Adrienne Cousins, Hall's attorney, told the court.
In Minnesota there have been a few high-profile cases over the past five years involving people charged with third-degree murder for selling drugs to people who overdose and die.
Cousins said her client plans to invoke his Fifth Amendment right against self-incrimination.
Cahill said he'd likely limit questioning of Hall to his observations of Floyd on May 25, the night Floyd was killed while in police custody.
The judge has asked the defense to propose what questions they would put to Hall under oath and have them ready Thursday. Hall can talk to his attorney first about the questions and then they will discuss again outside of the jury later.
Chief: Floyd restraint violated cops' training, ethics
Testimony from Mercil and Yang on Tuesday came a day after Arradondo, the Minneapolis police chief, told jurors that Chauvin should have ended his restraint of Floyd once Floyd was subdued.
"Once Mr. Floyd had stopped resisting, and certainly once he was in distress and trying to verbalize that, that should have stopped," Arradondo told the court. "There is an initial reasonableness in trying to get him under control in the first few seconds."
Once Floyd stopped resisting and then stopped responding, "to continue to apply that level of force to a person, proned out, handcuffed behind their back, that in no way shape or form is anything that is by policy," the chief said. "It's not part of our training, and it is certainly not part of our ethics or values."
Arradondo, who fired Chauvin and three other officers following Floyd's killing, noted that while the department allowed neck restraint, the training called for light to moderate pressure only; Chauvin's maneuver was not light to moderate pressure.
Arradondo also said Chauvin violated the city policy requiring officers to render medical aid.
In cross-examining Arradondo, Nelson emphasized that department policy allowed unconscious and conscious neck restraints. He also pointed to body camera footage that appears to show Chauvin's knee on Floyd's shoulder blade when paramedics arrived.
'That's not what we train'
While Arradondo's testimony was the most highly anticipated, other key police leaders have emphasized that Chauvin's use of force against Floyd was unacceptably dangerous and outside the bounds of department policy.
Inspector Katie Blackwell, who was head of the training unit last year, explained to the jury on Monday that neck restraints were allowed. But per department policy, she said officers were only allowed to use their arms in such restraints.
As she looked at a photo of Chauvin kneeling on Floyd's neck, she said: "I don't know what kind of improvised position that is. That's not what we train."
The Police Department banned chokeholds altogether in the wake of Floyd's killing.
On Friday, the head of the Minneapolis police homicide unit testified the use of force officers used on Floyd was "totally unnecessary."
Lt. Richard Zimmerman told jurors that after reviewing the body camera footage of the fatal encounter with Floyd, he concluded the officers went too far.
"Pulling him down to the ground, face down, and putting your knee on the neck for that amount of time — it's just uncalled for," Zimmerman said. "I saw no reason why the officers felt they were in danger, if that's what they felt, and that's what they would have to feel to be able to use that kind of force."
The most direct clue so far pointing to Chauvin's mindset has come from the officer's video. Last week, prosecutors played footage from Chauvin's body camera showing a man at the scene criticizing the officer afterward for the way he restrained Floyd.
"That's one person's opinion," Chauvin responds on the video. "We gotta put force, gotta control this guy because he's a sizable guy. Looks like he's probably on something."
ER doctor recounts effort to revive Floyd
Monday began with testimony from the the doctor who pronounced Floyd dead last May. Dr. Bradford W. Langenfeld said that Floyd was in cardiac arrest when paramedics brought him to the emergency room and that Floyd showed only "pulseless electrical activity," which he said signaled a lack of oxygen.
He testified that he theorized at the time that Floyd most likely died of asphyxiation. Langenfeld also said the paramedics did not tell him that Floyd had suffered a drug overdose or a heart attack.
The perspectives are important because Chauvin's defense is arguing that the drugs in Floyd's body and his underlying health problems caused his death.
Prosecutors are trying to prove that it was the ex-Minneapolis police officer's actions — specifically his knee on Floyd's neck — that killed Floyd, that the lack of oxygen was caused by compression on Floyd chest and neck by Chauvin.
Bystander video showed Chauvin with his knee pressed against Floyd's neck for about nine minutes as the man lay handcuffed and face down on the street, pleading that he couldn't breathe.
Under cross-examination, Langenfeld told Chauvin's attorney that Floyd had high carbon dioxide levels, which can be caused by the drug fentanyl, and he agreed that when someone has high carbon dioxide level, they can have a sensation of shortness of breath.
The Associated Press contributed to this report.
---
Trial basics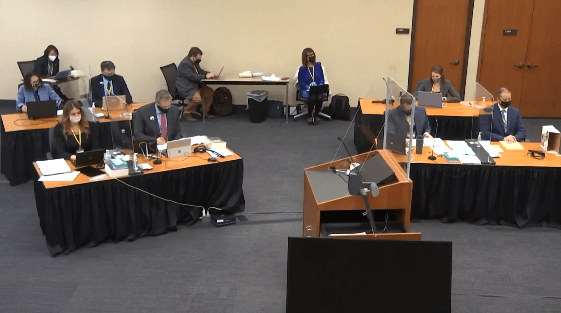 Who's who: A look at the key players in the trial.
Need to know: Key questions about the trial, answered.
What we know about the jurors: The 12 jurors and two alternates picked to review the case include a chemist, a youth volunteer, a cardiac nurse and an IT professional.
Chauvin's lawyer is outnumbered, but has help: No fewer than four attorneys have appeared for the prosecution so far, compared to a single attorney to defend Derek Chauvin.
Legion of Chauvin prosecutors, each with own role: Viewers may be struck by the array of prosecutors taking turns presenting their case. The choice of who does what is no accident.
MPR News on its coverage: Nancy Lebens, the newsroom's deputy managing editor, answered audience questions about our reporting plans.
---
George Floyd and his legacy
Remembering George Floyd, the man: Before he became a symbol in the fight for racial justice, friends say Floyd was a "gentle giant" who sought a fresh start.
Making George Floyd Square: Here's how the site of Floyd's killing — 38th Street and Chicago Avenue in Minneapolis — is being reshaped.
Rescuing the plywood — and memorializing a movement: Two Black women are leading the effort to preserve the murals painted on storefront boards in the Twin Cities.
Calls for change: Here's what some Floyd activists tell MPR News about their experiences with race in Minnesota, why they march and what they hope for the future.
---
Read more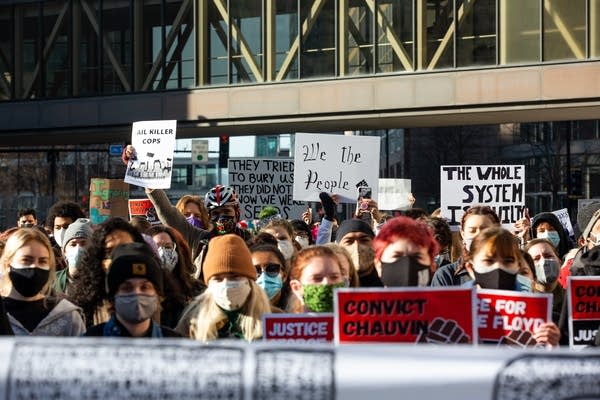 Floyd's family takes its seat in ex-officer's murder trial: A member of George Floyd's family often occupies a reserved seat in the back corner of the courtroom. (The Associated Press)
Minneapolis police chief's historic testimony reveals latest crack in 'blue wall of silence': It is incredibly rare for a police chief to take the stand against one of his own former officers. (Star Tribune)
Racism is making us sick. How can equity in medicine help us heal? Two doctors and a medical researcher talk about how racism affects their patients' health — and how racism in medicine leads to inadequate medical education and poor care. (Sahan Journal)
Backers of Minneapolis public safety reform effort seek community support: Sunday was the final day backers of one the Yes 4 Minneapolis coalition could collect signatures to put their proposed city charter amendment before voters.
George Floyd Square hosts People's Power Love Fest: The event was part of a push to gather support for a proposal to replace the Minneapolis Police Department with a new Public Safety Department.
Was officer's knee on Floyd's neck authorized?: Here is a look at the Minneapolis Police Department's policy, and how it could factor into a verdict for ex-cop Derek Chauvin. (The Associated Press.)
NPR's live blog: The latest from the murder trial of Derek Chauvin.
---
Questions about the Chauvin trial? Ask us