Analysts: Best Buy founder gearing up for fight over company control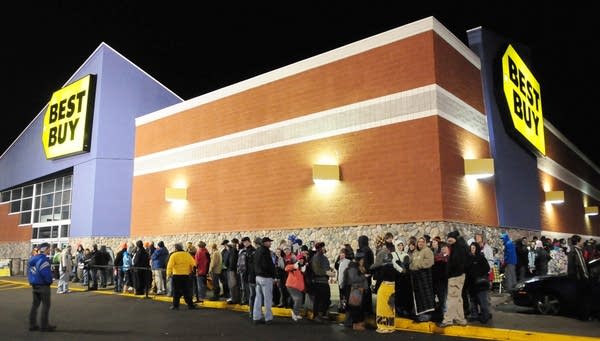 It appears as if the Best Buy board and the company's founder and biggest shareholder, Richard Schulze, are preparing for a fight over control of the company. Neither Schulze nor company officials are talking, but analysts who watch the company see a battle brewing.
The relationship between Schulze and the Best Buy board has soured since the board chastised him for failing to inform it of an inappropriate relationship between CEO Brian Dunn and a much younger female employee.
Schulze subsequently announced he would leave the board and "explore all available options" for his 20 percent ownership stake in the consumer electronics retailer. Those options include selling his shares or joining with other investors to buy the company and take it private.
"He is the enemy," said Howard Davidowitz, a consultant who advises retailers about acquisitions, restructuring and ownership transactions. He said the Best Buy board has reasons to be wary of Schulze.
Grow the Future of Public Media
MPR News is supported by Members. Gifts from individuals power everything you find here. Make a gift of any amount today to become a Member!
"They're in a defensive mode because they have to be," Davidowitz said. "Schulze is going to want to buy it for the lowest price. Yes, he does. Of course he does. The job of the board is to get the highest price."
According to a Wall Street source familiar with Schulze's actions, he is working with the Credit Suisse investment bank on a possible buyout plan. The investment bank declined to comment.
Shares of Best Buy briefly jumped up about 15 percent last week after The Wall Street Journal ran a story about Schulze and Credit Suisse. The share price fell back within minutes, though. The retailer's stock has lost more than half its value since the fall of 2010.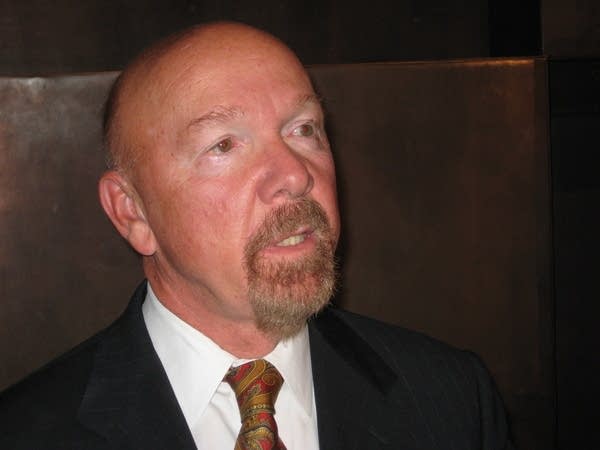 Davidowitz said Schulze has to be very angry with the board.
"They disrespected him and he built this company," he said. "And who is the best person to lead a turnaround? I don't care if he's 71, it's him."
However, the Best Buy board has made some moves that could impede a takeover attempt by Schulze.
Company bylaws had permitted a special meeting to consider a buyout offer if 10 percent of shareholders called for one. The board raised the threshold to 25 percent.
Kenneth Lefkowitz, a New York mergers and acquisitions lawyer with the firm of Hughes Hubbard & Reed, said, "The board obviously may not want to see a sale of the company at this point. Best Buy has a fair amount of defensive tactics in place."
The Best Buy board has also moved to lock up four top executives surrounding interim CEO Mike Mikan. Each of them will receive $500,000 in cash and $2 million in stock if they stay with the company for three years.
In a regulatory filing, the company said the retention payments were necessary to enable a "stable CEO transition and appropriate continuity of leadership."
The retention payments are another attempt to deter a buyout move by Schulze, said R.J. Hottovy, a retail analyst with Morningstar.
"All signs point to that — that the company is really trying to lock him out of the process," said Hottovy. "The current management team they have in place is really trying to prevent any takeover initiatives by Schulze and any potential backers he finds."
A buyer would also face the prospect of having to immediately pay off $1.5 billion in bonds issued by Best Buy. If the ownership of the company changes, Best Buy must offer to pay off the bonds, plus a 1 percent penalty and accrued and unpaid interest.
Analysts say the biggest impediment to a buyout led by Schulze or anyone else is the outlook for Best Buy itself.
"If [Richard Schulze] offers fair price, I don't think they will impede him. I just don't think he can raise the money."
Best Buy remains the nation's leading consumer electronics retailer, with some $50 billion in annual sales. It's profitable, generating lots of cash, but sales are sagging. The company faces relentless competition from Walmart, Amazon.com and other rivals intent on grabbing bigger shares of the consumer electronics market. Rivals are undercutting its prices.
Best Buy also has numerous big-box stores — some would say too many. The company said it will address those and other challenges. However, Wall Street isn't so sure Best Buy will succeed.
Any group of investors buying the company would likely have to borrow between $8 billion and $12 billion, analysts expect.
Wedbush Securities analyst Michael Pachter believes the Best Buy board and shareholders would accept a buyout offer if it were enticing enough. But he doesn't think such an offer is in the cards.
Pachter predicts Best Buy's profits will decline in coming years, making heavy borrowing risky for any group of investors Schulze rounds up.
"The management and the board are all kind of his guys," Pachter said. "If he offers a fair price, I don't think they will impede him. I just don't think he can raise the money."
If Schulze can't find the partners and money for a viable buyout, he won't be fight-ready to successfully regain control of the company he created, at least not now. But he could wait and fight another day.
Davidowitz, the retail consultant, thinks the odds are even that Schulze will find investors willing to join him to buy out Best Buy. But he expects Schulze will wait for the company's outlook to possibly worsen and its stock price to drift lower. That would let Schulze and fellow investors buy the company for a cheaper price.
Gallery
1 of 1