Cancellations, closings mount as storm's second punch muscles into Minnesota
I-90 closed in far SW Minnesota.; another 10-15 inches snow expected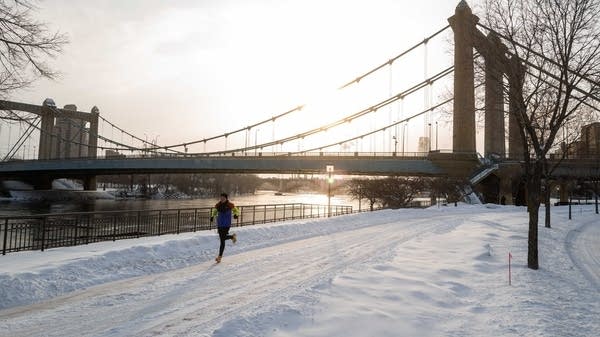 Updated 2:30 p.m.
Roads are starting to shut down across southwestern Minnesota as the second wave of a massive multiday storm pushes its way into the state.
The Minnesota Department of Transportation says Interstate 90 and all state highways from Worthington west to the South Dakota border and from Worthington south to the Iowa border are closed as blizzard conditions intensify.
The Nobles County Sheriff's Office is warning drivers to be prepared with a full tank and a winter survival kit because "you will more than likely be spending the evening in your vehicle."
Hundreds of flights from Minneapolis-St. Paul International Airport have been canceled as the storm approaches.
Grow the Future of Public Media
MPR's budget year comes to a close on June 30. Help us close the gap by becoming a Sustainer today. When you make a recurring monthly gift, your gift will be matched by the MPR Member Fund for a whole year!
Regional officials are closing schools, canceling events and bracing for another foot or more to drop Wednesday afternoon into Thursday, this time with blizzard conditions, including in parts of the Twin Cities metro area, which got about 3 to 5 inches overnight. Swaths of southern Minnesota saw upward of 7 inches.
The National Weather Service Twin Cities office on Wednesday morning was still forecasting another 10 to 15 inches falling by Thursday morning. Meteorologists continue to warn that Wednesday afternoon will turn brutal with wind gusts that may top 40 mph and make travel impossible across parts of southern Minnesota.
MPR News is posting up-to-the-minute information on its live blog.
Here's what we knew as of midmorning Wednesday about about travel conditions, closings and forecasts, with links to information to find out more. MPR News will update this story and its listings throughout Wednesday.
School closings
St. Paul Public Schools said the district will go virtual Wednesday and Thursday and will have a snow day on Friday. Games and practices for sports are canceled Wednesday and Thursday. Events scheduled for Friday will be decided on later this week.
Minneapolis public school buildings will also be closed, with e-learning days for all students for the remainder of this week.
The Rosemount-Apple Valley-Eagan district and the St. Louis Park schools announced e-learning days for Wednesday and Thursday.
St. Cloud schools will be closed Wednesday and Thursday.
KARE 11 has a complete and expanding list of closings and delays.
Snow emergencies
Snow emergencies take effect Wednesday night in Minneapolis and St. Paul, along with some suburbs.
In St. Paul, parking is banned on night plow routes starting at 9 p.m. and day plow routes starting at 8 a.m. Thursday. Then another snow emergency kicks in Thursday night repeating the parking restrictions through Friday, so plows can clear the roads again.
St. Paul is opening eight city-owned ramps for free parking during the winter storm, beginning at 5 p.m. Wednesday. It's also suspending garbage and recycling service on Thursday and Friday. City officials are asking people not to put out their garbage or recycling carts to aid in snow plowing.
Minneapolis is offering free parking in five city and two private lots and ramps, although the city is asking people to avoid the Basilica of St. Mary lot until after Ash Wednesday services conclude Wednesday night, when a snow emergency also takes effect.
Statewide, Gov. Tim Walz on Tuesday proclaimed a "peacetime emergency" in anticipation of the storm, authorizing the Minnesota National Guard to position equipment around the state as needed and put Guard members on notice that they be called on over the next few days to help rescue stranded drivers and provide other emergency assistance.
Many district courts across southern Minnesota have closed for the storm or gone to remote hearings.
Forecast updates
Travel conditions
Minnesota Department of Transportation officials are especially concerned about the snow pack that recently melted and refrozen, meaning that new snow won't be able to stick onto it.
"A lot of the snow that's going to show up in the next couple of days isn't going to be tied down. It's going to be very free to move around with gusts up to 40 miles an hour. So we're really expected to see a lot of drifting going on," said Scott Morgan, an assistant engineer for MnDOT's district covering south-central Minnesota.
These state transportation departments offer live updates on road conditions and crashes:
For bus and light rail riders in the Twin Cities, Metro Transit offers weather-related updates on its Metro Transit and Metro Transit Alerts Twitter pages, as well as on its website.
Flight updates
If you're planning to fly from Minneapolis-St. Paul International Airport or another airport around the region — or if you are expecting visitors to arrive by plane — airports offer flight status updates online:
Trail conditions
While a winter storm can cause trouble for travelers, it can be welcome news for skiers, snowmobilers and other winter activity enthusiasts.
The Minnesota Department of Natural Resources offers updates on cross-country ski and snowmobile trail conditions at state parks and along state trails around Minnesota.
The Minnesota Ski Areas Association posts updates on snow conditions at downhill ski and snowboard areas around the state.
The Loppet Foundation posts updates on cross-country ski trail conditions in Minneapolis.
SkinnySki.com shares cross-country ski trail updates from across the state.
Tell MPR News: How's the storm affecting you?