Road tripper's guide to 2018 construction season for central Minnesota
Updated: June 22 | Posted: June 22
Planning to hit the road this summer? You might want to make sure your trip won't cross the orange cones. Here's a summary of MnDOT's big construction projects in the state.
Keep in mind that construction projects can both be delayed or finish early. Consider this only as a guide, and we'll try our best to keep it updated throughout the year. For the latest construction information, check out MnDOT's current construction website. Or call 511 for travel information.
We also aren't able to track all the local construction projects. These projects are mainly handled by or in partnership with the state transportation department. 
Central Minnesota (MnDOT District 3)
Highway 4 is closed to through traffic from Cartway Drive to Ball Park Street. The detour began May 7 and lasts until August. Cars are detoured using Stearns County Road 19 and County Road 32. Truck detours include Interstate 94, Highway 71 and Highway 55. The project will reconstruct the road surface, sidestreet connections and driveway entrances and update the city sewers and curb gutters. The project cost is $1.1 million.
From May to September, expect occasional lane or shoulder closures with possible flaggers controlling traffic on Highway 6 through Emily. Southbound Highway 6 is closed with a detour using Evergreen/Cemetery Road, County Road 1, White Pine Street and 3rd Street. Keep up with the latest information on this project with MnDOT. Cost on this project is about $2.1 million.
The Highway 10 bridge reconstruction over Lake Orono and road surface between Joplin Street and Xenia Avenue continues this year. Expect delays and narrow lanes on both directions of Highway 10 from May to late October. Cost for the project is expect to be $9.8 million.
The Highway 10 reconstruction from Clear Lake to Big Lake runs from May to October. Expect delays and narrow lanes on both directions of Highway 10. Cost for the project is expect to be $7 million.
Crews will resurface and replace the guardrail on Highway 12 from 7th Street SE in Cokato to 13th Avenue in Howard Lake. There may be delays, lane closures, flaggers and a pilot car through June. Estimated cost is $1.5 million.
Drivers on Highway 24 between Clearwater and Clear Lake will see night work with shoulder closures and narrow lanes. By mid-June segments of Highway 24 will be reduced to a single lane overnight. Expected cost is $1.8 million.
The bridge across the Mississippi River on Highway 24 is open for traffic, but work may continue from the 2015 to 2017 project there as crews wrap up by late June 2018. That project was $17.4 million.
This project began in May and is expected to last until August.  Highway 25 between Montrose and Watertown will be closed and detours are designated to Highway 12 and County Road 30 until early July, then, for the second half of the project, the detour shifts to County Road 10/13 and County Road 30. The project cost is expected to be $2.63 million.
The Highway 27 bridge over a stream that flows to the Skunk River, about seven miles east of Lastrup in Morrison County, will be replaced. The project begins in mid-June and lasts until August. The project cost is expected to be $539,000.
Highway 55 is under construction from mid-June to mid-September, a detour is set starting in early July and lasts until late August. Traffic will be rerouted on Highway 25, Highway 12, County Line Road, Hennepin County Road 11, and County Road 92/Dogwood St. to Rockford. Expect delays. There will also be periodic lane closures from Autumn Oaks/Electric Drive to just east of Main Street in Rockford throughout the project.
This project began in 2017 and started its final stage in late spring. The remaining work includes segments of single-lane traffic in both directions as crews resurface Highway 65, both north and southbound segments, from Edgewood to the Isanti/Anoka county line. The cost for the project is set at $10 million.
This year, four sections of Interstate 94 in Central Minnesota will be under construction.
Through mid-June between, Monticello to Clearwater, crews will smooth the eastbound and westbound lanes. Single lane closures can occur during non-rush hour times.
From April to August, a new 3,400 foot long noise barrier near Avon will be put in place along the westbound interstate, west of Stearns County Road 9 near Hamlet Drive. 
From May to October alternate emergency I-94 route signs are being installed on county and city roads along the Interstate 94 corridor between Rogers to Osakis. 
In the city of Monticello, a new Fallon Avenue overpass west of Highway 25 will be constructed. The project also involves three new city roundabouts. Drivers on the interstate could encounter shoulder and lane closures, and reduced speeds. The schedule is set for April to October.
A new roundabout at the intersection of Highway 95 and 21st Avenue in Princeton will began in late April and lasts until mid August. A detour is in place through mid-July using County Road 31 and County Road 29. To learn more, visit the city of Princeton's website.
Work on the northbound bridge on Highway 169 in Garrison begins July 9 and last until October. The highway northbound will close from south Central Avenue to north of Crow Wing County 26 near Pike Point. Drivers can also expect narrow lanes, reduced speeds and side road access changes. Cost for the project is estimated at $1.6 million.
Crews are replacing the bridge on Highway 210 with a new box culvert west of Staples from mid-June to August. A detour is set up using County Road 9 and Highway 10. The project is expected to cost about $495,000.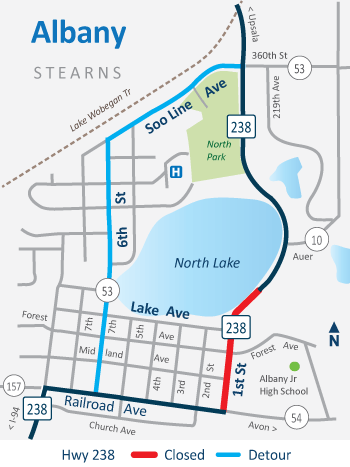 Reconstruction of Highway 238 in Albany will result in a detour along Soo Line Avenue and 6th Street in Albany. The project schedule is from June to September. The project is expected to cost $1.4 million.
Resurfacing work on both directions of the highway from south of Highway 210 in Baxter to 50th Avenue south of the Business Highway 371 interchange in Brainerd is expected from June to August 2018. Drivers can expect single lane closures, reduced speeds and narrowed lanes. The cost is expected to be $3.3 million
From August to October, Highway 371 between Hackensack and Backus will be under construction, with a detour beginning after Labor Day. The expected work will close the highway for up to five weeks between the two communities. A detour uses Highway 87 west of Backus, Highway 64 and County Road 19/40 to Hackensack. The project cost is estimated to be $4.2 million. 
Work on Highway 371B from Highway 210 to Joseph Street began April 30 and is expected to last until mid-October 2018. The work will result in lane and shoulder closures along the corridor. Until mid-July, a detour will be in effect, using Industrial Park Road, County Road 45/13th Street SE and Oak Street. A truck detour will be in place until mid-October.